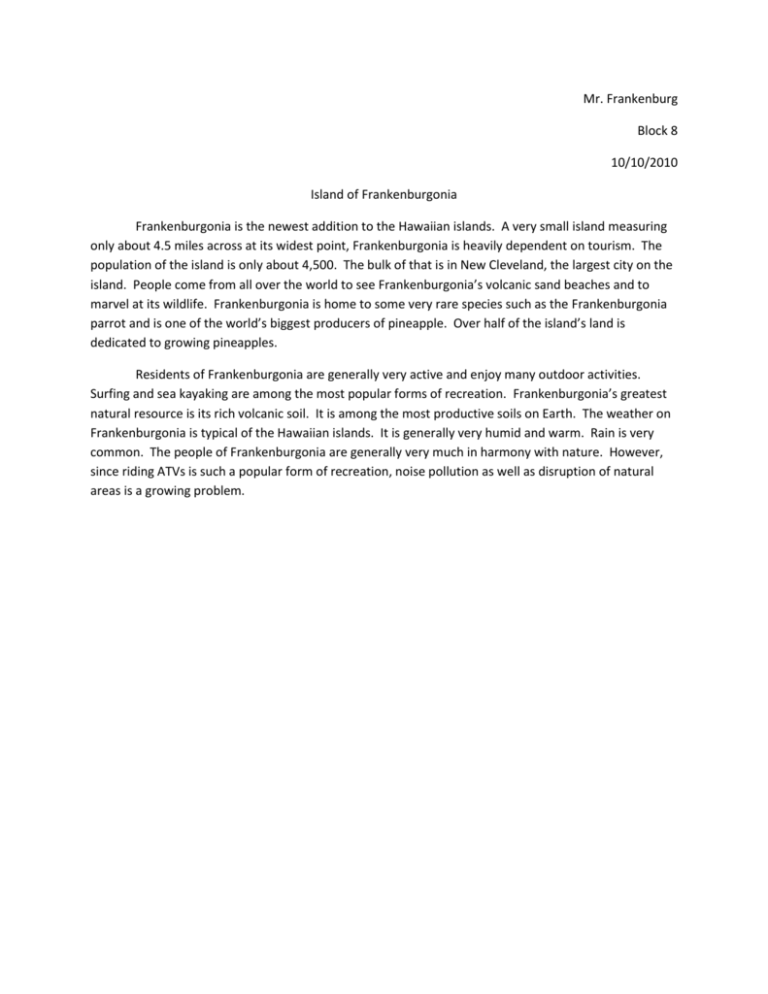 Mr. Frankenburg
Block 8
10/10/2010
Island of Frankenburgonia
Frankenburgonia is the newest addition to the Hawaiian islands. A very small island measuring
only about 4.5 miles across at its widest point, Frankenburgonia is heavily dependent on tourism. The
population of the island is only about 4,500. The bulk of that is in New Cleveland, the largest city on the
island. People come from all over the world to see Frankenburgonia's volcanic sand beaches and to
marvel at its wildlife. Frankenburgonia is home to some very rare species such as the Frankenburgonia
parrot and is one of the world's biggest producers of pineapple. Over half of the island's land is
dedicated to growing pineapples.
Residents of Frankenburgonia are generally very active and enjoy many outdoor activities.
Surfing and sea kayaking are among the most popular forms of recreation. Frankenburgonia's greatest
natural resource is its rich volcanic soil. It is among the most productive soils on Earth. The weather on
Frankenburgonia is typical of the Hawaiian islands. It is generally very humid and warm. Rain is very
common. The people of Frankenburgonia are generally very much in harmony with nature. However,
since riding ATVs is such a popular form of recreation, noise pollution as well as disruption of natural
areas is a growing problem.