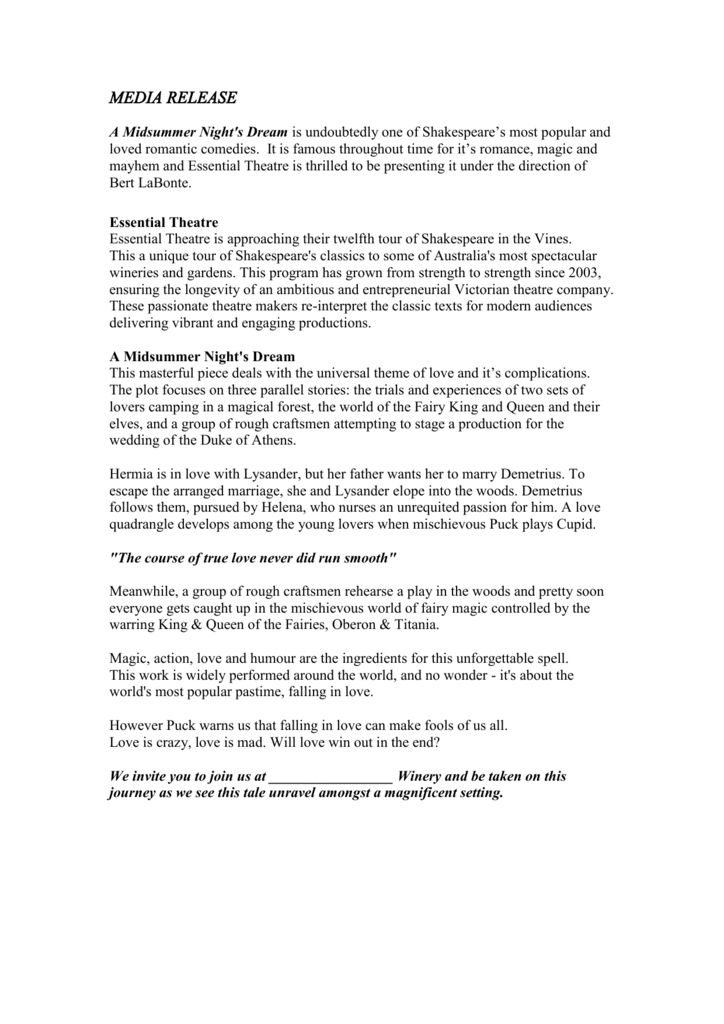 MEDIA RELEASE
A Midsummer Night's Dream is undoubtedly one of Shakespeare's most popular and
loved romantic comedies. It is famous throughout time for it's romance, magic and
mayhem and Essential Theatre is thrilled to be presenting it under the direction of
Bert LaBonte.
Essential Theatre
Essential Theatre is approaching their twelfth tour of Shakespeare in the Vines.
This a unique tour of Shakespeare's classics to some of Australia's most spectacular
wineries and gardens. This program has grown from strength to strength since 2003,
ensuring the longevity of an ambitious and entrepreneurial Victorian theatre company.
These passionate theatre makers re-interpret the classic texts for modern audiences
delivering vibrant and engaging productions.
A Midsummer Night's Dream
This masterful piece deals with the universal theme of love and it's complications.
The plot focuses on three parallel stories: the trials and experiences of two sets of
lovers camping in a magical forest, the world of the Fairy King and Queen and their
elves, and a group of rough craftsmen attempting to stage a production for the
wedding of the Duke of Athens.
Hermia is in love with Lysander, but her father wants her to marry Demetrius. To
escape the arranged marriage, she and Lysander elope into the woods. Demetrius
follows them, pursued by Helena, who nurses an unrequited passion for him. A love
quadrangle develops among the young lovers when mischievous Puck plays Cupid.
"The course of true love never did run smooth"
Meanwhile, a group of rough craftsmen rehearse a play in the woods and pretty soon
everyone gets caught up in the mischievous world of fairy magic controlled by the
warring King & Queen of the Fairies, Oberon & Titania.
Magic, action, love and humour are the ingredients for this unforgettable spell.
This work is widely performed around the world, and no wonder - it's about the
world's most popular pastime, falling in love.
However Puck warns us that falling in love can make fools of us all.
Love is crazy, love is mad. Will love win out in the end?
We invite you to join us at _________________ Winery and be taken on this
journey as we see this tale unravel amongst a magnificent setting.