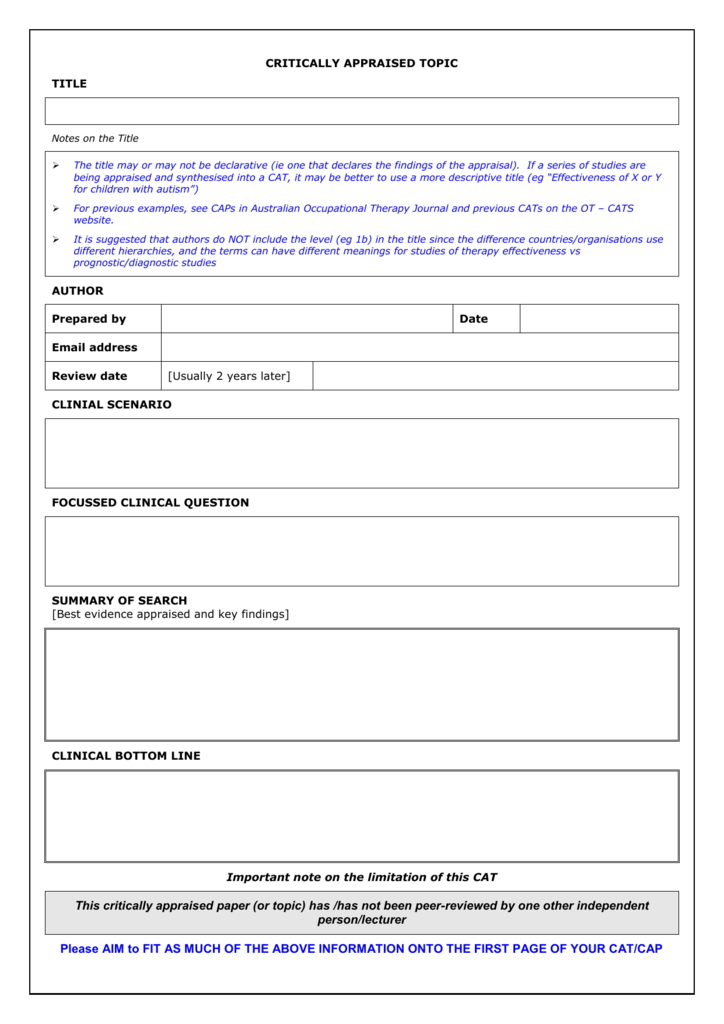 CRITICALLY APPRAISED TOPIC
TITLE
Notes on the Title

The title may or may not be declarative (ie one that declares the findings of the appraisal). If a series of studies are
being appraised and synthesised into a CAT, it may be better to use a more descriptive title (eg "Effectiveness of X or Y
for children with autism")

For previous examples, see CAPs in Australian Occupational Therapy Journal and previous CATs on the OT – CATS
website.

It is suggested that authors do NOT include the level (eg 1b) in the title since the difference countries/organisations use
different hierarchies, and the terms can have different meanings for studies of therapy effectiveness vs
prognostic/diagnostic studies
AUTHOR
Prepared by
Date
Email address
Review date
[Usually 2 years later]
CLINIAL SCENARIO
FOCUSSED CLINICAL QUESTION
SUMMARY OF SEARCH
[Best evidence appraised and key findings]
CLINICAL BOTTOM LINE
Important note on the limitation of this CAT
This critically appraised paper (or topic) has /has not been peer-reviewed by one other independent
person/lecturer
Please AIM to FIT AS MUCH OF THE ABOVE INFORMATION ONTO THE FIRST PAGE OF YOUR CAT/CAP
SEARCH STRATEGY
Terms used to guide the search strategy

Patient/Client Group:

Intervention (or Assessment):

Comparison:

Outcome(s):
Databases and Sites Searched
INCLUSION and EXCLUSION CRITERIA
Inclusion Criteria
Exclusion Criteria
RESULTS OF SEARCH
Search Terms
Limits Used
A total of
___
(insert number) relevant studies were located and categorised as shown in Table 1 (based on
Levels of Evidence, Centre for Evidence Based Medicine, 2011)
Table 1: Summary of Study Designs of Articles Retrieved
Study Design/Methodology of Articles Retrieved
Level
Number Located
Author (Year)
Note
If you search for and locate evidence-based clinical guidelines, note this at the end of your table,
and include in your reference list. The level of evidence should be recorded as Not Applicable (NA)
for qualitative studies, and a footnote added to identify levels for non- intervention studies (i.e.
prognostic or diagnostic).
BEST EVIDENCE
The following study/paper was identified as the 'best' evidence and selected for critical appraisal. Reasons for
selecting this study were:



SUMMARY OF BEST EVIDENCE
Table 2: Description and appraisal of (name study design) by (authors, Year)
Aim/Objective of the Study/Systematic Review:
Study Design
[eg systematic review, cohort, randomised controlled trial, qualitative study, grounded theory. Includes
information about study characteristics such as blinding and allocation concealment. When were outcomes
measured, if relevant]
Note:
For systematic review, use headings 'search strategy', 'selection criteria', 'methods' etc.
For qualitative studies, identify data collection/analyses methods
Setting
[eg locations such as hospital, community; rural; metropolitan; country]
Participants
[N, diagnosis, eligibility criteria, how recruited, type of sample (eg purposive, random), key demographics such
as mean age, gender, duration of illness/disease, and if groups in an RCT were comparable at baseline on key
demographic variables; number of dropouts if relevant, number available for follow-up]
Intervention Investigated
[Provide details of methods, who provided treatment, when and where, how many hours of treatment provided]
Control
Experimental
Outcome Measures (Primary and Secondary)
Give details of each measure, maximum score for each measure and range, administered by whom, where
Main Findings
[Insert table of mean scores/mean differences/treatment effect, 95% confidence intervals and p-values etc
where provided – if you need to calculate these data yourself put calculations here and add interpretation later,
under 'critical appraisal' on next page]
Original Authors' Conclusions
[paraphrase as required. If providing a direct quote, add page number]
Critical Appraisal
Validity
[Methodology, rigour, selection, bias, provide PEDro socre/PEDro partitioned score and sub-test items 1-10 for
RCTs; other study designs, follow headings used in critical appraisal checklist forms.
Comment on missing information in original paper.
Interpretation of Results
[Favourable or unfavourable, specific outcomes of interest, size of treatment effect, statistical and clinical
significance, minimal clinically important difference – some of which you may have calculated yourself.
Email original authors for information needed such as additional data needed to calculate confidence intervals.
Summary/Conclusion
Repeat the above table as needed for additional studies included in the CAT.
If more than one paper is included, an additional table that provides a comparative summary of
each paper may be added.
Table [x]: Characteristics of included studies
Study 1
Study 2
Study 3
[Author and Year]
[Author and Year]
[Author and Year]
Intervention investigated
Comparison intervention
Outcomes used
Findings
IMPLICATIONS FOR PRACTICE, EDUCATION and FUTURE RESEARCH
Notes




This section synthesises your comments from appraisal section, and may mention other related research,
both quantitative and qualitative.
Comment on whether the intervention is used in practice in your region/country, cost of that treatment,
need for education of local therapists/undergraduates about this intervention and/or outcome measures
used in the study).
Students may wish/need to discuss implications with clinicians for suggestions
Read recent CATs from the OT-CATS website and CAPS in Australian Occupational Therapy Journal for ideas
to include in this section.
REFERENCES
[List references in alphabetical order using APA style and format]

AIM TO SUMMARISE YOUR CAT IN 8-12 PAGES iF ONLY APPRAISING ONE KEY STUDY (CAP=
Critically Appraised Paper).

A LONGER DOCUMENT IS ACCEPTABLE IF YOU ARE APPRAISING AND SYNTHESISING SEVERAL
STUDIES (CAT = Critically Appraised Topic).