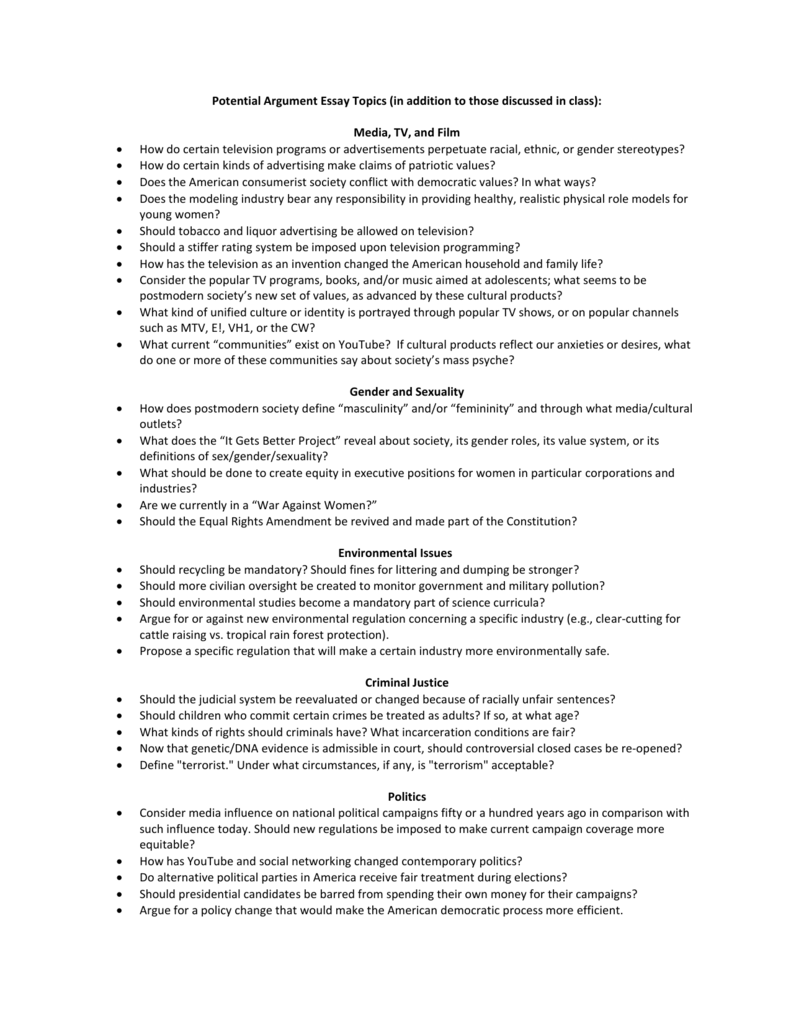 Potential Argument Essay Topics (in addition to those discussed in class):















Media, TV, and Film
How do certain television programs or advertisements perpetuate racial, ethnic, or gender stereotypes?
How do certain kinds of advertising make claims of patriotic values?
Does the American consumerist society conflict with democratic values? In what ways?
Does the modeling industry bear any responsibility in providing healthy, realistic physical role models for
young women?
Should tobacco and liquor advertising be allowed on television?
Should a stiffer rating system be imposed upon television programming?
How has the television as an invention changed the American household and family life?
Consider the popular TV programs, books, and/or music aimed at adolescents; what seems to be
postmodern society's new set of values, as advanced by these cultural products?
What kind of unified culture or identity is portrayed through popular TV shows, or on popular channels
such as MTV, E!, VH1, or the CW?
What current "communities" exist on YouTube? If cultural products reflect our anxieties or desires, what
do one or more of these communities say about society's mass psyche?
Gender and Sexuality
How does postmodern society define "masculinity" and/or "femininity" and through what media/cultural
outlets?
What does the "It Gets Better Project" reveal about society, its gender roles, its value system, or its
definitions of sex/gender/sexuality?
What should be done to create equity in executive positions for women in particular corporations and
industries?
Are we currently in a "War Against Women?"
Should the Equal Rights Amendment be revived and made part of the Constitution?

Environmental Issues
Should recycling be mandatory? Should fines for littering and dumping be stronger?
Should more civilian oversight be created to monitor government and military pollution?
Should environmental studies become a mandatory part of science curricula?
Argue for or against new environmental regulation concerning a specific industry (e.g., clear-cutting for
cattle raising vs. tropical rain forest protection).
Propose a specific regulation that will make a certain industry more environmentally safe.





Criminal Justice
Should the judicial system be reevaluated or changed because of racially unfair sentences?
Should children who commit certain crimes be treated as adults? If so, at what age?
What kinds of rights should criminals have? What incarceration conditions are fair?
Now that genetic/DNA evidence is admissible in court, should controversial closed cases be re-opened?
Define "terrorist." Under what circumstances, if any, is "terrorism" acceptable?









Politics
Consider media influence on national political campaigns fifty or a hundred years ago in comparison with
such influence today. Should new regulations be imposed to make current campaign coverage more
equitable?
How has YouTube and social networking changed contemporary politics?
Do alternative political parties in America receive fair treatment during elections?
Should presidential candidates be barred from spending their own money for their campaigns?
Argue for a policy change that would make the American democratic process more efficient.

Has the executive branch of the American government gained too much power in the last fifty years? Cite
specific examples in your argument.