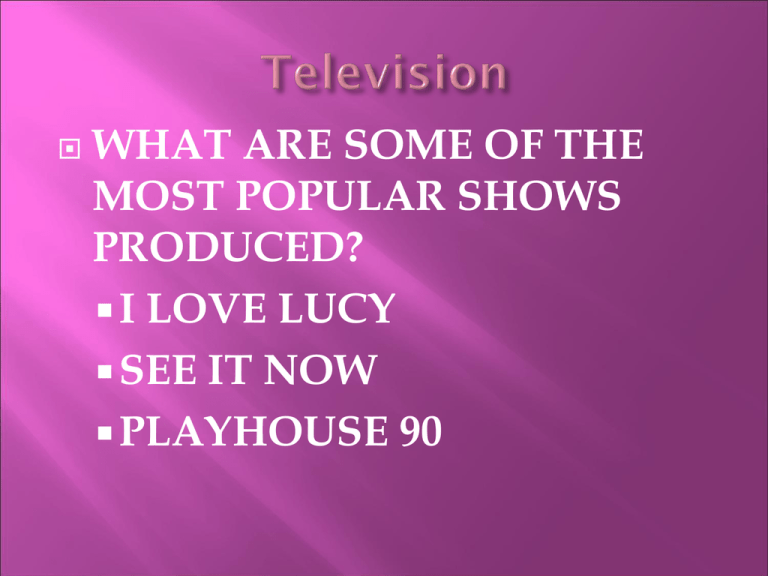 
WHAT ARE SOME OF THE
MOST POPULAR SHOWS
PRODUCED?
 I LOVE LUCY
 SEE IT NOW
 PLAYHOUSE 90

WHAT KINDS OF SUBJECTS
DID TELEVISION TEND TO
PRESENT?
 COMEDY
 IDEALIZED WHITE
AMERICA
 WESTERN FRONTIER

WHAT KINDS OF SUBJECTS
DID IT TEND TO AVOID?
 POVERTY
 DIVERSITY
 CONTEMPORARY
CONFLICTS, SUCH AS
RACIAL DISCRIMINATION
 How
did radio change to
compete with television?
 Tuned to local
programming
 Began targeting specialized
audiences

What role did it play
popularizing African-American
Culture?
 Hundreds of stations focused
on African-American
performers helping to sell
their records

How did movies change to
compete with Television?
 Introduced innovations such
as stereoscopic sound and
cinema-scope to capitalize on
its advantages over TV
 Introduced such fads as pipedin smells and 3-D
 Who
were the most
famous beat writers?
Ginsberg
Kerouac

What were the movement's chief
characteristic?
 Nonconformity
 Antimaterialism
 Interest in a higher consciousness
 The shunning of structure in life
and art

Who helped popularize rock 'n'
roll?
 Freed
 Presley
 Berry
 Little Richard
 Radio
 TV

What were rock's chief
characteristic?
 Heavy Rhythm
 Simple melodies and lyrics
 Focus on youth

A federal agency who is tasked as a
"watchdog" too determine what is
appropriate to be aired on the radio
and television.