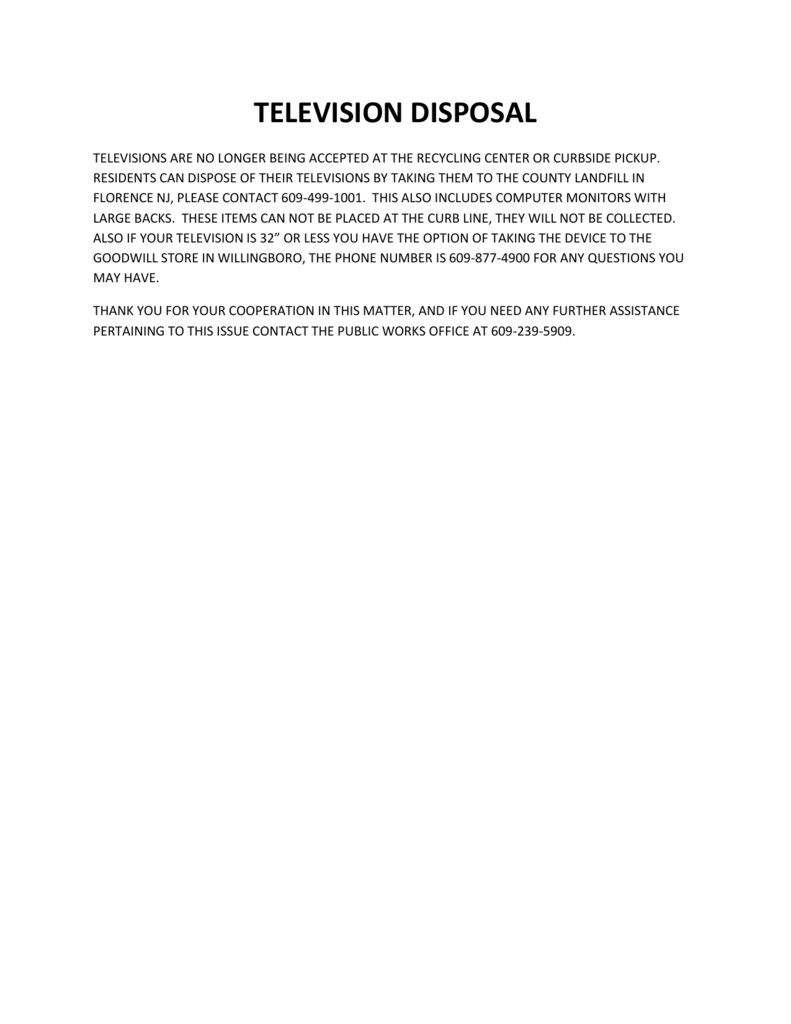 TELEVISION DISPOSAL
TELEVISIONS ARE NO LONGER BEING ACCEPTED AT THE RECYCLING CENTER OR CURBSIDE PICKUP.
RESIDENTS CAN DISPOSE OF THEIR TELEVISIONS BY TAKING THEM TO THE COUNTY LANDFILL IN
FLORENCE NJ, PLEASE CONTACT 609-499-1001. THIS ALSO INCLUDES COMPUTER MONITORS WITH
LARGE BACKS. THESE ITEMS CAN NOT BE PLACED AT THE CURB LINE, THEY WILL NOT BE COLLECTED.
ALSO IF YOUR TELEVISION IS 32" OR LESS YOU HAVE THE OPTION OF TAKING THE DEVICE TO THE
GOODWILL STORE IN WILLINGBORO, THE PHONE NUMBER IS 609-877-4900 FOR ANY QUESTIONS YOU
MAY HAVE.
THANK YOU FOR YOUR COOPERATION IN THIS MATTER, AND IF YOU NEED ANY FURTHER ASSISTANCE
PERTAINING TO THIS ISSUE CONTACT THE PUBLIC WORKS OFFICE AT 609-239-5909.