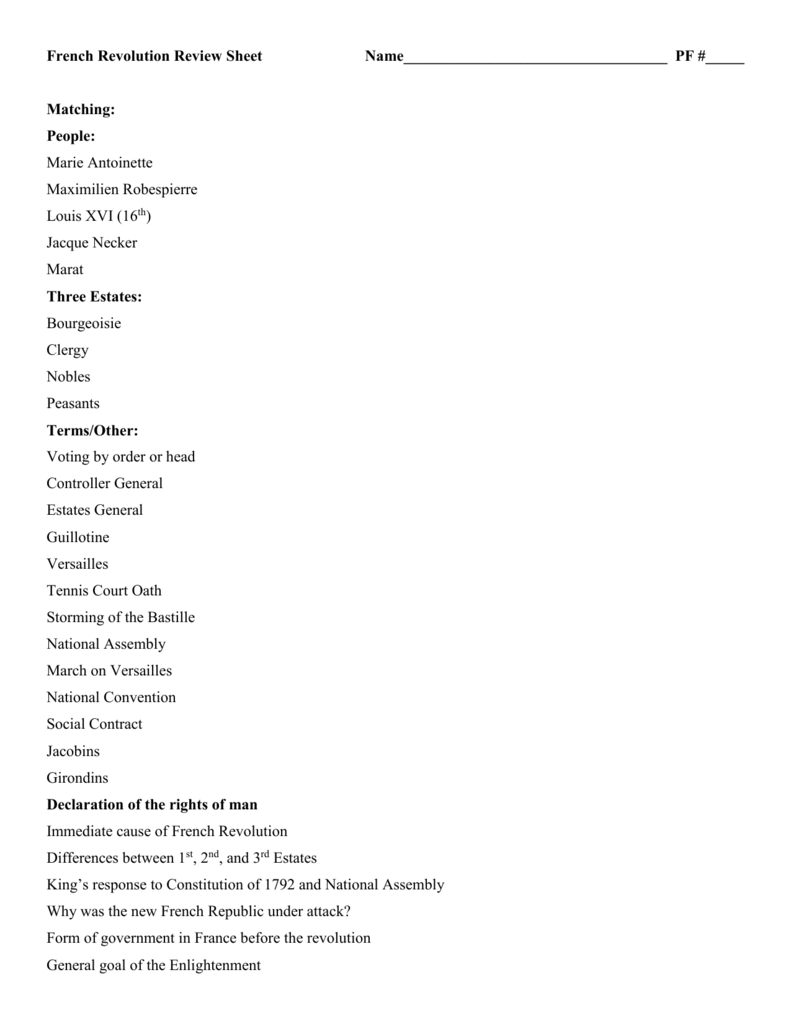 French Revolution Review Sheet
Name__________________________________ PF #_____
Matching:
People:
Marie Antoinette
Maximilien Robespierre
Louis XVI (16th)
Jacque Necker
Marat
Three Estates:
Bourgeoisie
Clergy
Nobles
Peasants
Terms/Other:
Voting by order or head
Controller General
Estates General
Guillotine
Versailles
Tennis Court Oath
Storming of the Bastille
National Assembly
March on Versailles
National Convention
Social Contract
Jacobins
Girondins
Declaration of the rights of man
Immediate cause of French Revolution
Differences between 1st, 2nd, and 3rd Estates
King's response to Constitution of 1792 and National Assembly
Why was the new French Republic under attack?
Form of government in France before the revolution
General goal of the Enlightenment
Two American documents influenced by the Enlightenment
One idea that the American revolution shared with Enlightenment thinkers.
John Locke's ideas about a social contract
How did leaders of the French Revolution demonstrate that they were influenced by Enlightenment ideas?
Name 2 Enlightenment ideas that are part of American society today and what role they play?