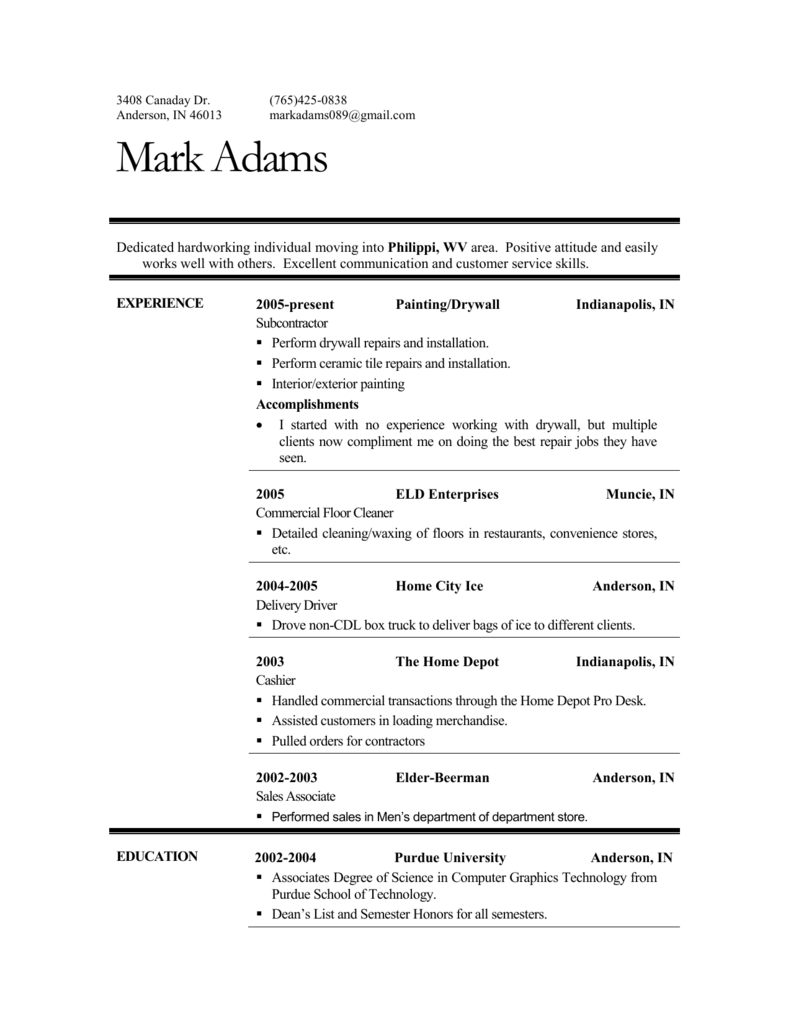 3408 Canaday Dr.
Anderson, IN 46013
(765)425-0838
[email protected]
Mark Adams
Dedicated hardworking individual moving into Philippi, WV area. Positive attitude and easily
works well with others. Excellent communication and customer service skills.
EXPERIENCE
2005-present
Painting/Drywall
Indianapolis, IN
Subcontractor
 Perform drywall repairs and installation.
 Perform ceramic tile repairs and installation.
 Interior/exterior painting
Accomplishments
 I started with no experience working with drywall, but multiple
clients now compliment me on doing the best repair jobs they have
seen.
2005
ELD Enterprises
Muncie, IN
Commercial Floor Cleaner
 Detailed cleaning/waxing of floors in restaurants, convenience stores,
etc.
2004-2005
Home City Ice
Anderson, IN
Delivery Driver
 Drove non-CDL box truck to deliver bags of ice to different clients.
2003
The Home Depot
Indianapolis, IN
Cashier
 Handled commercial transactions through the Home Depot Pro Desk.
 Assisted customers in loading merchandise.
 Pulled orders for contractors
2002-2003
Elder-Beerman
Anderson, IN
Sales Associate
 Performed sales in Men's department of department store.
EDUCATION
2002-2004
Purdue University
Anderson, IN
 Associates Degree of Science in Computer Graphics Technology from
Purdue School of Technology.
 Dean's List and Semester Honors for all semesters.
2002-2004
Anderson High School
Anderson, IN
 Graduated with Academic Honors Diploma
 High School Class Salutatorian and National Honor Society member.
 Three years studying photography
VOLUNTEER
EXPERIENCE
South Congregation of Jehovah's Witnesses
 Volunteer Construction (ceramic tile installation), 2003-present
 Traveling Public Speaker, 2003-present
 Assistant School Instructor, 2010-2012
 Directing Meetings, 2006-present
 Accounting and Bookkeeping, 2005-2012
 Territory Mapping and Organization, 2008-2009
 Convention Event Staff (Attendant, 2002-2012; Parking Director,
2010-2011)
Accomplishments
 Progressed in public speaking from speaking to a congregation of 80
members to traveling to multiple congregations to speak and speaking
before larger assemblies of nearly 1,000 present
OTHER
EXPERIENCE
Amateur photographer, mathematics tutor, proficient using Microsoft
Word, Excel, and Power Point.