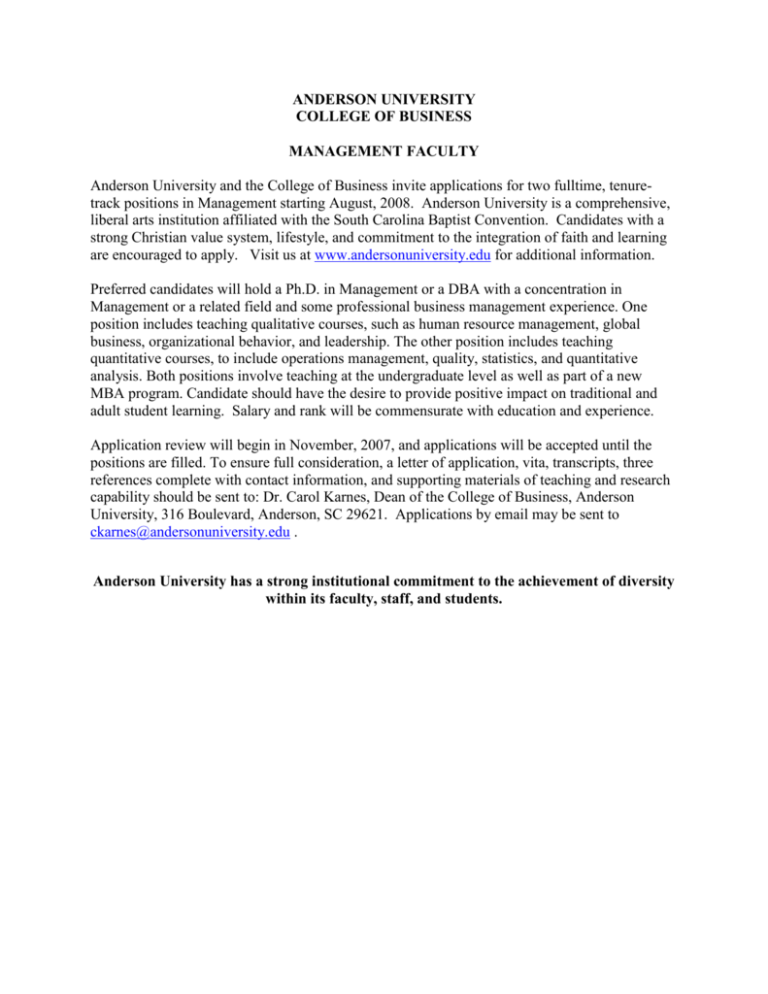 ANDERSON UNIVERSITY
COLLEGE OF BUSINESS
MANAGEMENT FACULTY
Anderson University and the College of Business invite applications for two fulltime, tenuretrack positions in Management starting August, 2008. Anderson University is a comprehensive,
liberal arts institution affiliated with the South Carolina Baptist Convention. Candidates with a
strong Christian value system, lifestyle, and commitment to the integration of faith and learning
are encouraged to apply. Visit us at www.andersonuniversity.edu for additional information.
Preferred candidates will hold a Ph.D. in Management or a DBA with a concentration in
Management or a related field and some professional business management experience. One
position includes teaching qualitative courses, such as human resource management, global
business, organizational behavior, and leadership. The other position includes teaching
quantitative courses, to include operations management, quality, statistics, and quantitative
analysis. Both positions involve teaching at the undergraduate level as well as part of a new
MBA program. Candidate should have the desire to provide positive impact on traditional and
adult student learning. Salary and rank will be commensurate with education and experience.
Application review will begin in November, 2007, and applications will be accepted until the
positions are filled. To ensure full consideration, a letter of application, vita, transcripts, three
references complete with contact information, and supporting materials of teaching and research
capability should be sent to: Dr. Carol Karnes, Dean of the College of Business, Anderson
University, 316 Boulevard, Anderson, SC 29621. Applications by email may be sent to
ckarnes@andersonuniversity.edu .
Anderson University has a strong institutional commitment to the achievement of diversity
within its faculty, staff, and students.