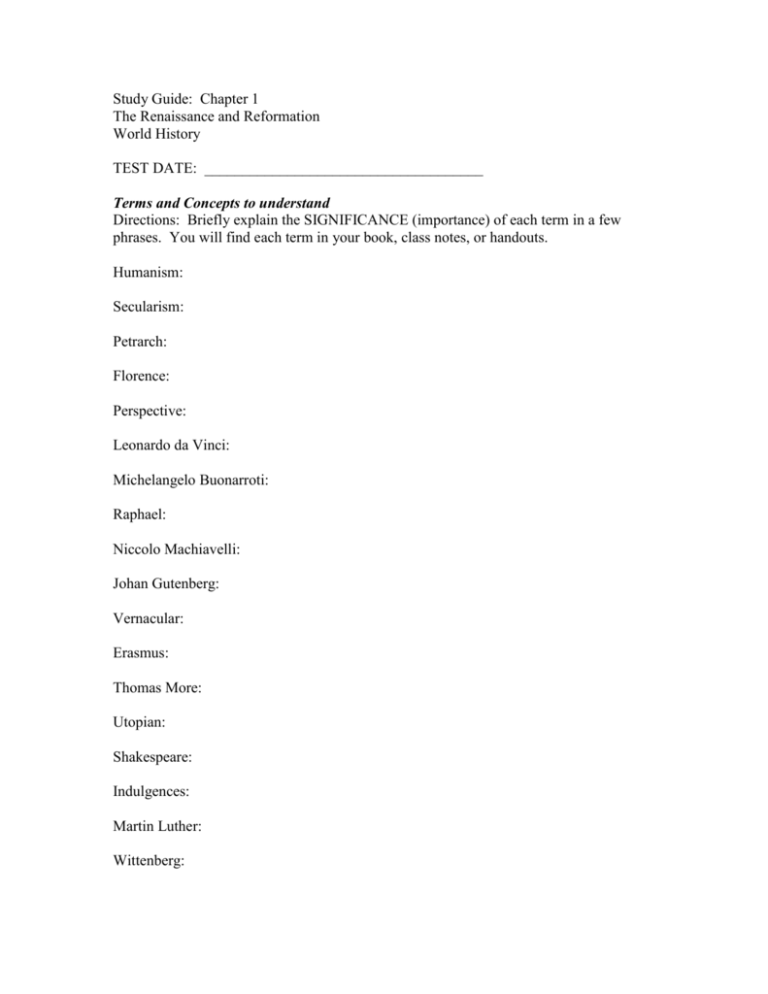 Study Guide: Chapter 1
The Renaissance and Reformation
World History
TEST DATE: _____________________________________
Terms and Concepts to understand
Directions: Briefly explain the SIGNIFICANCE (importance) of each term in a few
phrases. You will find each term in your book, class notes, or handouts.
Humanism:
Secularism:
Petrarch:
Florence:
Perspective:
Leonardo da Vinci:
Michelangelo Buonarroti:
Raphael:
Niccolo Machiavelli:
Johan Gutenberg:
Vernacular:
Erasmus:
Thomas More:
Utopian:
Shakespeare:
Indulgences:
Martin Luther:
Wittenberg:
John Calvin:
Predestination:
Theocracy:
Henry VIII:
Mary Tudor:
Elizabeth I:
Compromise:
Council of Trent:
Jesuits:
Ignatius of Loyola:
Nicolaus Copernicus:
Heliocentric:
Johannes Kepler:
Galileo Galilei:
Francis Bacon:
Rene Descartes:
Scientific method:
Hypothesis:
Andreas Vesalius:
Robert Boyle:
Isaac Newton:
Gravity:
Calculus:
Things to Consider
Directions: For each question, complete a "MINI-OUTLINE" of what you might write if
this question is an essay question on your test. Essay questions will come DIRECTLY
from this list, so this is a great way to practice before the test. You will find all the
information you need in your book, class notes, and handouts.
1. Explain Machiavelli's views in The Prince. Do you agree or disagree with
Machiavelli—why or why not?
2. Compare and contrast Medieval art and architecture with Renaissance art and
architecture.
3. How was Da Vinci the "most versatile" of all Renaissance artists?
4. Be able to explain and analyze the work of Renaissance writers, sculptors, and
painters. Understand what Renaissance values are shown in their work (cynicism,
realism, humanism, secularism, classicism)
5. Why was Martin Luther (according to the A&E clip) the #3 most important
person in the millennium? Explain by citing what he did, and how his actions
affected the world then and now.
6. Explain the actions of the Catholic reformation and the Council of Trent. How
did it try and stop the efforts of Martin Luther and the Protestants?
7. How and why did Anglicanism become the official Church of England? Explain
the role of Henry VIII, Anne Boelyn, "Bloody Mary," and Elizabeth.
8. Why did the Renaissance values of humanism and secularism lead to the
Scientific Revolution?
9. How do we see the effects of the Scientific Revolution TODAY? Give examples
of work specific scientists did that still affects us today!