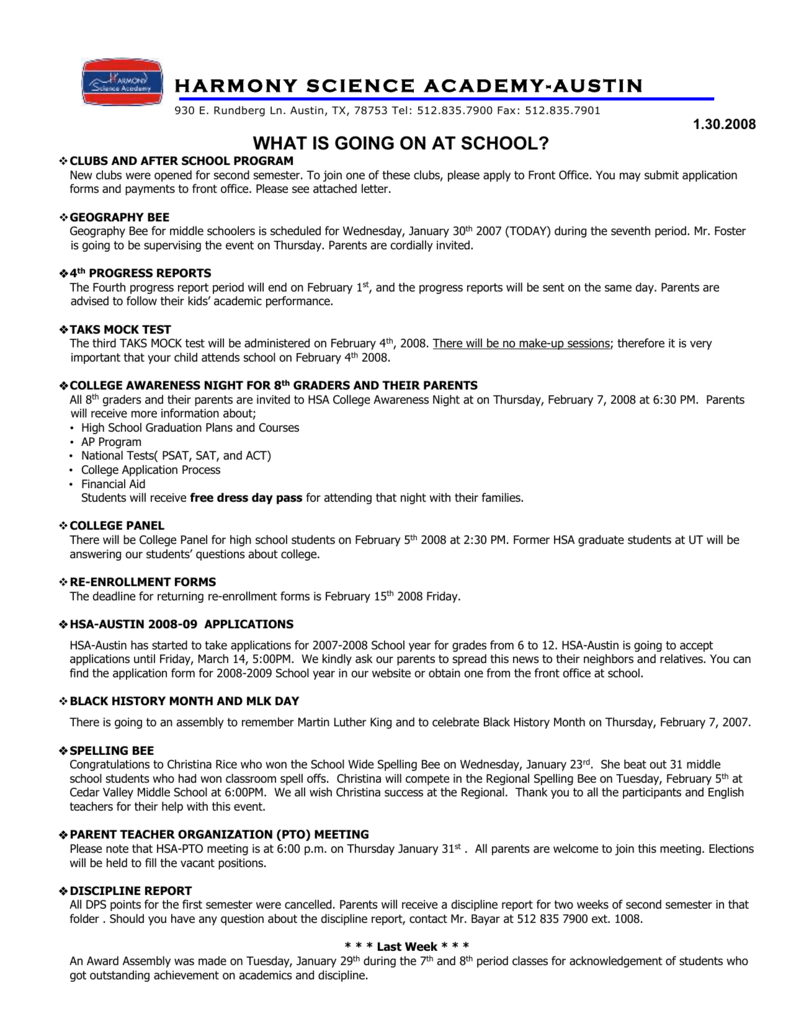 HARMONY SCIENCE ACADEMY-AUSTIN
930 E. Rundberg Ln. Austin, TX, 78753 Tel: 512.835.7900 Fax: 512.835.7901
1.30.2008
WHAT IS GOING ON AT SCHOOL?
 CLUBS AND AFTER SCHOOL PROGRAM
New clubs were opened for second semester. To join one of these clubs, please apply to Front Office. You may submit application
forms and payments to front office. Please see attached letter.
 GEOGRAPHY BEE
Geography Bee for middle schoolers is scheduled for Wednesday, January 30th 2007 (TODAY) during the seventh period. Mr. Foster
is going to be supervising the event on Thursday. Parents are cordially invited.
 4th PROGRESS REPORTS
The Fourth progress report period will end on February 1st, and the progress reports will be sent on the same day. Parents are
advised to follow their kids' academic performance.
 TAKS MOCK TEST
The third TAKS MOCK test will be administered on February 4th, 2008. There will be no make-up sessions; therefore it is very
important that your child attends school on February 4th 2008.
 COLLEGE AWARENESS NIGHT FOR 8th GRADERS AND THEIR PARENTS
All 8th graders and their parents are invited to HSA College Awareness Night at on Thursday, February 7, 2008 at 6:30 PM. Parents
will receive more information about;
• High School Graduation Plans and Courses
• AP Program
• National Tests( PSAT, SAT, and ACT)
• College Application Process
• Financial Aid
Students will receive free dress day pass for attending that night with their families.
 COLLEGE PANEL
There will be College Panel for high school students on February 5th 2008 at 2:30 PM. Former HSA graduate students at UT will be
answering our students' questions about college.
 RE-ENROLLMENT FORMS
The deadline for returning re-enrollment forms is February 15th 2008 Friday.
 HSA-AUSTIN 2008-09 APPLICATIONS
HSA-Austin has started to take applications for 2007-2008 School year for grades from 6 to 12. HSA-Austin is going to accept
applications until Friday, March 14, 5:00PM. We kindly ask our parents to spread this news to their neighbors and relatives. You can
find the application form for 2008-2009 School year in our website or obtain one from the front office at school.
 BLACK HISTORY MONTH AND MLK DAY
There is going to an assembly to remember Martin Luther King and to celebrate Black History Month on Thursday, February 7, 2007.
 SPELLING BEE
Congratulations to Christina Rice who won the School Wide Spelling Bee on Wednesday, January 23rd. She beat out 31 middle
school students who had won classroom spell offs. Christina will compete in the Regional Spelling Bee on Tuesday, February 5th at
Cedar Valley Middle School at 6:00PM. We all wish Christina success at the Regional. Thank you to all the participants and English
teachers for their help with this event.
 PARENT TEACHER ORGANIZATION (PTO) MEETING
Please note that HSA-PTO meeting is at 6:00 p.m. on Thursday January 31st . All parents are welcome to join this meeting. Elections
will be held to fill the vacant positions.
 DISCIPLINE REPORT
All DPS points for the first semester were cancelled. Parents will receive a discipline report for two weeks of second semester in that
folder . Should you have any question about the discipline report, contact Mr. Bayar at 512 835 7900 ext. 1008.
* * * Last Week * * *
An Award Assembly was made on Tuesday, January 29th during the 7th and 8th period classes for acknowledgement of students who
got outstanding achievement on academics and discipline.