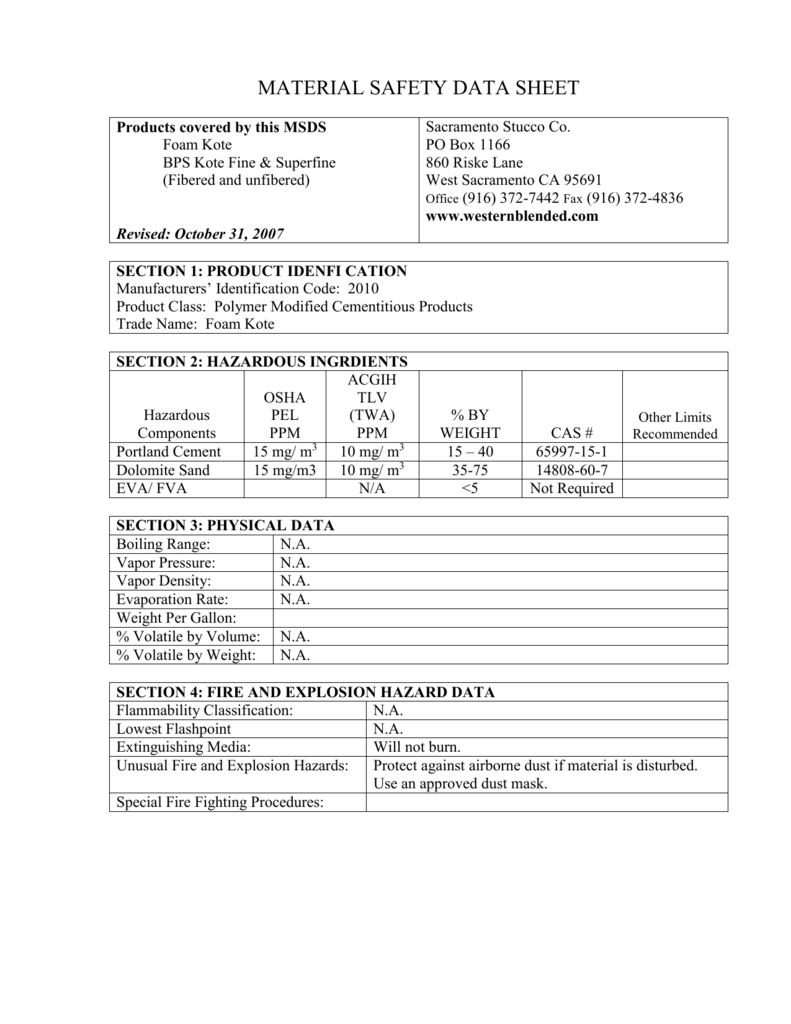 MATERIAL SAFETY DATA SHEET
Products covered by this MSDS
Foam Kote
BPS Kote Fine & Superfine
(Fibered and unfibered)
Sacramento Stucco Co.
PO Box 1166
860 Riske Lane
West Sacramento CA 95691
Office (916) 372-7442 Fax (916) 372-4836
www.westernblended.com
Revised: October 31, 2007
SECTION 1: PRODUCT IDENFI CATION
Manufacturers' Identification Code: 2010
Product Class: Polymer Modified Cementitious Products
Trade Name: Foam Kote
SECTION 2: HAZARDOUS INGRDIENTS
ACGIH
OSHA
TLV
Hazardous
PEL
(TWA)
Components
PPM
PPM
3
Portland Cement
15 mg/ m
10 mg/ m3
Dolomite Sand
15 mg/m3
10 mg/ m3
EVA/ FVA
N/A
% BY
WEIGHT
15 – 40
35-75
<5
CAS #
65997-15-1
14808-60-7
Not Required
Other Limits
Recommended
SECTION 3: PHYSICAL DATA
Boiling Range:
N.A.
Vapor Pressure:
N.A.
Vapor Density:
N.A.
Evaporation Rate:
N.A.
Weight Per Gallon:
% Volatile by Volume: N.A.
% Volatile by Weight:
N.A.
SECTION 4: FIRE AND EXPLOSION HAZARD DATA
Flammability Classification:
N.A.
Lowest Flashpoint
N.A.
Extinguishing Media:
Will not burn.
Unusual Fire and Explosion Hazards:
Protect against airborne dust if material is disturbed.
Use an approved dust mask.
Special Fire Fighting Procedures:
SECTION 5: HEALTH HAZARD DATA
Effects of Overexposure:
Inhalation: Dust from sanding can cause headache,
nausea, and irritation of nose, throat or lungs.
Eye Contact: Slight irritation.
Skin Contact: Prolonged or repeated skin contact with
wet material can cause a slight irritation.
Primary Routes of Entry:
Inhalation, Skin and Eye Contact
Emergency and First Aid Procedures: Inhalation: Remove to fresh air.
Eye Contact: Flush eyes with running water for at least
15 minutes. Consult a physician if irritation persists.
Skin Contact: Wash affected area thoroughly with soap
and water. Consult a physician if irritation persists.
Ingestion: If swallowed, give at least two (2) glasses of
water and consult a physician. Never give anything by
mouth to an unconscious person.
SECTION 6: REACTIVITY DATA
Stability:
Stable
Hazardous Polymerization:
None
Hazardous Decomposition Products: None
Incompatibility (Materials to avoid):
SECTION 7: SPILL OR LEAK PROCEDURES
Personal Protection: See section V Health Hazard Data
Procedures: Use respiratory protection if dust becomes airborne.
Waste Disposal: Dispose of in accordance with applicable Federal, State, and Local regulations.
Keep spills and runoff out of municipal sewers and open bodies of water.
SECTION 8: SAFE HANDELING AND USE INFORMATION:
Respiratory Protection: Non-required for normal use of this product. If material is sanded or
ground when dry, approved respirators for dust should be provided
and used. As with any safety product, workers using respirators should
be trained in the proper selection, use and care of such equipment.
Ventilation:
Local ventilation.
Protective Gloves:
Rubber or neoprene gloves to provide protection against wet material.
Eye Protection:
Use goggles. Full flow eyewash station.
SECTION 9: SPECIAL PRECAUTIONS
Western Blended Products Corp. as a blender of processed material in the State of California is required by
Proposition 65 to warn that one or more of the components contained in this product could contain chemical known,
to the State of California to cause cancer, birth defects or other reproductive harm. The State of California requires
this warning in the absence of definitive testing, to prove that the defined risks do not exist. We believe this product
complies with all other applicable state and federal laws and regulations governing manufacture, distribution and
intended use.
This information is furnished without warranty, representation, inducement or license of any kind, except that it is
accurate to the best of Western Blended Products' knowledge or is obtained from sources believed to be accurate.
Customers are encouraged to conduct their own tests. Before using any product, read labels and instructions.