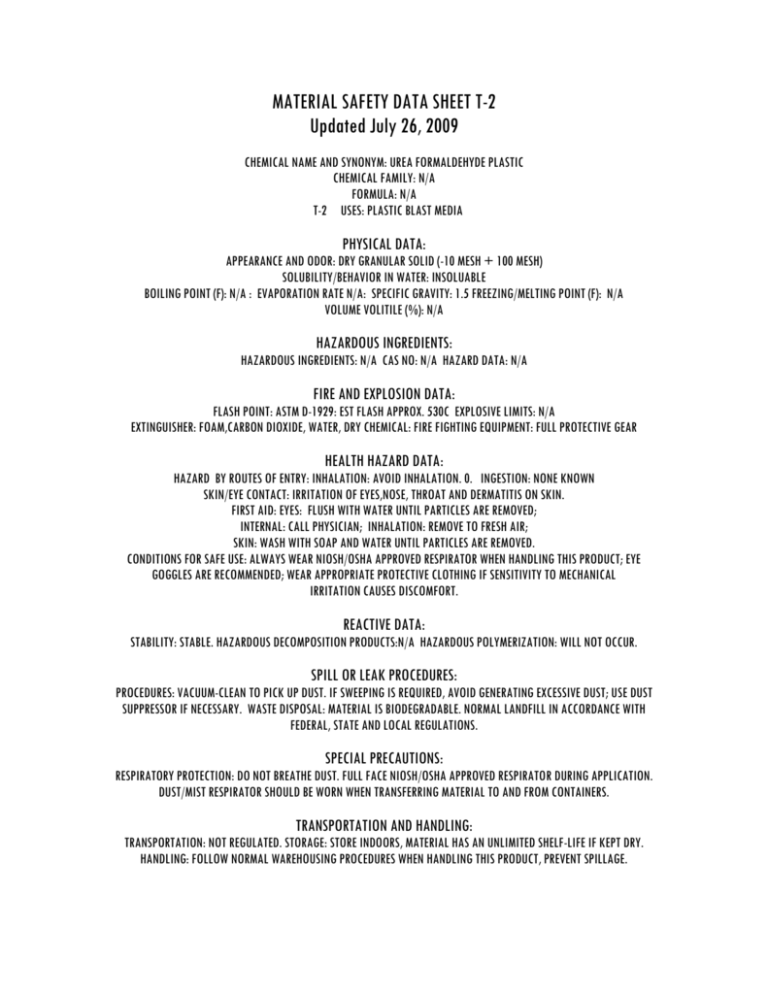 MATERIAL SAFETY DATA SHEET T-2
Updated July 26, 2009
CHEMICAL NAME AND SYNONYM: UREA FORMALDEHYDE PLASTIC
CHEMICAL FAMILY: N/A
FORMULA: N/A
T-2 USES: PLASTIC BLAST MEDIA
PHYSICAL DATA:
APPEARANCE AND ODOR: DRY GRANULAR SOLID (-10 MESH + 100 MESH)
SOLUBILITY/BEHAVIOR IN WATER: INSOLUABLE
BOILING POINT (F): N/A : EVAPORATION RATE N/A: SPECIFIC GRAVITY: 1.5 FREEZING/MELTING POINT (F): N/A
VOLUME VOLITILE (%): N/A
HAZARDOUS INGREDIENTS:
HAZARDOUS INGREDIENTS: N/A CAS NO: N/A HAZARD DATA: N/A
FIRE AND EXPLOSION DATA:
FLASH POINT: ASTM D-1929: EST FLASH APPROX. 530C EXPLOSIVE LIMITS: N/A
EXTINGUISHER: FOAM,CARBON DIOXIDE, WATER, DRY CHEMICAL: FIRE FIGHTING EQUIPMENT: FULL PROTECTIVE GEAR
HEALTH HAZARD DATA:
HAZARD BY ROUTES OF ENTRY: INHALATION: AVOID INHALATION. 0. INGESTION: NONE KNOWN
SKIN/EYE CONTACT: IRRITATION OF EYES,NOSE, THROAT AND DERMATITIS ON SKIN.
FIRST AID: EYES: FLUSH WITH WATER UNTIL PARTICLES ARE REMOVED;
INTERNAL: CALL PHYSICIAN; INHALATION: REMOVE TO FRESH AIR;
SKIN: WASH WITH SOAP AND WATER UNTIL PARTICLES ARE REMOVED.
CONDITIONS FOR SAFE USE: ALWAYS WEAR NIOSH/OSHA APPROVED RESPIRATOR WHEN HANDLING THIS PRODUCT; EYE
GOGGLES ARE RECOMMENDED; WEAR APPROPRIATE PROTECTIVE CLOTHING IF SENSITIVITY TO MECHANICAL
IRRITATION CAUSES DISCOMFORT.
REACTIVE DATA:
STABILITY: STABLE. HAZARDOUS DECOMPOSITION PRODUCTS:N/A HAZARDOUS POLYMERIZATION: WILL NOT OCCUR.
SPILL OR LEAK PROCEDURES:
PROCEDURES: VACUUM-CLEAN TO PICK UP DUST. IF SWEEPING IS REQUIRED, AVOID GENERATING EXCESSIVE DUST; USE DUST
SUPPRESSOR IF NECESSARY. WASTE DISPOSAL: MATERIAL IS BIODEGRADABLE. NORMAL LANDFILL IN ACCORDANCE WITH
FEDERAL, STATE AND LOCAL REGULATIONS.
SPECIAL PRECAUTIONS:
RESPIRATORY PROTECTION: DO NOT BREATHE DUST. FULL FACE NIOSH/OSHA APPROVED RESPIRATOR DURING APPLICATION.
DUST/MIST RESPIRATOR SHOULD BE WORN WHEN TRANSFERRING MATERIAL TO AND FROM CONTAINERS.
TRANSPORTATION AND HANDLING:
TRANSPORTATION: NOT REGULATED. STORAGE: STORE INDOORS, MATERIAL HAS AN UNLIMITED SHELF-LIFE IF KEPT DRY.
HANDLING: FOLLOW NORMAL WAREHOUSING PROCEDURES WHEN HANDLING THIS PRODUCT, PREVENT SPILLAGE.