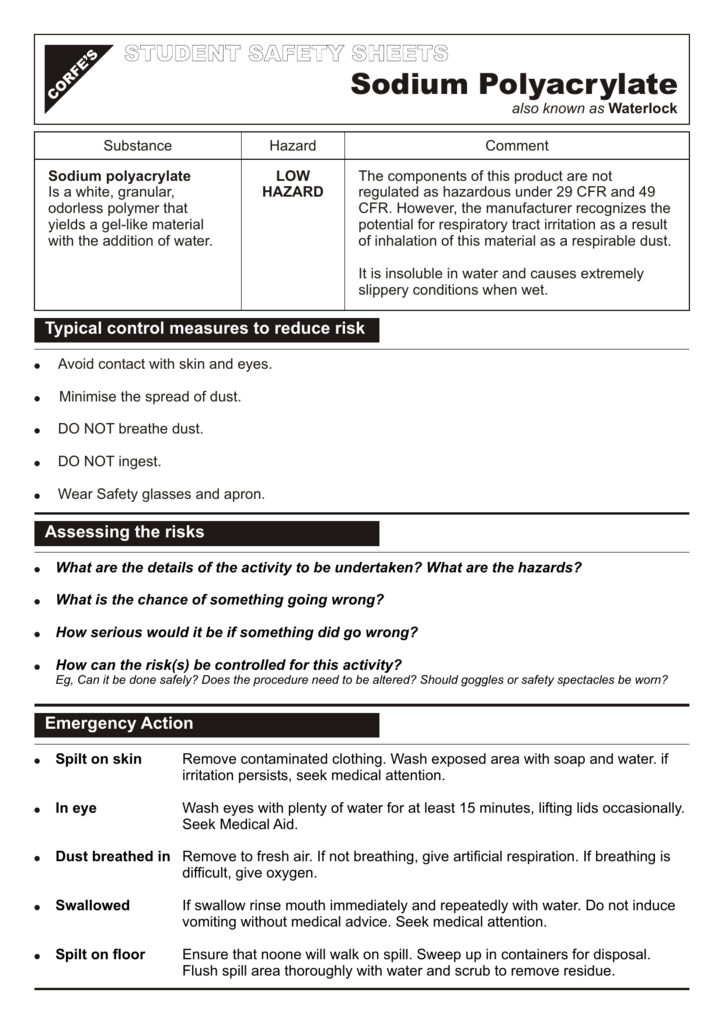 'S
C
O
R
FE
STUDENT SAFETY SHEETS
Sodium Polyacrylate
also known as Waterlock
Substance
Sodium polyacrylate
Is a white, granular,
odorless polymer that
yields a gel-like material
with the addition of water.
Hazard
Comment
LOW
HAZARD
The components of this product are not
regulated as hazardous under 29 CFR and 49
CFR. However, the manufacturer recognizes the
potential for respiratory tract irritation as a result
of inhalation of this material as a respirable dust.
It is insoluble in water and causes extremely
slippery conditions when wet.
Typical control measures to reduce risk
!
Avoid contact with skin and eyes.
!
Minimise the spread of dust.
!
DO NOT breathe dust.
!
DO NOT ingest.
!
Wear Safety glasses and apron.
Assessing the risks
!
What are the details of the activity to be undertaken? What are the hazards?
!
What is the chance of something going wrong?
!
How serious would it be if something did go wrong?
!
How can the risk(s) be controlled for this activity?
Eg, Can it be done safely? Does the procedure need to be altered? Should goggles or safety spectacles be worn?
Emergency Action
!
Spilt on skin
Remove contaminated clothing. Wash exposed area with soap and water. if
irritation persists, seek medical attention.
!
In eye
Wash eyes with plenty of water for at least 15 minutes, lifting lids occasionally.
Seek Medical Aid.
!
Dust breathed in Remove to fresh air. If not breathing, give artificial respiration. If breathing is
difficult, give oxygen.
!
Swallowed
If swallow rinse mouth immediately and repeatedly with water. Do not induce
vomiting without medical advice. Seek medical attention.
!
Spilt on floor
Ensure that noone will walk on spill. Sweep up in containers for disposal.
Flush spill area thoroughly with water and scrub to remove residue.