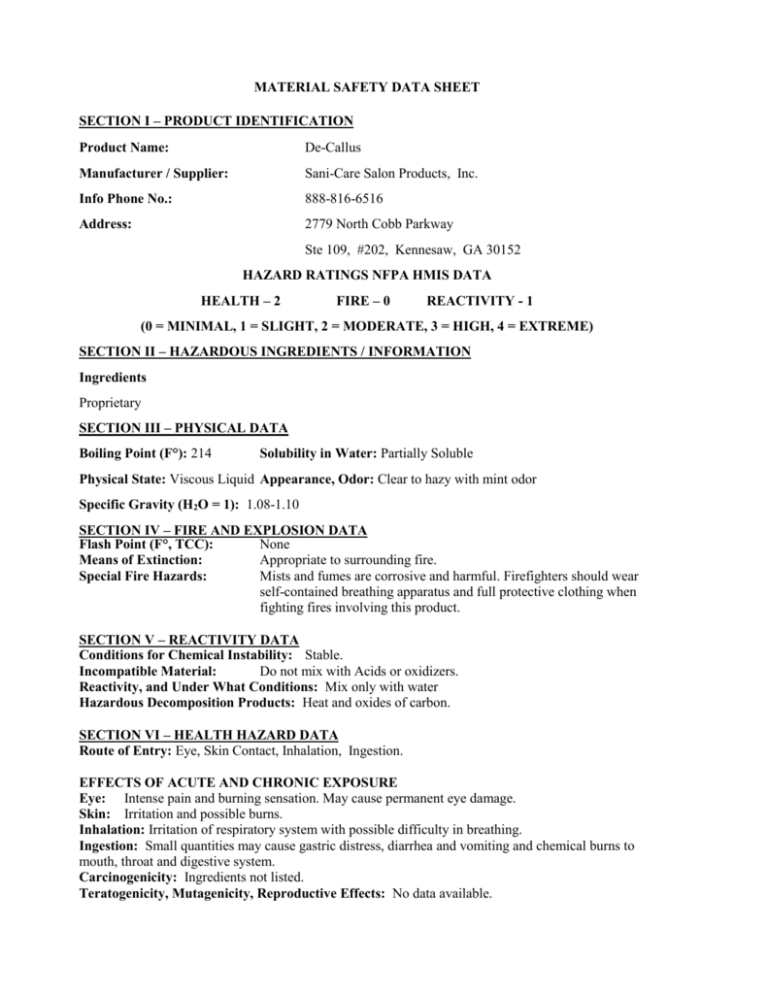 MATERIAL SAFETY DATA SHEET
SECTION I – PRODUCT IDENTIFICATION
Product Name:
De-Callus
Manufacturer / Supplier:
Sani-Care Salon Products, Inc.
Info Phone No.:
888-816-6516
Address:
2779 North Cobb Parkway
Ste 109, #202, Kennesaw, GA 30152
HAZARD RATINGS NFPA HMIS DATA
HEALTH – 2
FIRE – 0
REACTIVITY - 1
(0 = MINIMAL, 1 = SLIGHT, 2 = MODERATE, 3 = HIGH, 4 = EXTREME)
SECTION II – HAZARDOUS INGREDIENTS / INFORMATION
Ingredients
Proprietary
SECTION III – PHYSICAL DATA
Boiling Point (F°): 214
Solubility in Water: Partially Soluble
Physical State: Viscous Liquid Appearance, Odor: Clear to hazy with mint odor
Specific Gravity (H2O = 1): 1.08-1.10
SECTION IV – FIRE AND EXPLOSION DATA
Flash Point (F°, TCC):
None
Means of Extinction:
Appropriate to surrounding fire.
Special Fire Hazards:
Mists and fumes are corrosive and harmful. Firefighters should wear
self-contained breathing apparatus and full protective clothing when
fighting fires involving this product.
SECTION V – REACTIVITY DATA
Conditions for Chemical Instability: Stable.
Incompatible Material:
Do not mix with Acids or oxidizers.
Reactivity, and Under What Conditions: Mix only with water
Hazardous Decomposition Products: Heat and oxides of carbon.
SECTION VI – HEALTH HAZARD DATA
Route of Entry: Eye, Skin Contact, Inhalation, Ingestion.
EFFECTS OF ACUTE AND CHRONIC EXPOSURE
Eye: Intense pain and burning sensation. May cause permanent eye damage.
Skin: Irritation and possible burns.
Inhalation: Irritation of respiratory system with possible difficulty in breathing.
Ingestion: Small quantities may cause gastric distress, diarrhea and vomiting and chemical burns to
mouth, throat and digestive system.
Carcinogenicity: Ingredients not listed.
Teratogenicity, Mutagenicity, Reproductive Effects: No data available.
EMERGENCY AND FIRST AID PROCEDURES
Eye:
Immediately flush eyes in clear running water for at least 15 minutes lifting upper and
lower lids periodically. GET MEDICAL ATTENTION IMMEDIATELY.
Skin:
Flush skin with plenty of water until "slick" feeling is gone. If irritation results and
persists, get medical attention immediately.
Inhalation:
Move victim to fresh air. If breathing does not return to normal, obtain medical
attention.
Ingestion:
Administer dilute of citrus juice or vinegar. If these are not available, administer large
quantities of water. Do not induce vomiting. If victim is unconscious, do not give
anything by mouth. Get medical attention immediately.
SECTION VII – PRECAUTIONS FOR SAFE HANDLING AND USE
Leak and Spill Procedure: Before attempting clean-up, refer to hazard data given above. Small spills
may be absorbed with non-reactive absorbent and placed in suitable, covered, labeled containers.
Prevent large spills from entering sewers or waterways. Contact emergency services and supplier for
advice.
Waste Disposal: Review Federal, state and local government requirements prior to disposal. Wastes of
the diluted products are US EPA RCRA Hazardous by reason of corrosiveness.
Storage and Handling Requirements: Keep out of reach of children. Store in closed container away
from incompatible materials. Keep container closed when not in use.
SECTION VIII – CONTROL MEASURES
Gloves:
Rubber or neoprene gloves.
Eye Protection:
Chemical splash goggles or safety glasses recommended.
Respiratory Protection: Not required under normal use, recommended for minor mists.
Ventilation:
General exhaust recommended.
Other Protective Equipment: Appropriate work attire and footwear.
SECTION IX – PREPARATION INFORMATION
Date: 08/16/2009
MSDS Prepared by: Sani-Care Salon Products, Inc
Disclaimer:
THE INFORMATION CONTAINED HEREIN is believed to be accurate but is not warranted to be so.
Users are advised to confirm in advance of need that information is current, applicable and suited to the
circumstances of use. Vendor assumes no responsibility for injury to vendee or third persons
proximately caused by the material if reasonable safety procedures are not adhered to as stipulated in
the data sheet. Furthermore, vendor assumes no responsibility for injury caused by abnormal use of this
material even if reasonable procedures are followed.