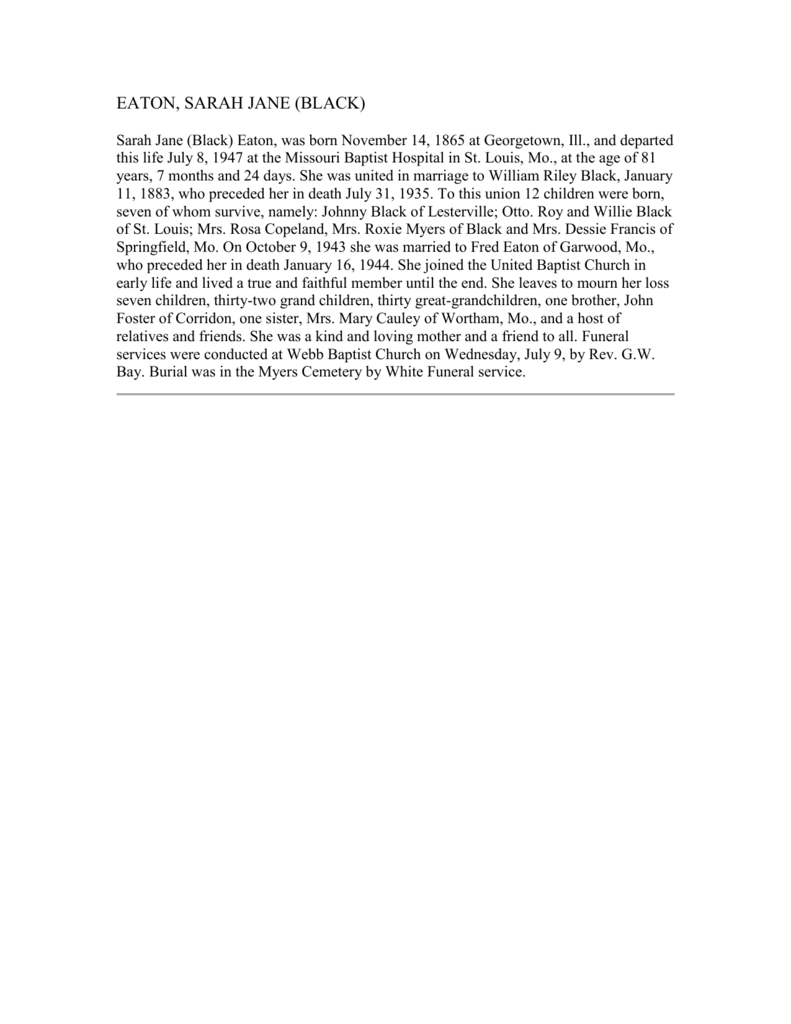 EATON, SARAH JANE (BLACK)
Sarah Jane (Black) Eaton, was born November 14, 1865 at Georgetown, Ill., and departed
this life July 8, 1947 at the Missouri Baptist Hospital in St. Louis, Mo., at the age of 81
years, 7 months and 24 days. She was united in marriage to William Riley Black, January
11, 1883, who preceded her in death July 31, 1935. To this union 12 children were born,
seven of whom survive, namely: Johnny Black of Lesterville; Otto. Roy and Willie Black
of St. Louis; Mrs. Rosa Copeland, Mrs. Roxie Myers of Black and Mrs. Dessie Francis of
Springfield, Mo. On October 9, 1943 she was married to Fred Eaton of Garwood, Mo.,
who preceded her in death January 16, 1944. She joined the United Baptist Church in
early life and lived a true and faithful member until the end. She leaves to mourn her loss
seven children, thirty-two grand children, thirty great-grandchildren, one brother, John
Foster of Corridon, one sister, Mrs. Mary Cauley of Wortham, Mo., and a host of
relatives and friends. She was a kind and loving mother and a friend to all. Funeral
services were conducted at Webb Baptist Church on Wednesday, July 9, by Rev. G.W.
Bay. Burial was in the Myers Cemetery by White Funeral service.