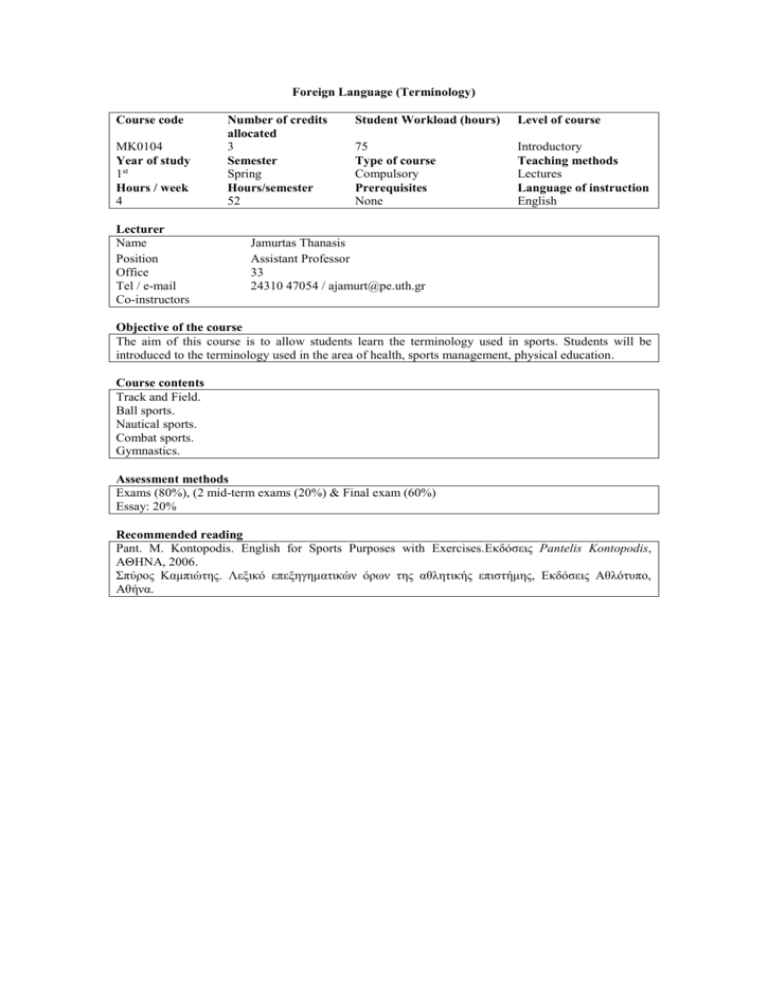 Foreign Language (Terminology)
Course code
MK0104
Year of study
1st
Hours / week
4
Lecturer
Name
Position
Office
Tel / e-mail
Co-instructors
Number of credits
allocated
3
Semester
Spring
Hours/semester
52
Student Workload (hours)
Level of course
75
Type of course
Compulsory
Prerequisites
None
Introductory
Teaching methods
Lectures
Language of instruction
English
Jamurtas Thanasis
Assistant Professor
33
24310 47054 / ajamurt@pe.uth.gr
Objective of the course
The aim of this course is to allow students learn the terminology used in sports. Students will be
introduced to the terminology used in the area of health, sports management, physical education.
Course contents
Track and Field.
Ball sports.
Nautical sports.
Combat sports.
Gymnastics.
Assessment methods
Exams (80%), (2 mid-term exams (20%) & Final exam (60%)
Essay: 20%
Recommended reading
Pant. M. Kontopodis. English for Sports Purposes with Exercises.Εκδόσεις Pantelis Kontopodis,
ΑΘΗΝΑ, 2006.
Σπύρος Καμπιώτης. Λεξικό επεξηγηματικών όρων της αθλητικής επιστήμης, Εκδόσεις Αθλότυπο,
Αθήνα.