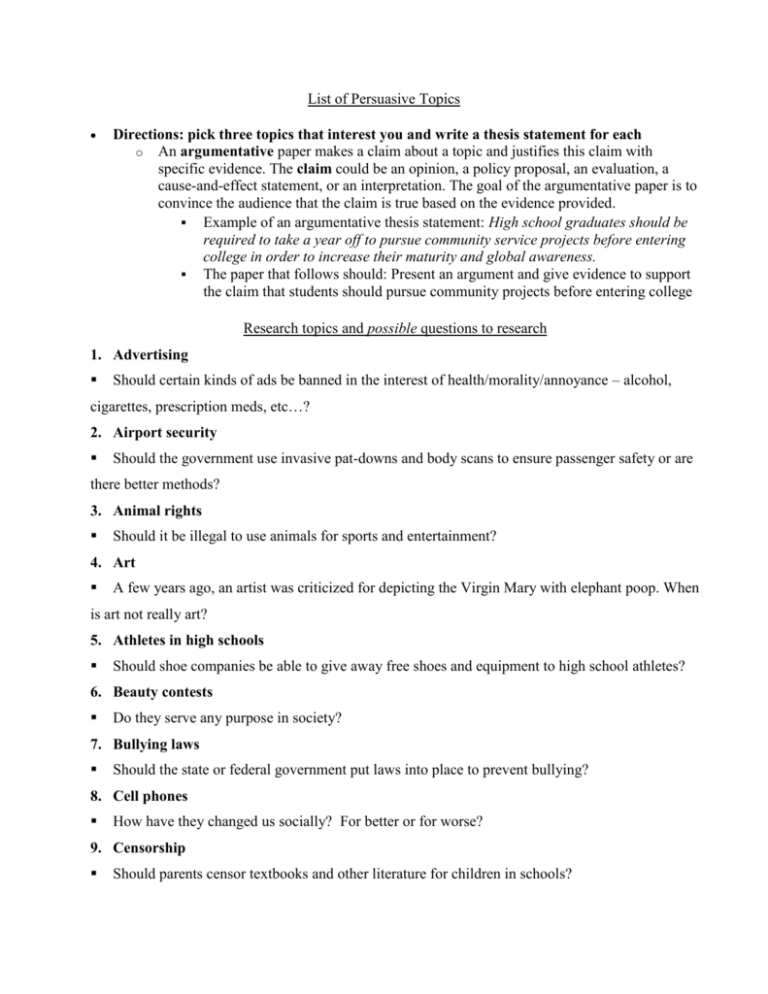 List of Persuasive Topics

Directions: pick three topics that interest you and write a thesis statement for each
o An argumentative paper makes a claim about a topic and justifies this claim with
specific evidence. The claim could be an opinion, a policy proposal, an evaluation, a
cause-and-effect statement, or an interpretation. The goal of the argumentative paper is to
convince the audience that the claim is true based on the evidence provided.
 Example of an argumentative thesis statement: High school graduates should be
required to take a year off to pursue community service projects before entering
college in order to increase their maturity and global awareness.
 The paper that follows should: Present an argument and give evidence to support
the claim that students should pursue community projects before entering college
Research topics and possible questions to research
1. Advertising

Should certain kinds of ads be banned in the interest of health/morality/annoyance – alcohol,
cigarettes, prescription meds, etc…?
2. Airport security

Should the government use invasive pat-downs and body scans to ensure passenger safety or are
there better methods?
3. Animal rights

Should it be illegal to use animals for sports and entertainment?
4. Art

A few years ago, an artist was criticized for depicting the Virgin Mary with elephant poop. When
is art not really art?
5. Athletes in high schools

Should shoe companies be able to give away free shoes and equipment to high school athletes?
6. Beauty contests

Do they serve any purpose in society?
7. Bullying laws

Should the state or federal government put laws into place to prevent bullying?
8. Cell phones

How have they changed us socially? For better or for worse?
9. Censorship

Should parents censor textbooks and other literature for children in schools?
10. Cheap labor

U.S. companies that move factories to undeveloped nations barely pay employees enough to live
on. Is it unethical to pay cheap wages or are companies doing those workers a favor?
11. Civil disobedience

Is breaking the law for a cause justifiable?
12. Exams

Exams often do little more than measure a person's ability to take exams. Should exams be
outlawed in favor of another form of assessment?
13. Fast food

Are we taking it too far by blaming fast food restaurants for obesity? When is it individual
responsibility and when is it appropriate to place blame?
14. Felons and voting

Should convicted felons have the right to vote?
15. Feminism

Is feminism still relevant? How do young women view feminism?
16. Flag

Should children be required to say the Pledge of Allegiance in schools?
17. Gap year

Should teens in the U.S. adopt the British custom of taking a "gap year" between high school and
college?
18. Same sex marriage

Should there be a constitutional amendment that allows gays and lesbians to legally marry?
19. Internet and children

Are children smarter (or more socialized) because of the Internet?
20. Internet regulation:

Should the federal government be allowed to regulate information on the internet?
21. Journalism

Should newspaper reporters be required to reveal their sources?
22. Juvenile offenders

Should juvenile offenders be tried and punished as adults?
23. Literacy

Are Americans "literate?"
24. Malpractice

How can we balance the need to lower the cost of malpractice insurance with the fact that
physician malpractice is one of the leading causes of death?
25. Media

Does the media, both print and broadcast, report fairly? Does it ever cross the line between
reporting the news and creating the news?
26. Military

Should the U.S. have mandatory military conscriptions? For whom?
27. Models

Should there be a minimum weight limit?
28. Organ sale

Should the sale of human organs be legal?
29. Overpopulation

What would happen globally if the demand for natural resources is greater than the supply?
30. Parents

Should parents be held responsible when their children break laws?
31. Privacy

Should the government be allowed to wiretap without permission?
32. Privacy

What medical information should be confidential? Who, if anybody, should have access to
medical records?
33. Public figures

Does the public have a right to know about a public figure's private life?
34. Racial bias in media

Does news coverage favor whites?
35. School lunches

Should government impose restrictions on what kinds of foods can be served in school
cafeterias?
36. School uniforms

Pros and cons of school uniforms.
37. Sex offenders

Once they leave prison, are laws about where they may live and be employed unfair?
38. Single sex schools

Do children learn better in boys-only and girls-only schools?
39. Smoking bans

Should the federal government pass a nationwide indoor smoking ban?
40. Social anxiety

How is it different from shyness? And, are we a society of anxiety?
41. Sports parents

What are the effects on children whose parents push them in sports?
42. Title IX

Has it helped women's sports? Has it harmed men's sports?
43. Vaccines

Should parents avoid vaccinating their children? Should parents be forced to vaccinate children?
44. Wage gap

Women still earn only 75 cents for every $1 a man earns. Explain why.
45. Wages

There's a minimum wage, but should there also be a maximum wage/salary a person can earn?
46. Wind energy

Is wind energy really that cheap? Is it effective? Is it practical?
47. Women in the clergy

Should women be priests, pastors, ministers, and rabbis?
48. Workaholics

Do Americans work too hard? Does working more actually reduce productivity? Is a 40-hour
work week too much? Should there be a mandatory cap on the number of hours a person can work?
Should there be changes in employment laws to give Americans more relaxation time?