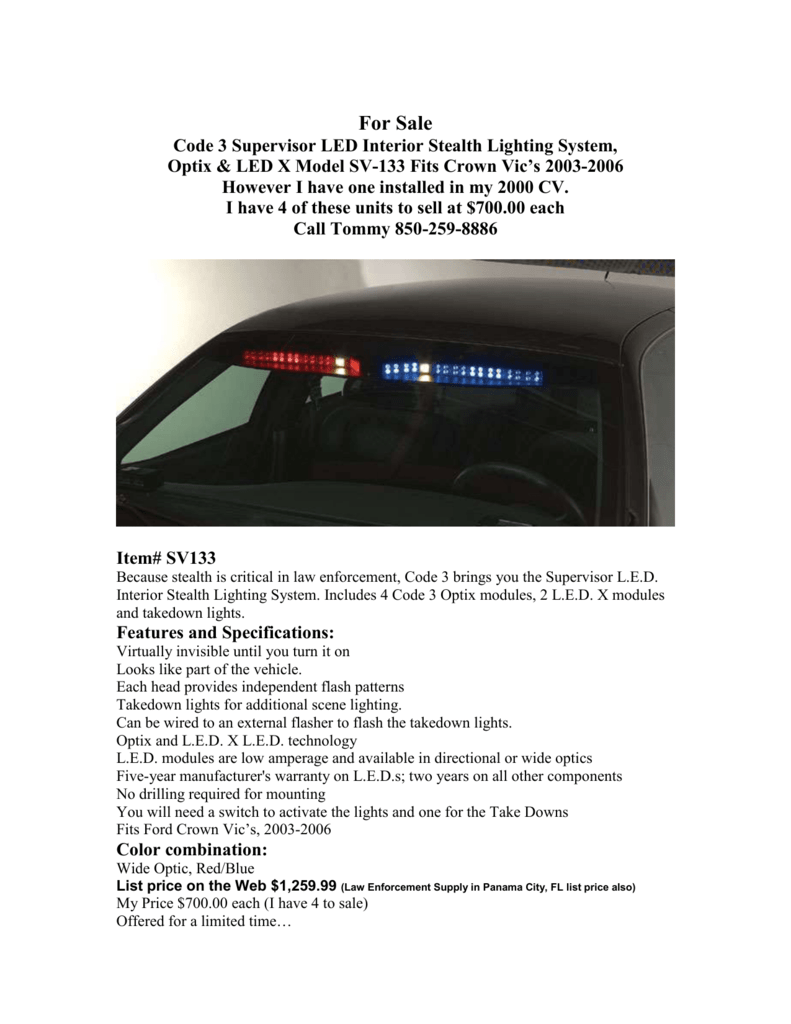 For Sale
Code 3 Supervisor LED Interior Stealth Lighting System,
Optix & LED X Model SV-133 Fits Crown Vic's 2003-2006
However I have one installed in my 2000 CV.
I have 4 of these units to sell at $700.00 each
Call Tommy 850-259-8886
Item# SV133
Because stealth is critical in law enforcement, Code 3 brings you the Supervisor L.E.D.
Interior Stealth Lighting System. Includes 4 Code 3 Optix modules, 2 L.E.D. X modules
and takedown lights.
Features and Specifications:
Virtually invisible until you turn it on
Looks like part of the vehicle.
Each head provides independent flash patterns
Takedown lights for additional scene lighting.
Can be wired to an external flasher to flash the takedown lights.
Optix and L.E.D. X L.E.D. technology
L.E.D. modules are low amperage and available in directional or wide optics
Five-year manufacturer's warranty on L.E.D.s; two years on all other components
No drilling required for mounting
You will need a switch to activate the lights and one for the Take Downs
Fits Ford Crown Vic's, 2003-2006
Color combination:
Wide Optic, Red/Blue
List price on the Web $1,259.99 (Law Enforcement Supply in Panama City, FL list price also)
My Price $700.00 each (I have 4 to sale)
Offered for a limited time…
What is Optix?
Code 3® Optix™ Advanced LED Modules Introduced for Use In
Emergency Lighting Systems
Code 3, Inc. has introduced Code 3® Optix™ LED modules to the emergency response
market for use in lightbars and interior lighting systems. The Code 3 Optix are the
brightest GEN III LED emitters with the highest output available on the market. A new
light engine, coupled with all new higher efficiency Total Internal Reflector (TIR) optical
technology, allows a much brighter and larger signal than previously possible.
Extremely compact at 1" high by 6" wide, Optix modules offer low energy consumption
at less than .5 amp per module and carry the Code 3 five-year warranty on LEDs. Stateof-the-art electronics have been used in the Optix to allow for several light patterns,
ranging from "strobing" cycle flash to "steady burn". Optix can be ordered in red, blue,
amber, or white, but as with all LEDs, they remain clear until illuminated.
Code 3 is offering Optix modules for the same price as the popular LED X™ modules.
Since the Optix provides a superior performance over that of previously available LED
technology, fewer modules can be used to populate a lightbar, and that adds up to a cost
savings for the customer.
"With Code 3 Optix, a customer can get far better signal performance with fewer
modules than before," stated Kelly J. Kyriakos, Vice President of Sales for Code 3, Inc.
"And because an Optix module costs no more than our other LED modules, we expect
that customers will increasingly make Optix their preferred choice when choosing
options for their products."
Code 3 Optix modules currently are standard in the corners of the Code 3 LED X™ 2100
lightbar, and are very popular in the new Code 3 SuperVisor™ interior visor-mounted
lighting system. Optix will be available in early second quarter of 2004 for the Code
360®, Excalibur®, and Javelin™ lightbars. Code 3 plans to make Optix an option for the
entire LED product line.