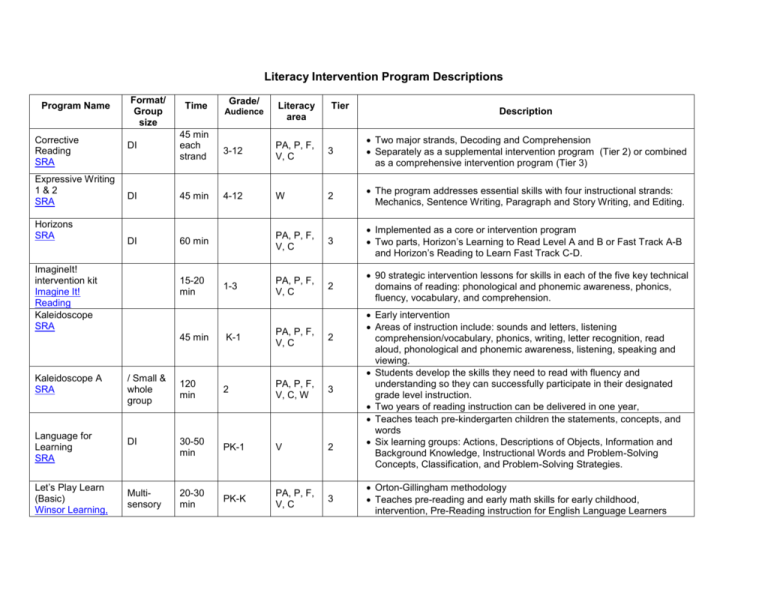 Literacy Intervention Program Descriptions
Program Name
Corrective
Reading
SRA
Expressive Writing
1&2
SRA
Horizons
SRA
Format/
Group
size
DI
45 min
each
strand
DI
45 min
DI
60 min
ImagineIt!
intervention kit
Imagine It!
Reading
Kaleidoscope
SRA
Kaleidoscope A
SRA
Language for
Learning
SRA
Let's Play Learn
(Basic)
Winsor Learning,
Time
15-20
min
Grade/
Audience
Literacy
area
3-12
PA, P, F,
V, C
3
 Two major strands, Decoding and Comprehension
 Separately as a supplemental intervention program (Tier 2) or combined
as a comprehensive intervention program (Tier 3)
4-12
W
2
 The program addresses essential skills with four instructional strands:
Mechanics, Sentence Writing, Paragraph and Story Writing, and Editing.
PA, P, F,
V, C
3
 Implemented as a core or intervention program
 Two parts, Horizon's Learning to Read Level A and B or Fast Track A-B
and Horizon's Reading to Learn Fast Track C-D.
PA, P, F,
V, C
2
 90 strategic intervention lessons for skills in each of the five key technical
domains of reading: phonological and phonemic awareness, phonics,
fluency, vocabulary, and comprehension.
1-3
Tier
45 min
K-1
PA, P, F,
V, C
2
120
min
2
PA, P, F,
V, C, W
3
DI
30-50
min
PK-1
V
2
Multisensory
20-30
min
PK-K
PA, P, F,
V, C
3
/ Small &
whole
group
Description
 Early intervention
 Areas of instruction include: sounds and letters, listening
comprehension/vocabulary, phonics, writing, letter recognition, read
aloud, phonological and phonemic awareness, listening, speaking and
viewing.
 Students develop the skills they need to read with fluency and
understanding so they can successfully participate in their designated
grade level instruction.
 Two years of reading instruction can be delivered in one year,
 Teaches teach pre-kindergarten children the statements, concepts, and
words
 Six learning groups: Actions, Descriptions of Objects, Information and
Background Knowledge, Instructional Words and Problem-Solving
Concepts, Classification, and Problem-Solving Strategies.
 Orton-Gillingham methodology
 Teaches pre-reading and early math skills for early childhood,
intervention, Pre-Reading instruction for English Language Learners
Program Name
Format/
Group
size
Time
Grade/
Audience
Literacy
area
Tier
Inc.
Lexia
Lexia Learning
Tech
Based
Program
My Sidewalks
Reading &
Language Arts
Curriculum –
Instruction by
Pearson
20-30
min
K-12
30 min
3-5
PA, P, F,
V, C
2
PA, P, V,
C
2
Read Naturally
Read Naturally
Tech
Based
Program
30 min
1-8
F
2
Reading Mastery
(Classic, Plus)
DI
45-90
min
K-6
PA, P, F,
V, C
3
Reasoning &
Writing
DI
45 min
K-12
W
2
Signatures
DI
90 min
K-6
PA, P, F,
V, C
3
SIM:
Fundamentals&
Proficiency of
Sentence Writing*
SIM
25 min
3-8
W
2
6 min
K-8
F
2
Six Minute
Solution
Description
(ELL)
 Provides phonics instruction and gives students independent practice in
basic reading skills
 Supplement regular classroom instruction.
 Support skill development in the five areas of reading instruction
identified by the National Reading Panel
 Intensive elementary reading intervention program
 Designed for students who are unable to read and comprehend gradelevel materials
 Fluency program designed to develop in readers the skills necessary for
fluent and effortless reading: speed, accuracy and proper expression.
 Three strategies: reading along with a fluent model, individual repeated
readings of the same passage at the student's reading level, and
progress monitoring.
 Provides explicit, systematic instruction in English language reading
 Reading Mastery is available in two versions, Reading Mastery Classic
levels I and II (for use in grades K–3) and Reading Mastery Plus, an
integrated reading-language program for grades K–6
 Higher-order thinking skills as the foundation for writing skills
 Students learn to organize their thoughts into words, first through oral
activities such as storytelling and readers' theater, and later, on paper
 Students learn that spelling, punctuation, and grammar are essential to
effective communication.
 Highly explicit, systematic approach of Direct Instruction to accelerate
reading
 Three strands address Reading, Language Arts, and Literature
 Two parts: Fundamentals in the Sentence Writing Strategy and
Proficiency in the Sentence Writing Strategy.
 Teaches strategy for recognizing and writing 14 sentence patterns with
four types of sentences: simple, compound, complex, and compoundcomplex.
 Concentrated practice on phonetic elements, sight word vocabulary, and
expository passage reading
Program Name
Format/
Group
size
Time
Grade/
Audience
Literacy
area
Tier
Sonday I & 2
Multisensory
25-30
min
K-8
PA, P, F,
V, C
2
Text Talk*
Tech
Based
Program
20 min
K-3
V, C
2
Description
 Based on the research of repeated readings and peer-assisted learning
strategies, and partner reading is the primary activity of the program
 Sonday System 1 guides beginning reading, writing and spelling
instruction, reading intervention, instruction for English Language
Learners (ELL)
 Sonday System 2 guides the instruction for intermediate reading and
intervention with emphasis on multi-syllabic words, prefixes and suffixes.
 Oral language instruction program intended for all students in grades K-3
 Develop the student's ability to construct meaning of sophisticated
vocabulary words within the context of read-alouds and explicit
vocabulary instruction.