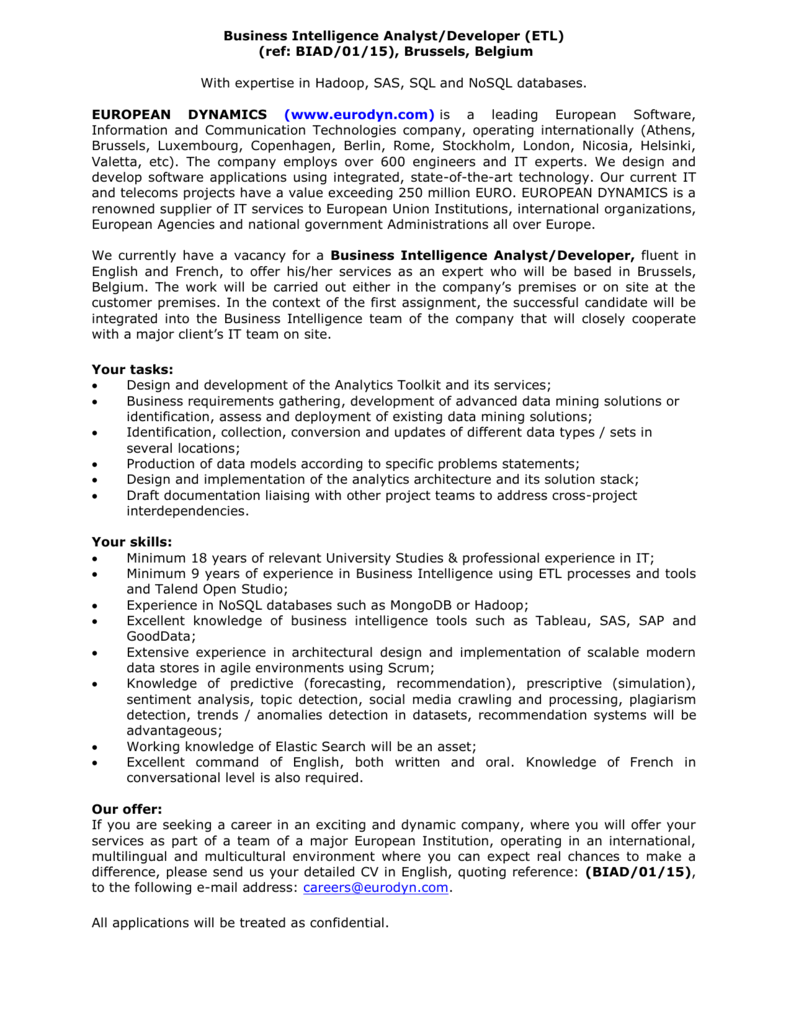 Business Intelligence Analyst/Developer (ETL)
(ref: BIAD/01/15), Brussels, Belgium
With expertise in Hadoop, SAS, SQL and NoSQL databases.
EUROPEAN DYNAMICS (www.eurodyn.com) is a leading European Software,
Information and Communication Technologies company, operating internationally (Athens,
Brussels, Luxembourg, Copenhagen, Berlin, Rome, Stockholm, London, Nicosia, Helsinki,
Valetta, etc). The company employs over 600 engineers and IT experts. We design and
develop software applications using integrated, state-of-the-art technology. Our current IT
and telecoms projects have a value exceeding 250 million EURO. EUROPEAN DYNAMICS is a
renowned supplier of IT services to European Union Institutions, international organizations,
European Agencies and national government Administrations all over Europe.
We currently have a vacancy for a Business Intelligence Analyst/Developer, fluent in
English and French, to offer his/her services as an expert who will be based in Brussels,
Belgium. The work will be carried out either in the company's premises or on site at the
customer premises. In the context of the first assignment, the successful candidate will be
integrated into the Business Intelligence team of the company that will closely cooperate
with a major client's IT team on site.
Your tasks:

Design and development of the Analytics Toolkit and its services;

Business requirements gathering, development of advanced data mining solutions or
identification, assess and deployment of existing data mining solutions;

Identification, collection, conversion and updates of different data types / sets in
several locations;

Production of data models according to specific problems statements;

Design and implementation of the analytics architecture and its solution stack;

Draft documentation liaising with other project teams to address cross-project
interdependencies.
Your skills:

Minimum 18 years of relevant University Studies & professional experience in IT;

Minimum 9 years of experience in Business Intelligence using ETL processes and tools
and Talend Open Studio;

Experience in NoSQL databases such as MongoDB or Hadoop;

Excellent knowledge of business intelligence tools such as Tableau, SAS, SAP and
GoodData;

Extensive experience in architectural design and implementation of scalable modern
data stores in agile environments using Scrum;

Knowledge of predictive (forecasting, recommendation), prescriptive (simulation),
sentiment analysis, topic detection, social media crawling and processing, plagiarism
detection, trends / anomalies detection in datasets, recommendation systems will be
advantageous;

Working knowledge of Elastic Search will be an asset;

Excellent command of English, both written and oral. Knowledge of French in
conversational level is also required.
Our offer:
If you are seeking a career in an exciting and dynamic company, where you will offer your
services as part of a team of a major European Institution, operating in an international,
multilingual and multicultural environment where you can expect real chances to make a
difference, please send us your detailed CV in English, quoting reference: (BIAD/01/15),
to the following e-mail address: [email protected]
All applications will be treated as confidential.
We offer a competitive remuneration (either on contract basis or remuneration with full
benefits package), based on qualifications and experience. All applications will be treated as
confidential. You may also consider all our other open vacancies by visiting the career
section of our web site (www.eurodyn.com) and follow us on Twitter
(@EURODYN_Careers).