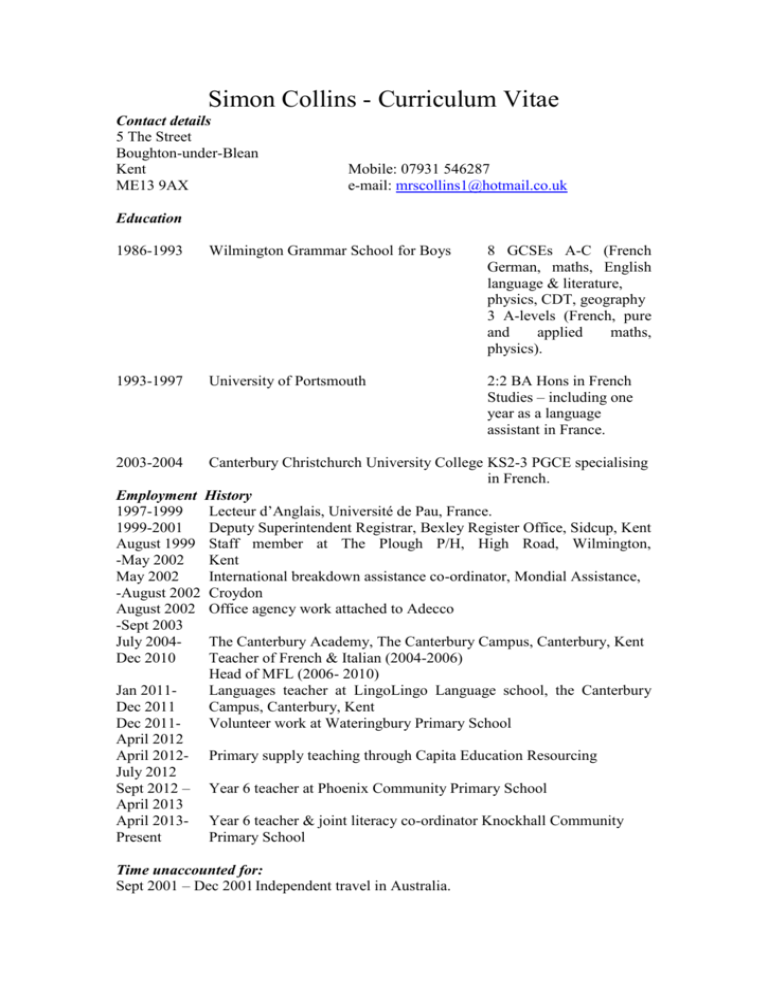 Simon Collins - Curriculum Vitae
Contact details
5 The Street
Boughton-under-Blean
Kent
ME13 9AX
Mobile: 07931 546287
e-mail: mrscollins1@hotmail.co.uk
Education
1986-1993
Wilmington Grammar School for Boys
8 GCSEs A-C (French
German, maths, English
language & literature,
physics, CDT, geography
3 A-levels (French, pure
and
applied
maths,
physics).
1993-1997
University of Portsmouth
2:2 BA Hons in French
Studies – including one
year as a language
assistant in France.
2003-2004
Canterbury Christchurch University College KS2-3 PGCE specialising
in French.
Employment History
1997-1999
Lecteur d'Anglais, Université de Pau, France.
1999-2001
Deputy Superintendent Registrar, Bexley Register Office, Sidcup, Kent
August 1999 Staff member at The Plough P/H, High Road, Wilmington,
-May 2002
Kent
May 2002
International breakdown assistance co-ordinator, Mondial Assistance,
-August 2002 Croydon
August 2002 Office agency work attached to Adecco
-Sept 2003
July 2004The Canterbury Academy, The Canterbury Campus, Canterbury, Kent
Dec 2010
Teacher of French & Italian (2004-2006)
Head of MFL (2006- 2010)
Jan 2011Languages teacher at LingoLingo Language school, the Canterbury
Dec 2011
Campus, Canterbury, Kent
Dec 2011Volunteer work at Wateringbury Primary School
April 2012
April 2012- Primary supply teaching through Capita Education Resourcing
July 2012
Sept 2012 – Year 6 teacher at Phoenix Community Primary School
April 2013
April 2013- Year 6 teacher & joint literacy co-ordinator Knockhall Community
Present
Primary School
Time unaccounted for:
Sept 2001 – Dec 2001 Independent travel in Australia.