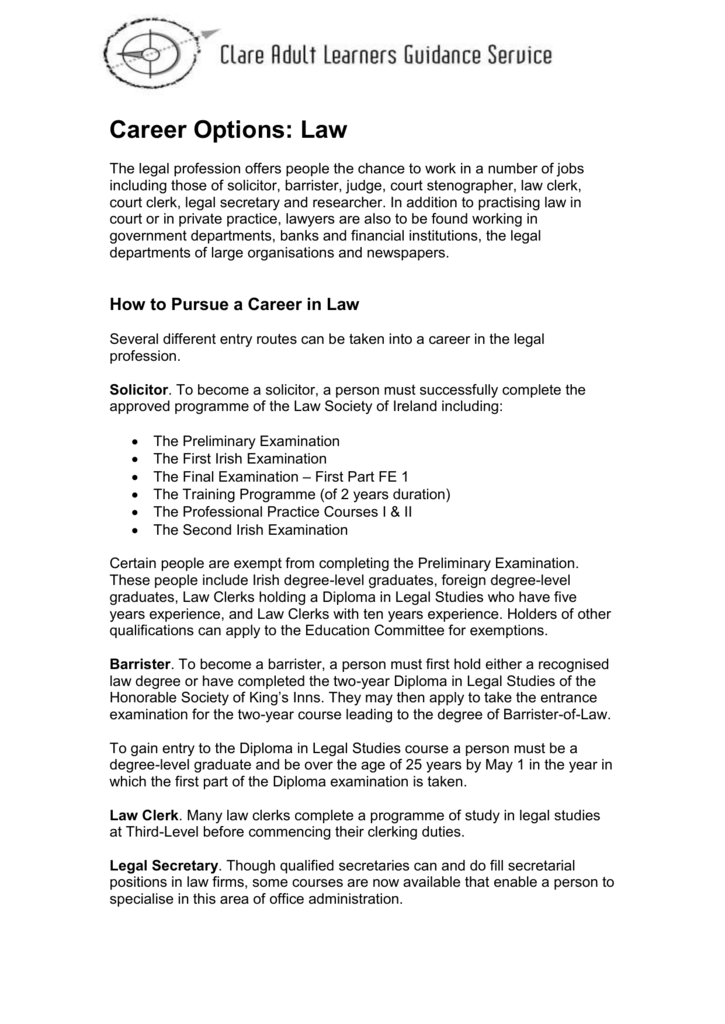 Career Options: Law
The legal profession offers people the chance to work in a number of jobs
including those of solicitor, barrister, judge, court stenographer, law clerk,
court clerk, legal secretary and researcher. In addition to practising law in
court or in private practice, lawyers are also to be found working in
government departments, banks and financial institutions, the legal
departments of large organisations and newspapers.
How to Pursue a Career in Law
Several different entry routes can be taken into a career in the legal
profession.
Solicitor. To become a solicitor, a person must successfully complete the
approved programme of the Law Society of Ireland including:






The Preliminary Examination
The First Irish Examination
The Final Examination – First Part FE 1
The Training Programme (of 2 years duration)
The Professional Practice Courses I & II
The Second Irish Examination
Certain people are exempt from completing the Preliminary Examination.
These people include Irish degree-level graduates, foreign degree-level
graduates, Law Clerks holding a Diploma in Legal Studies who have five
years experience, and Law Clerks with ten years experience. Holders of other
qualifications can apply to the Education Committee for exemptions.
Barrister. To become a barrister, a person must first hold either a recognised
law degree or have completed the two-year Diploma in Legal Studies of the
Honorable Society of King's Inns. They may then apply to take the entrance
examination for the two-year course leading to the degree of Barrister-of-Law.
To gain entry to the Diploma in Legal Studies course a person must be a
degree-level graduate and be over the age of 25 years by May 1 in the year in
which the first part of the Diploma examination is taken.
Law Clerk. Many law clerks complete a programme of study in legal studies
at Third-Level before commencing their clerking duties.
Legal Secretary. Though qualified secretaries can and do fill secretarial
positions in law firms, some courses are now available that enable a person to
specialise in this area of office administration.
Court Stenographers. Require very high levels of typing skills. Court
stenographers would typically complete office administration or secretarial
studies and go on to specialise in this area.
Further Education
Individuals may choose from a range of courses offered at NCVA FETAC 2
level. These courses are run on both a full-time and part-time basis in local
Adult Education Centres and Secondary Schools. Some private colleges also
offer FETAC 2 qualifications. Course titles include:




Medical and Legal Secretarial Studies
Office Administration with legal Studies
Legal Studies
Legal Secretarial Studies
Higher Education
Courses are available at Certificate, Diploma and Degree level. Course titles
include:














National Certificate in Legal Studies
National Diploma in Legal Studies
National Diploma in Legal Studies in International Trade
Diploma in Legal Studies (King's Inns)
Bachelor of Civil Law (B.C.L.)
Bachelor of Corporate Law (B.Corp.Law)
B.A. in Legal Science
B.A. in Legal and Business Studies
Bachelor of Laws (LL.B.)
Bachelor of Laws in Law and European Studies (LL.B.)
B.A. in Law and Accounting
B.C.L. (Law and French)
B.C.L. (Law and German)
B.C.L. (Law and Irish)
Further Information
Central Applications Office
http://www.cao.ie
The Honorable Society of King's Inns
http://www.kingsinns.ie
The Law Society of Ireland
http://www.lawsociety.ie
October 2003. Compiled by Clare Adult Learners Guidance Service (CALGS). Sources of
information used include: Job Profiles Career Directions and course outlines from course
providers. Although every effort is made to ensure that the information contained in this sheet
is accurate, readers should check with the appropriate organisations for the latest information.
CALGS accepts no responsibility for the accuracy of the information contained in this
document or for any actions arising from its use.