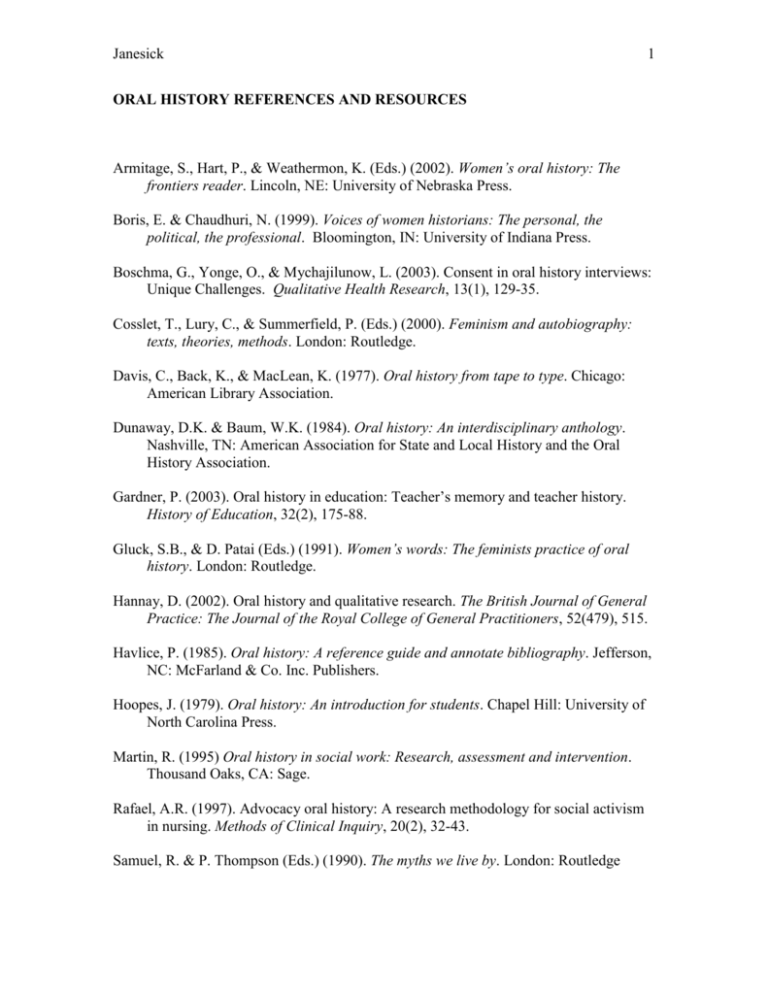 Janesick
1
ORAL HISTORY REFERENCES AND RESOURCES
Armitage, S., Hart, P., & Weathermon, K. (Eds.) (2002). Women's oral history: The
frontiers reader. Lincoln, NE: University of Nebraska Press.
Boris, E. & Chaudhuri, N. (1999). Voices of women historians: The personal, the
political, the professional. Bloomington, IN: University of Indiana Press.
Boschma, G., Yonge, O., & Mychajilunow, L. (2003). Consent in oral history interviews:
Unique Challenges. Qualitative Health Research, 13(1), 129-35.
Cosslet, T., Lury, C., & Summerfield, P. (Eds.) (2000). Feminism and autobiography:
texts, theories, methods. London: Routledge.
Davis, C., Back, K., & MacLean, K. (1977). Oral history from tape to type. Chicago:
American Library Association.
Dunaway, D.K. & Baum, W.K. (1984). Oral history: An interdisciplinary anthology.
Nashville, TN: American Association for State and Local History and the Oral
History Association.
Gardner, P. (2003). Oral history in education: Teacher's memory and teacher history.
History of Education, 32(2), 175-88.
Gluck, S.B., & D. Patai (Eds.) (1991). Women's words: The feminists practice of oral
history. London: Routledge.
Hannay, D. (2002). Oral history and qualitative research. The British Journal of General
Practice: The Journal of the Royal College of General Practitioners, 52(479), 515.
Havlice, P. (1985). Oral history: A reference guide and annotate bibliography. Jefferson,
NC: McFarland & Co. Inc. Publishers.
Hoopes, J. (1979). Oral history: An introduction for students. Chapel Hill: University of
North Carolina Press.
Martin, R. (1995) Oral history in social work: Research, assessment and intervention.
Thousand Oaks, CA: Sage.
Rafael, A.R. (1997). Advocacy oral history: A research methodology for social activism
in nursing. Methods of Clinical Inquiry, 20(2), 32-43.
Samuel, R. & P. Thompson (Eds.) (1990). The myths we live by. London: Routledge
Janesick
2
Schneider, W. (2002). So they understand: Cultural issues in oral history. Logan, UT:
Utah State University Press.
Terkel, S. (1984). The good war: An oral history of World War II. New York: Ballantine.
Terkel, S. (1986). Talking to myself: A memoir of my times. London: Harrap.
Tollefson, J.W. (1993). The strength not to fight: An oral history of conscientious
objections of the Vietnam War. Boston: Little, Brown.
Yow, V. (1994). Recording oral history: A practical guide for social scientists.
Thousand Oaks, CA: Sage.
WEB RESOURCES
Oral History Association www.oralhistory.com
http://omega.dickinson.edu/organizations/oha/
http://historymatters.gmu.edu/mse/oral/
http://www.dohistory.org/on_your_own/toolkit/oralHistory.html
American Historical Association www.historians.org
Oral History Review www.oralhistoryreview.com
Digital Story Telling Sites with how to do history guides
www.digitales.us
www.storycenter.org
www.cultureasaweapon.org
www.historicalvoices.org
www.dohistory.org
Through these major sites, you can find links to almost any type of oral history
project.