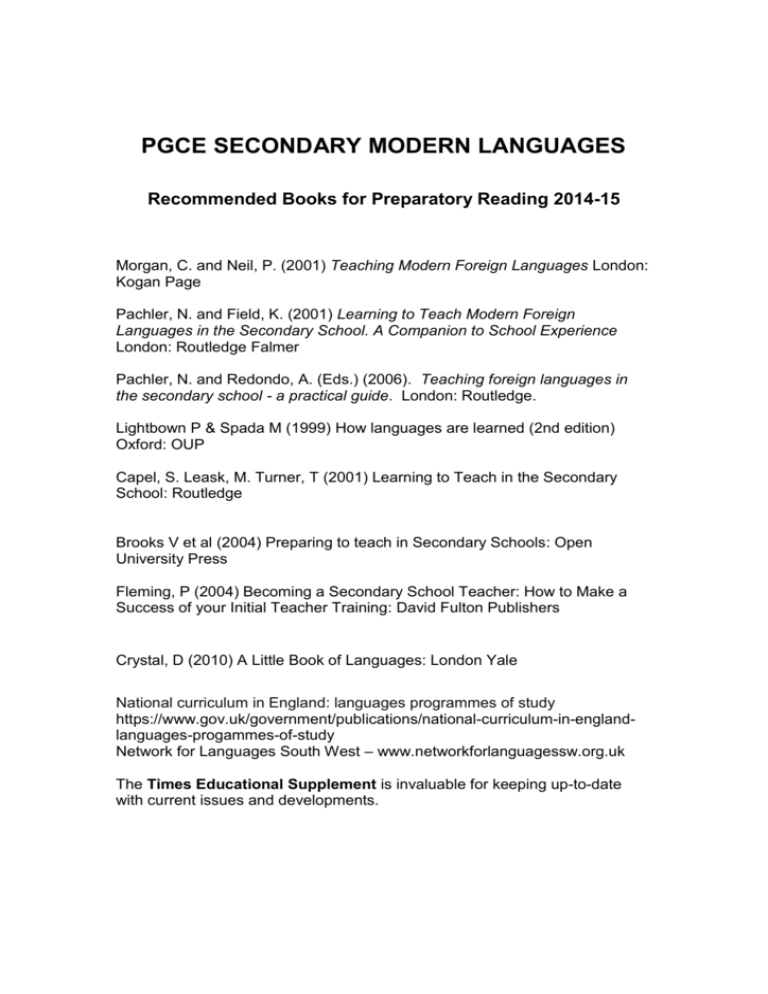 PGCE SECONDARY MODERN LANGUAGES
Recommended Books for Preparatory Reading 2014-15
Morgan, C. and Neil, P. (2001) Teaching Modern Foreign Languages London:
Kogan Page
Pachler, N. and Field, K. (2001) Learning to Teach Modern Foreign
Languages in the Secondary School. A Companion to School Experience
London: Routledge Falmer
Pachler, N. and Redondo, A. (Eds.) (2006). Teaching foreign languages in
the secondary school - a practical guide. London: Routledge.
Lightbown P & Spada M (1999) How languages are learned (2nd edition)
Oxford: OUP
Capel, S. Leask, M. Turner, T (2001) Learning to Teach in the Secondary
School: Routledge
Brooks V et al (2004) Preparing to teach in Secondary Schools: Open
University Press
Fleming, P (2004) Becoming a Secondary School Teacher: How to Make a
Success of your Initial Teacher Training: David Fulton Publishers
Crystal, D (2010) A Little Book of Languages: London Yale
National curriculum in England: languages programmes of study
https://www.gov.uk/government/publications/national-curriculum-in-englandlanguages-progammes-of-study
Network for Languages South West – www.networkforlanguagessw.org.uk
The Times Educational Supplement is invaluable for keeping up-to-date
with current issues and developments.