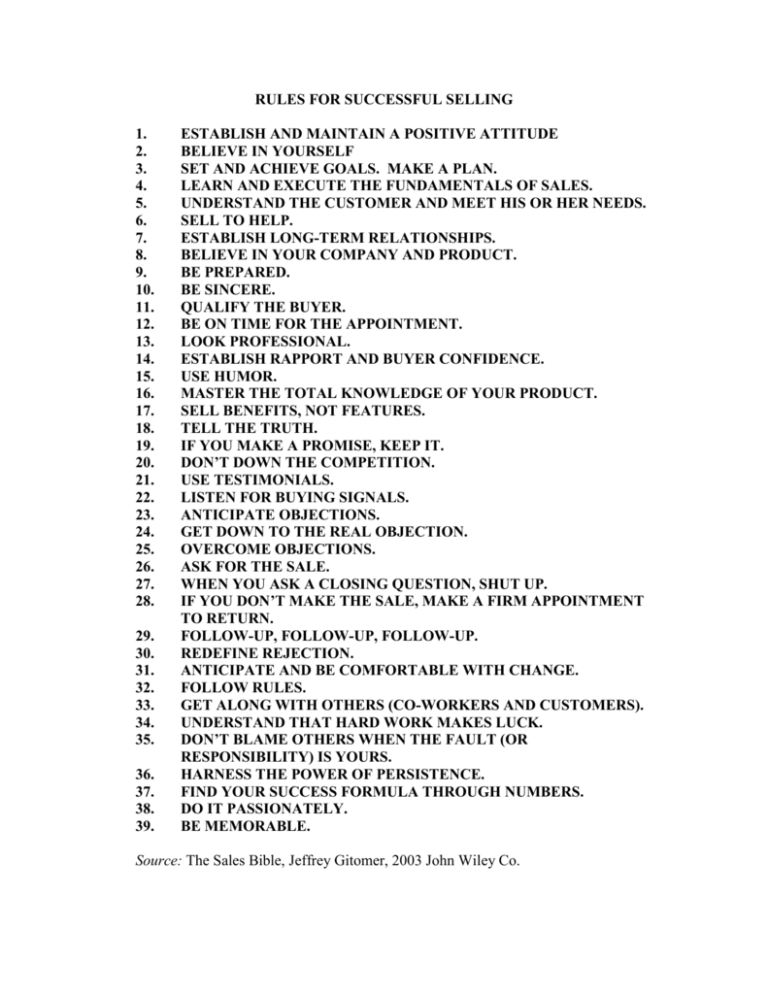 RULES FOR SUCCESSFUL SELLING
1.
2.
3.
4.
5.
6.
7.
8.
9.
10.
11.
12.
13.
14.
15.
16.
17.
18.
19.
20.
21.
22.
23.
24.
25.
26.
27.
28.
29.
30.
31.
32.
33.
34.
35.
36.
37.
38.
39.
ESTABLISH AND MAINTAIN A POSITIVE ATTITUDE
BELIEVE IN YOURSELF
SET AND ACHIEVE GOALS. MAKE A PLAN.
LEARN AND EXECUTE THE FUNDAMENTALS OF SALES.
UNDERSTAND THE CUSTOMER AND MEET HIS OR HER NEEDS.
SELL TO HELP.
ESTABLISH LONG-TERM RELATIONSHIPS.
BELIEVE IN YOUR COMPANY AND PRODUCT.
BE PREPARED.
BE SINCERE.
QUALIFY THE BUYER.
BE ON TIME FOR THE APPOINTMENT.
LOOK PROFESSIONAL.
ESTABLISH RAPPORT AND BUYER CONFIDENCE.
USE HUMOR.
MASTER THE TOTAL KNOWLEDGE OF YOUR PRODUCT.
SELL BENEFITS, NOT FEATURES.
TELL THE TRUTH.
IF YOU MAKE A PROMISE, KEEP IT.
DON'T DOWN THE COMPETITION.
USE TESTIMONIALS.
LISTEN FOR BUYING SIGNALS.
ANTICIPATE OBJECTIONS.
GET DOWN TO THE REAL OBJECTION.
OVERCOME OBJECTIONS.
ASK FOR THE SALE.
WHEN YOU ASK A CLOSING QUESTION, SHUT UP.
IF YOU DON'T MAKE THE SALE, MAKE A FIRM APPOINTMENT
TO RETURN.
FOLLOW-UP, FOLLOW-UP, FOLLOW-UP.
REDEFINE REJECTION.
ANTICIPATE AND BE COMFORTABLE WITH CHANGE.
FOLLOW RULES.
GET ALONG WITH OTHERS (CO-WORKERS AND CUSTOMERS).
UNDERSTAND THAT HARD WORK MAKES LUCK.
DON'T BLAME OTHERS WHEN THE FAULT (OR
RESPONSIBILITY) IS YOURS.
HARNESS THE POWER OF PERSISTENCE.
FIND YOUR SUCCESS FORMULA THROUGH NUMBERS.
DO IT PASSIONATELY.
BE MEMORABLE.
Source: The Sales Bible, Jeffrey Gitomer, 2003 John Wiley Co.