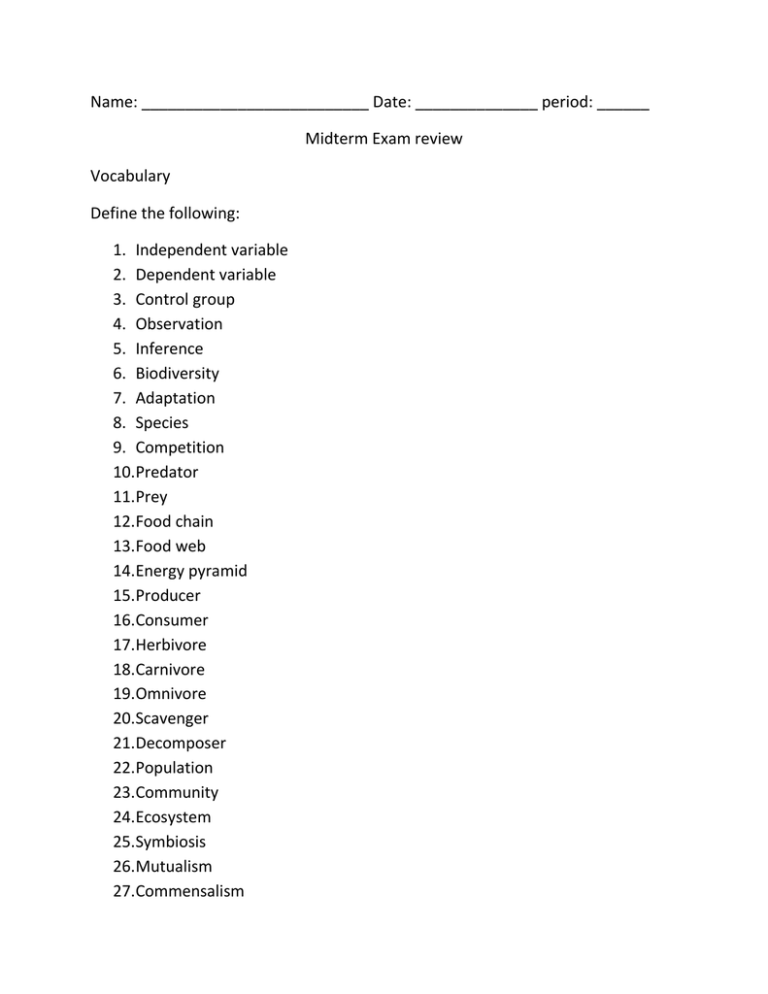 Name: __________________________ Date: ______________ period: ______
Midterm Exam review
Vocabulary
Define the following:
1. Independent variable
2. Dependent variable
3. Control group
4. Observation
5. Inference
6. Biodiversity
7. Adaptation
8. Species
9. Competition
10.Predator
11.Prey
12.Food chain
13.Food web
14.Energy pyramid
15.Producer
16.Consumer
17.Herbivore
18.Carnivore
19.Omnivore
20.Scavenger
21.Decomposer
22.Population
23.Community
24.Ecosystem
25.Symbiosis
26.Mutualism
27.Commensalism
28.Parasitism
29.Limiting factors
30.Carrying capacity
31.Primary succession
32.Secondary succession
33.Evaporation
34.Condensation
35.Precipitation
36.Photosynthesis
37.Pollution
38.Greenhouse gas
Define and give three examples of the following:
1. Fossil fuels
2. Renewable resources
3. Nonrenewable resources
Answer the following:
1. List two primary causes of global warming.
2. What is a negative effect of nuclear energy?
3. In which direction do the arrows go in a food chain or food web?
4. Which organisms are often missing from a food web? Why are they
important?
5. Which organisms are always on the bottom of an energy pyramid? Why?
6.
Which living things in the pond ecosystem, pictured above, break down
dead plants and animals?