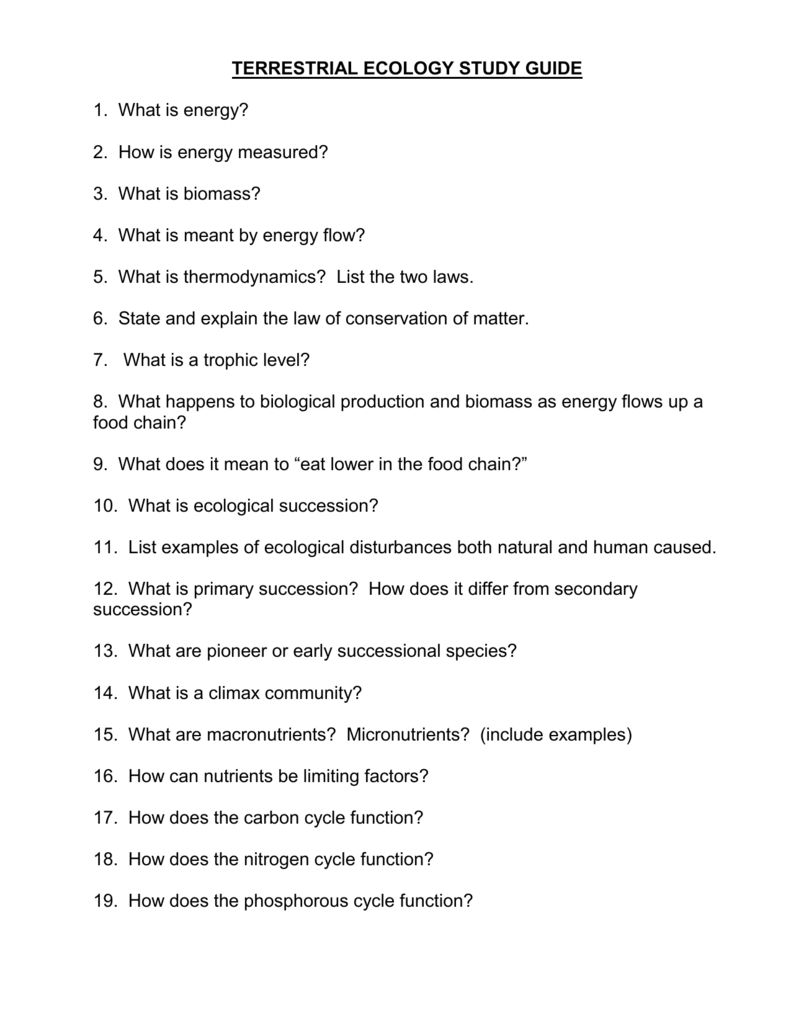 TERRESTRIAL ECOLOGY STUDY GUIDE
1. What is energy?
2. How is energy measured?
3. What is biomass?
4. What is meant by energy flow?
5. What is thermodynamics? List the two laws.
6. State and explain the law of conservation of matter.
7. What is a trophic level?
8. What happens to biological production and biomass as energy flows up a
food chain?
9. What does it mean to "eat lower in the food chain?"
10. What is ecological succession?
11. List examples of ecological disturbances both natural and human caused.
12. What is primary succession? How does it differ from secondary
succession?
13. What are pioneer or early successional species?
14. What is a climax community?
15. What are macronutrients? Micronutrients? (include examples)
16. How can nutrients be limiting factors?
17. How does the carbon cycle function?
18. How does the nitrogen cycle function?
19. How does the phosphorous cycle function?
20. What is the difference between an ecological niche and a habitat?
21. What is exponential growth?
22. What is doubling time?
23. What is sustainability?
24. What is the carrying capacity of the environment?
25. Why is the Black Death unique in recorded human history?
26. What is the Gaia Hypothesis?
27. What is an indicator species? Give an example.
28. What is an ecosystem?
29. Why is it difficulty to tell the boundaries of an ecosystem?
30. What is an ecological community?
31. Define:
autotroph
heterotroph
herbivore
carnivore
omnivore
scavenger
decomposer
32. What is a primary consumer? What is a secondary consumer? Examples
33. What is a food chain?
34. What is a food web and how is it different from a food chain?
35. What is a keystone species?