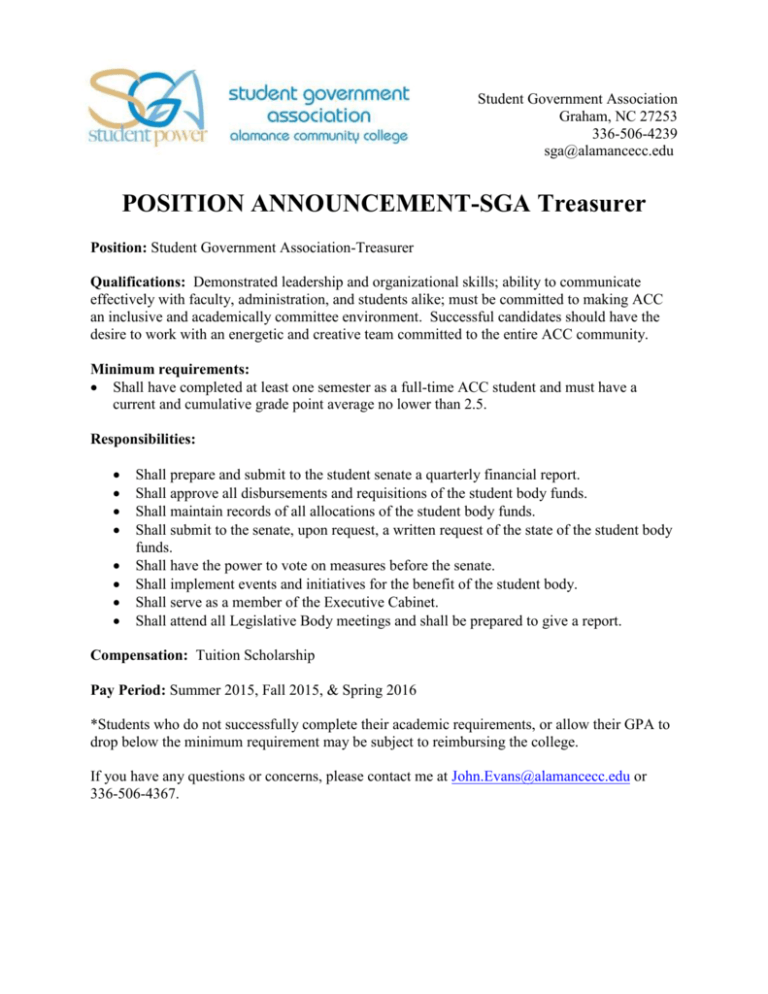 Student Government Association
Graham, NC 27253
336-506-4239
sga@alamancecc.edu
POSITION ANNOUNCEMENT-SGA Treasurer
Position: Student Government Association-Treasurer
Qualifications: Demonstrated leadership and organizational skills; ability to communicate
effectively with faculty, administration, and students alike; must be committed to making ACC
an inclusive and academically committee environment. Successful candidates should have the
desire to work with an energetic and creative team committed to the entire ACC community.
Minimum requirements:
 Shall have completed at least one semester as a full-time ACC student and must have a
current and cumulative grade point average no lower than 2.5.
Responsibilities:








Shall prepare and submit to the student senate a quarterly financial report.
Shall approve all disbursements and requisitions of the student body funds.
Shall maintain records of all allocations of the student body funds.
Shall submit to the senate, upon request, a written request of the state of the student body
funds.
Shall have the power to vote on measures before the senate.
Shall implement events and initiatives for the benefit of the student body.
Shall serve as a member of the Executive Cabinet.
Shall attend all Legislative Body meetings and shall be prepared to give a report.
Compensation: Tuition Scholarship
Pay Period: Summer 2015, Fall 2015, & Spring 2016
*Students who do not successfully complete their academic requirements, or allow their GPA to
drop below the minimum requirement may be subject to reimbursing the college.
If you have any questions or concerns, please contact me at John.Evans@alamancecc.edu or
336-506-4367.