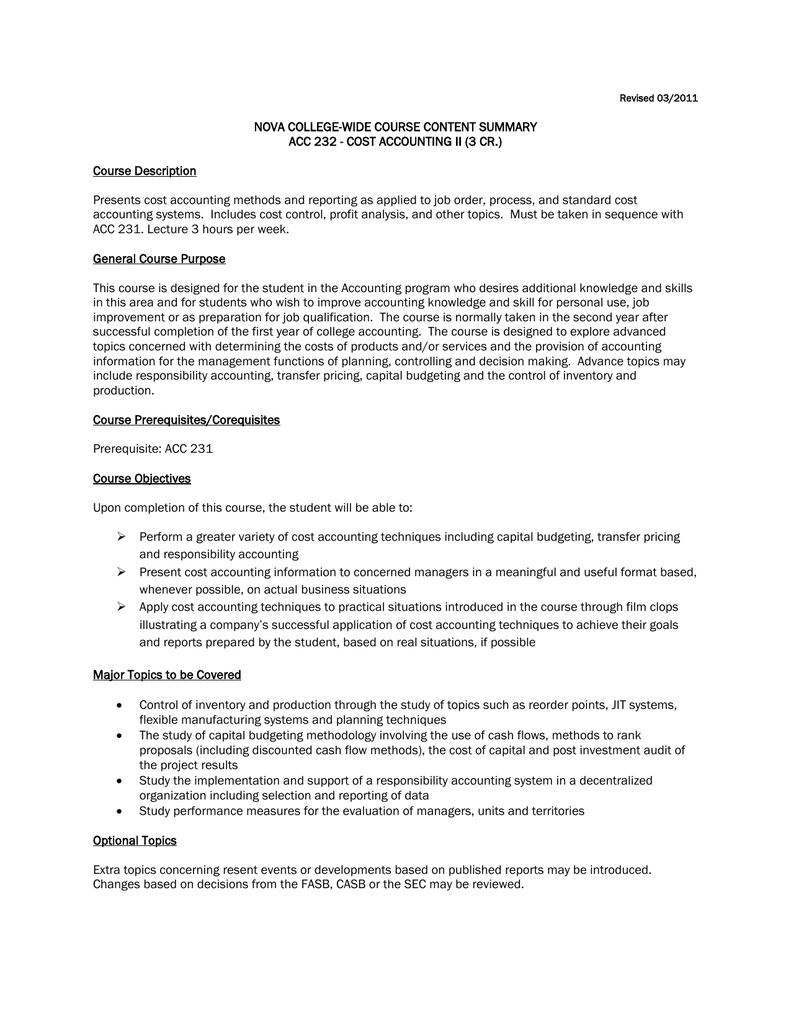 Revised 03/2011
NOVA COLLEGE-WIDE COURSE CONTENT SUMMARY
ACC 232 - COST ACCOUNTING II (3 CR.)
Course Description
Presents cost accounting methods and reporting as applied to job order, process, and standard cost
accounting systems. Includes cost control, profit analysis, and other topics. Must be taken in sequence with
ACC 231. Lecture 3 hours per week.
General Course Purpose
This course is designed for the student in the Accounting program who desires additional knowledge and skills
in this area and for students who wish to improve accounting knowledge and skill for personal use, job
improvement or as preparation for job qualification. The course is normally taken in the second year after
successful completion of the first year of college accounting. The course is designed to explore advanced
topics concerned with determining the costs of products and/or services and the provision of accounting
information for the management functions of planning, controlling and decision making. Advance topics may
include responsibility accounting, transfer pricing, capital budgeting and the control of inventory and
production.
Course Prerequisites/Corequisites
Prerequisite: ACC 231
Course Objectives
Upon completion of this course, the student will be able to:



Perform a greater variety of cost accounting techniques including capital budgeting, transfer pricing
and responsibility accounting
Present cost accounting information to concerned managers in a meaningful and useful format based,
whenever possible, on actual business situations
Apply cost accounting techniques to practical situations introduced in the course through film clops
illustrating a company's successful application of cost accounting techniques to achieve their goals
and reports prepared by the student, based on real situations, if possible
Major Topics to be Covered
•
•
•
•
Control of inventory and production through the study of topics such as reorder points, JIT systems,
flexible manufacturing systems and planning techniques
The study of capital budgeting methodology involving the use of cash flows, methods to rank
proposals (including discounted cash flow methods), the cost of capital and post investment audit of
the project results
Study the implementation and support of a responsibility accounting system in a decentralized
organization including selection and reporting of data
Study performance measures for the evaluation of managers, units and territories
Optional Topics
Extra topics concerning resent events or developments based on published reports may be introduced.
Changes based on decisions from the FASB, CASB or the SEC may be reviewed.