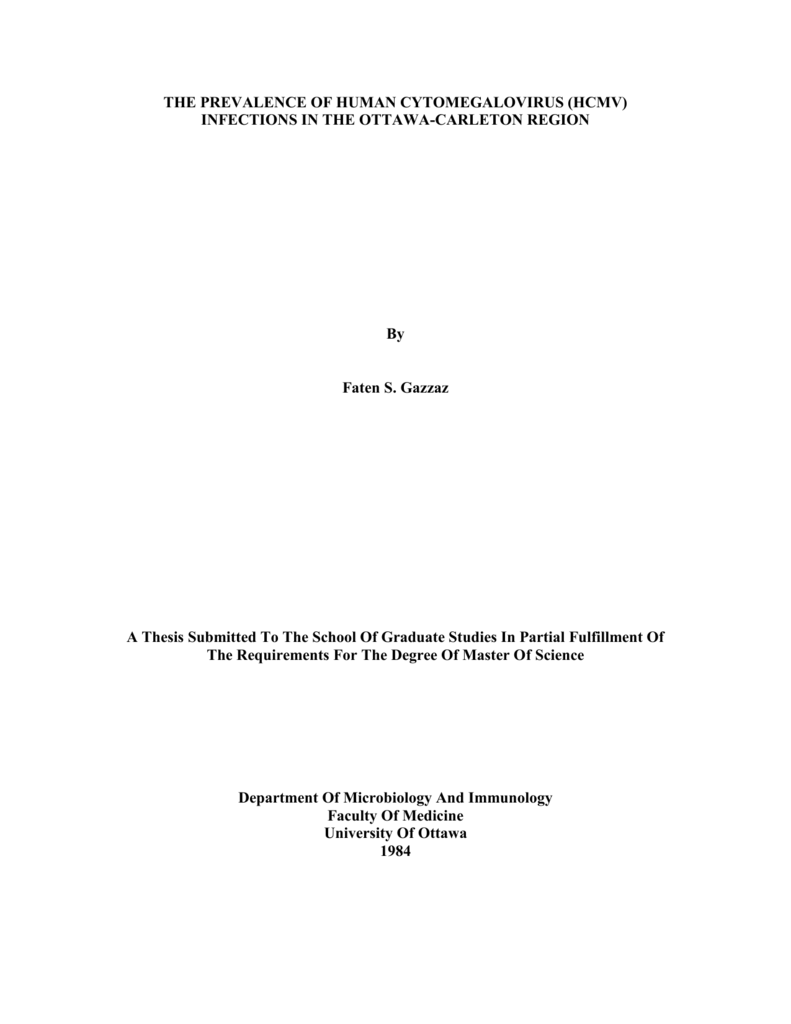 THE PREVALENCE OF HUMAN CYTOMEGALOVIRUS (HCMV)
INFECTIONS IN THE OTTAWA-CARLETON REGION
By
Faten S. Gazzaz
A Thesis Submitted To The School Of Graduate Studies In Partial Fulfillment Of
The Requirements For The Degree Of Master Of Science
Department Of Microbiology And Immunology
Faculty Of Medicine
University Of Ottawa
1984
ABSTRACT
In view of the low incidence of cytomegalovirus (CMV) infections in renal and bone
marrow transplant in the OTTAWA-CARLETON REGION, a study was undertaken to
assess the local epidemiology of CMV infections.
First, we studied CMV viruria in age groups from 0-80 years.
Secondly, we compared the isolation results obtained in the previous study with the
antibody prevalence rates obtained from retrospective serological study in the same age
groups.
Thirdly, we investigated CMV excretion in cervical secretions in normal pregnant women
in the third trimester of pregnancy.
Nineteen strains of CMV were isolated in age-groups 0-9 years.
No isolates were obtained from cervical swabs of pregnant women.
The serological study demonstrated a low prevalence of CMV antibodies until the age of
30. The risk of acquisition of CMV infection is Low in the OTTAWA-CARLETON
REGION.