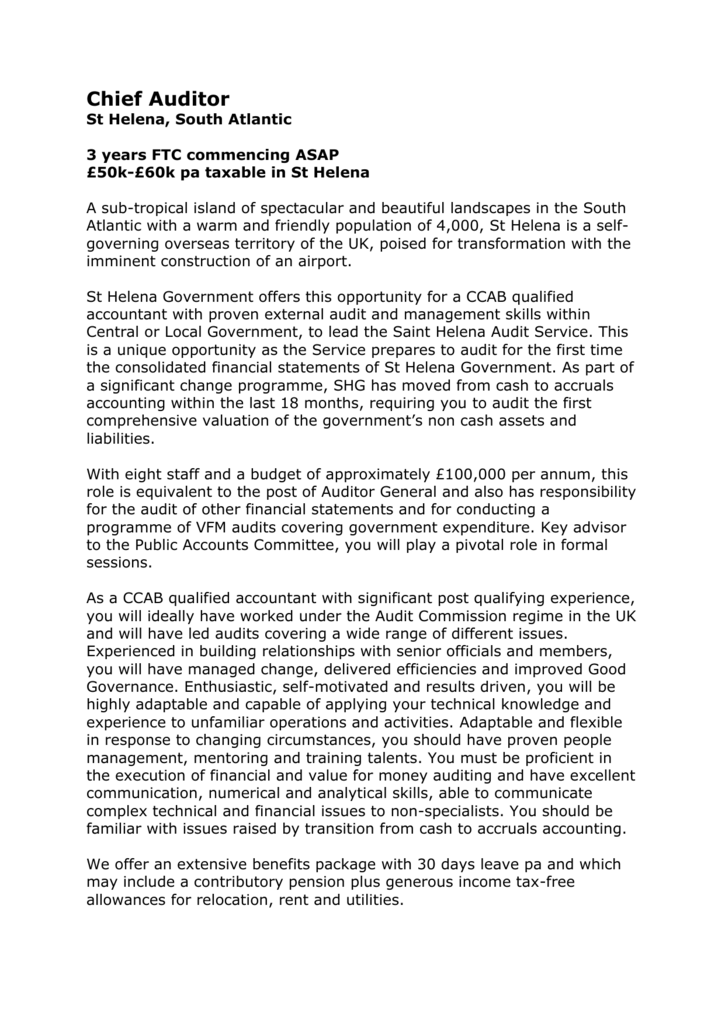 Chief Auditor
St Helena, South Atlantic
3 years FTC commencing ASAP
£50k-£60k pa taxable in St Helena
A sub-tropical island of spectacular and beautiful landscapes in the South
Atlantic with a warm and friendly population of 4,000, St Helena is a selfgoverning overseas territory of the UK, poised for transformation with the
imminent construction of an airport.
St Helena Government offers this opportunity for a CCAB qualified
accountant with proven external audit and management skills within
Central or Local Government, to lead the Saint Helena Audit Service. This
is a unique opportunity as the Service prepares to audit for the first time
the consolidated financial statements of St Helena Government. As part of
a significant change programme, SHG has moved from cash to accruals
accounting within the last 18 months, requiring you to audit the first
comprehensive valuation of the government's non cash assets and
liabilities.
With eight staff and a budget of approximately £100,000 per annum, this
role is equivalent to the post of Auditor General and also has responsibility
for the audit of other financial statements and for conducting a
programme of VFM audits covering government expenditure. Key advisor
to the Public Accounts Committee, you will play a pivotal role in formal
sessions.
As a CCAB qualified accountant with significant post qualifying experience,
you will ideally have worked under the Audit Commission regime in the UK
and will have led audits covering a wide range of different issues.
Experienced in building relationships with senior officials and members,
you will have managed change, delivered efficiencies and improved Good
Governance. Enthusiastic, self-motivated and results driven, you will be
highly adaptable and capable of applying your technical knowledge and
experience to unfamiliar operations and activities. Adaptable and flexible
in response to changing circumstances, you should have proven people
management, mentoring and training talents. You must be proficient in
the execution of financial and value for money auditing and have excellent
communication, numerical and analytical skills, able to communicate
complex technical and financial issues to non-specialists. You should be
familiar with issues raised by transition from cash to accruals accounting.
We offer an extensive benefits package with 30 days leave pa and which
may include a contributory pension plus generous income tax-free
allowances for relocation, rent and utilities.
An application form can be found at www.sthelenacareers.com where
further information can also be found, or you may contact Kedell Worboys
on 0203 170 8705 or email: [email protected] Applications by
09 November 2012 please. Interviews will be held in London.