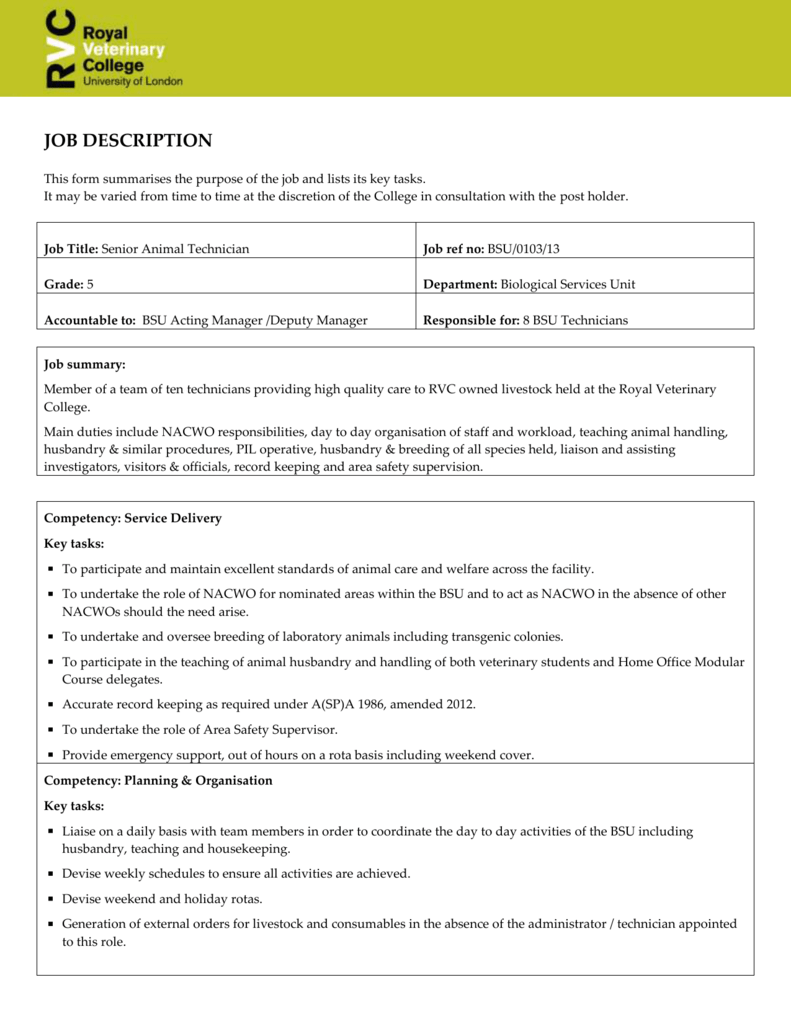 JOB DESCRIPTION
This form summarises the purpose of the job and lists its key tasks.
It may be varied from time to time at the discretion of the College in consultation with the post holder.
Job Title: Senior Animal Technician
Job ref no: BSU/0103/13
Grade: 5
Department: Biological Services Unit
Accountable to: BSU Acting Manager /Deputy Manager
Responsible for: 8 BSU Technicians
Job summary:
Member of a team of ten technicians providing high quality care to RVC owned livestock held at the Royal Veterinary
College.
Main duties include NACWO responsibilities, day to day organisation of staff and workload, teaching animal handling,
husbandry & similar procedures, PIL operative, husbandry & breeding of all species held, liaison and assisting
investigators, visitors & officials, record keeping and area safety supervision.
Competency: Service Delivery
Key tasks:
 To participate and maintain excellent standards of animal care and welfare across the facility.
 To undertake the role of NACWO for nominated areas within the BSU and to act as NACWO in the absence of other
NACWOs should the need arise.
 To undertake and oversee breeding of laboratory animals including transgenic colonies.
 To participate in the teaching of animal husbandry and handling of both veterinary students and Home Office Modular
Course delegates.
 Accurate record keeping as required under A(SP)A 1986, amended 2012.
 To undertake the role of Area Safety Supervisor.
 Provide emergency support, out of hours on a rota basis including weekend cover.
Competency: Planning & Organisation
Key tasks:
 Liaise on a daily basis with team members in order to coordinate the day to day activities of the BSU including
husbandry, teaching and housekeeping.
 Devise weekly schedules to ensure all activities are achieved.
 Devise weekend and holiday rotas.
 Generation of external orders for livestock and consumables in the absence of the administrator / technician appointed
to this role.
Competency: Communication
Key tasks:

Liaise with the BSU Acting Manager / Deputy Manager and other BSU technicians concerning the activities in the unit.

Communicate at a good level both verbally and written with colleagues and external bodies such as Named Veterinary
Surgeon, Heads of Departments, Investigators and Home Office Inspectors.

Communicate at a good level both verbally and written.

Respond to reports of concern regarding activities, equipment or building fabric.

Participate in the annual safety audit.

Read and comprehend standard operating procedures, following training and work in a safe and responsible manner.

Display and adhere to safety notices.

Read, comprehend and adhere to Standard Operating Procedures (SOP's) relating to their particular work activities.
Competency: Knowledge and Experience
Key tasks:
 Undertake the duties and responsibilities of a Named Animal Care and Welfare Officer within the animal facility.
 Undertake a wide variety of regulated procedures under ASPA.
 Management of breeding colonies.
 Manage/ oversee IVC and Isolator equipment. Undertake duties and responsibilities for managing animals within
Individual Ventilated Cages and Isolators including following strict biosecurity protocols to maintain good health
status and barriers.
 Assisting in the compilation / assessment of SOP's when they come up for review.
 Record training received in the relevant folder provided.
Competency: Physical and sensory demands
Key tasks:

Undertake duties including: general cleaning, cage & bottle washing, sterilisation of supplies, laundry tasks and
moving equipment as required.

Undertake manual handling of a wide range of species (from rodents to farm animals).

Participate in respiratory function tests with occupational health.
Flexibility: To deliver services effectively, a degree of flexibility is needed, and the post holder may be required to
perform work not specifically referred to above.