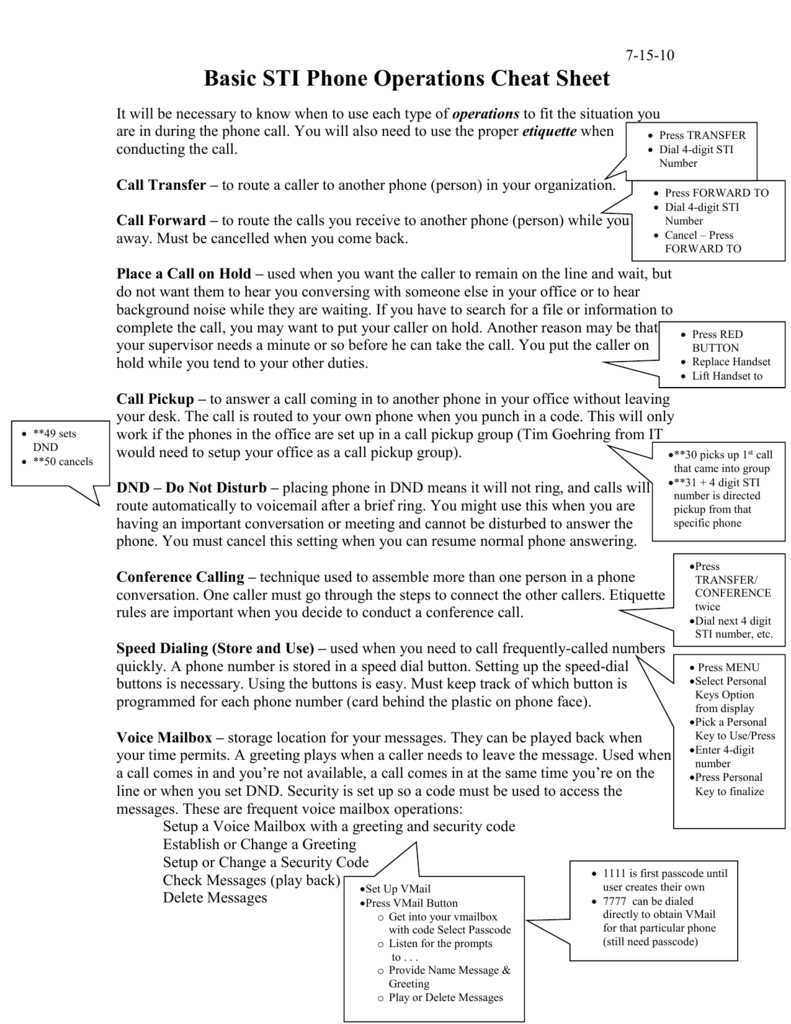 7-15-10
Basic STI Phone Operations Cheat Sheet
It will be necessary to know when to use each type of operations to fit the situation you
are in during the phone call. You will also need to use the proper etiquette when
 Press TRANSFER
 Dial 4-digit STI
conducting the call.
Number
Call Transfer – to route a caller to another phone (person) in your organization.
Call Forward – to route the calls you receive to another phone (person) while you
away. Must be cancelled when you come back.
 Press FORWARD TO
 Dial 4-digit STI
are Number
 Cancel – Press
FORWARD TO
Place a Call on Hold – used when you want the caller to remain on the line and wait, but
do not want them to hear you conversing with someone else in your office or to hear
background noise while they are waiting. If you have to search for a file or information to
complete the call, you may want to put your caller on hold. Another reason may be that
your supervisor needs a minute or so before he can take the call. You put the caller on
hold while you tend to your other duties.
 **49 sets
DND
 **50 cancels
 Press RED
BUTTON
 Replace Handset
 Lift Handset to
get them back
Call Pickup – to answer a call coming in to another phone in your office without leaving
your desk. The call is routed to your own phone when you punch in a code. This will only
work if the phones in the office are set up in a call pickup group (Tim Goehring from IT
would need to setup your office as a call pickup group).
 **30 picks up 1st call
DND – Do Not Disturb – placing phone in DND means it will not ring, and calls will
route automatically to voicemail after a brief ring. You might use this when you are
having an important conversation or meeting and cannot be disturbed to answer the
phone. You must cancel this setting when you can resume normal phone answering.
Conference Calling – technique used to assemble more than one person in a phone
conversation. One caller must go through the steps to connect the other callers. Etiquette
rules are important when you decide to conduct a conference call.
Speed Dialing (Store and Use) – used when you need to call frequently-called numbers
quickly. A phone number is stored in a speed dial button. Setting up the speed-dial
buttons is necessary. Using the buttons is easy. Must keep track of which button is
programmed for each phone number (card behind the plastic on phone face).
that came into group
 **31 + 4 digit STI
number is directed
pickup from that
specific phone
 Press
TRANSFER/
CONFERENCE
twice
 Dial next 4 digit
STI number, etc.
 Press MENU
 Select Personal
Keys Option
from display
 Pick a Personal
Key to Use/Press
 Enter 4-digit
number
 Press Personal
Key to finalize
Voice Mailbox – storage location for your messages. They can be played back when
your time permits. A greeting plays when a caller needs to leave the message. Used when
a call comes in and you're not available, a call comes in at the same time you're on the
line or when you set DND. Security is set up so a code must be used to access the
messages. These are frequent voice mailbox operations:
Setup a Voice Mailbox with a greeting and security code
Establish or Change a Greeting
Setup or Change a Security Code
 1111 is first passcode until
Check Messages (play back)
user creates their own
 Set Up VMail
Delete Messages
 7777 can be dialed
 Press VMail Button
o Get into your vmailbox
with code Select Passcode
o Listen for the prompts
to . . .
o Provide Name Message &
Greeting
o Play or Delete Messages
directly to obtain VMail
for that particular phone
(still need passcode)
7-15-10
Telephone Techniques List
1. Keep a Smile in Your Voice
2. Be Attentive and Discreet
3. Use Correct English and Avoid Slang
4. Take Messages Completely and Accurately
5. Use the Caller's Name
6. Ask Questions Tactfully
7. Speak Distinctly and Clearly
8. Handle Problem Callers (Listen and Get Problem Solved)
9. Use Words to Identify Letters in Spelling Names and Places
10. Do Not Discriminate
11. Avoid Gender Bias
12. Answer Promptly when Receiving Calls
13. Identify Yourself and Your Organization when Receiving Calls
14. Transfer Calls Carefully – Announce the Call to the One Transferring To
15. Place Calls on Hold After Receiving Permission
16. Handle Multiple Calls Quickly and Efficiently
17. Leave a Message When you Leave Your Desk
18. Plan Your Call
Respond Fast and Friendly
"Hello, this is Jackie Pommer,
Office Systems Department at
Southeast Technical Institute,
How May I Help You?"
Identify Company, Department and Self
Never Fail to Offer Help
Get the Message
Voicemail Message:
This is Jackie Pommer, Office Systems
Department at Southeast Technical Institute. I
am either away from my desk or on another
line. Please leave me a message including your
name, organization and phone number and I
will return your call when I am back in the
office. Have a great day!
7-15-10
Checking Your Voicemail if Off Campus:
1. Dial your office phone number with 367
prefix.
2. When you hear your voicemail message,
press **
3. When prompted, provide your mailbox
number (STI phone number)
4. When prompted, provide your security
code
5. Check messages (play or delete) as
prompted
When leaving for summer or extended breaks,
indicate that in your greeting and whether or not
you will be checking messages. Could also spell
out your email address for them to contact you
that way.