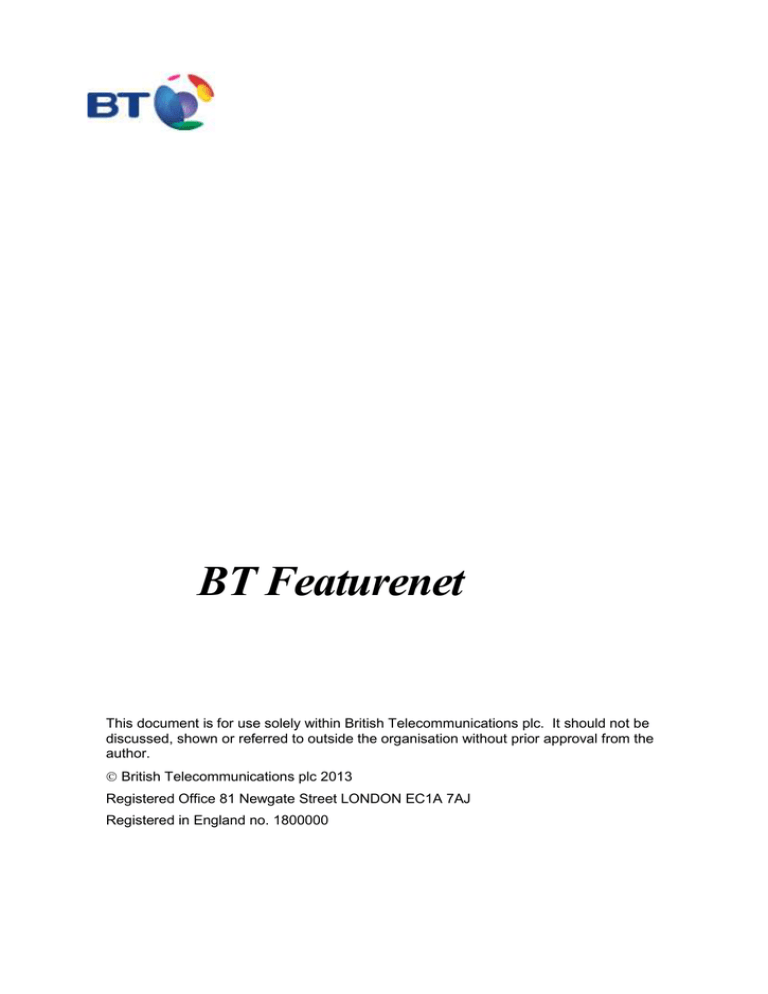 BT Featurenet
This document is for use solely within British Telecommunications plc. It should not be
discussed, shown or referred to outside the organisation without prior approval from the
author.
 British Telecommunications plc 2013
Registered Office 81 Newgate Street LONDON EC1A 7AJ
Registered in England no. 1800000
CONTENTS
Service Description for Featurenet
4
Featurenet 1000 Virtual Private Network (VPN)
4
Featurenet 5000
4
Featurenet enhanced capabilities
5
Featurenet Management
5
Featurenet Standard Functions.
6
Featurenet Optional Functions
7
Featurenet Voice Mail Features
7
Featurenet Smartnumbers
8
Service Description for Featurenet
Featurenet 1000 Virtual Private Network (VPN)
The VPN service allows the provision of voice channels to connect to an existing customer
PABX to handle on-site calls, while traffic between sites is routed through the contractors
managed network via digital or analogue access channels. Inbound direct dialling in (DDI)
calls and outbound calls can, if required, be routed via the Featurenet 1000 access channels.
Customers select the Charging Option most suited to their particular needs, based on the
number of Featurenet 1000 Access Lines on a Featurenet Site, and this Option will be applied
to all Featurenet 1000 Access Lines at that Featurenet Site
Changes from one Charging Option to another will be carried out at the Customer's request,
but 3 months notice is required and will be charged on a per line basis
Charging Options:

Option A up to and including 31 channels.

Option B greater than 31 channels.
DDI (Direct Dial In)
A DDI facility is available via Featurenet 1000 Access Lines. This Service allows for incoming
calls from the public network to reach a specific extension within the organisation without
operator assistance where the caller dials the public Directory Number to reach the extension
There is a maximum ratio equivalent to 20 DDI's per Featurenet 1000 Access line. Customers
existing DDI number ranges can be imported. A maximum of 5 DDI ranges and/or single
numbers are permitted per Featurenet Site to handle incoming public network calls to a
Featurenet 1000 Site
Featurenet 5000
The Featurenet 5000 service offers equivalent features of a digital PBX and includes private
networking and requires no on-site PBX.
Featurenet 5000 provides networked digital centrex lines, ISDN2 (Basic Rate Access) and or
access channels to the contractors VPN. A Customer can control the allocation of lines to
user extensions, their Class of Service and their access to different features through the
Contractors Service Centre or by use of the Hosted Voice Manager application
Customers can select from one of three options for each of their Featurenet 5000 Sites. Once
an option is selected the Site must remain on that option until the expiry of the agreed
minimum period.

Option A is for Featurenet Sites of fewer than 121 lines. For new sites, this option is
only available on a 12 month minimum period.

Option B is for a Featurenet Site of between 121 and 960 lines and offers a 25%
discount on the rental for Standard Access Lines at that Featurenet Site. For new
sites, this option is only available for three or five year minimum contract periods. Onsite SRU's (Survivable Remote Unit) will normally serve such Featurenet Sites

Option C is for Featurenet Sites of over 960 lines and offers a 40% discount on the
line rental for Standard Access Lines at that Featurenet Site. For new sites, this
option is only available for three or five year minimum contract periods. The On-site
RSCS (Remote Switching Centre Suite for access) will normally serve such
Featurenet Sites
Featurenet enhanced capabilities
Featurenet offers the following enhanced capabilities :
Featurenet 5000i
Voice/Data/Video
Services
Featurenet 5000i provides switched basic rate access (ISDN2)
to Centrex sites. Basic Rate lines consist of two 64kbit/s data
channels for independent or bonded applications, such as file
transfer, video conferencing, LAN interconnect etc.
Featurenet Call Centres
Featurenet 5000 provides the following services supporting
call centre requirements:

Uniform Call Distribution

ACD Automatic Call Distribution)

MIS (management Information Statistics)

CTI (computer Telephony Integration) capabilities
Featurenet Call-In &
Hosted Voice Connect
Featurenet Call-In and Hosted Voice Connect provide the
ability for users on a site which is not directly connected to the
Featurenet network to become part of that network. This is via
a standard PSTN phone line connection from the registered
number to Featurenet. Connectivity is achieved by dialling a
short code (12821) followed by an access code and a private
or public number. The registered number is validated for
access to the customers private network and the call is
delivered to the private or public number dialled.
Featurenet Voice Mail
The Voice Mail (VM) service provides the following features:
Featurenet
Smartnumbers

Integration between email, voicemail and fax

Management of voicemail via a web portal

Click to call the message sender or send a SMS or an
email

Callers have the option to 'Press 0' and have their call
transferred to a predefined individual or team

Alerts can be sent by email or SMS or via a Message
Waiting Light on certain handsets

Unlimited capacity of saved messages supports
regulatory compliance requirements

Usage reporting via Management Information reports

Interworking across any telephone network
The Featurenet service supports all variants of SmartNumbers
The contractor provides a number of on-demand
"SmartNumber" services, that provide solutions for voice and
business continuity.
Featurenet Management
Featurenet provides a web based self-service management capability:
Featurenet Manager provides authorised customers with the ability to control and analyse
the performance and functionality of the Featurenet 5000 network via on-line tools.
Performance and network management data can be accessed securely online, by authorised
users with an Internet-enabled PC.
Management Reports - Customers can download the following network management
reports:
Graphical Costed
Usage reports
Textual Costed Usage
reports
Time to Answer Reports
Incoming Call Statistic
Reports
Includes:
o call costs by site
o Off-net Call Charges
o On-net/Off-net Ratio reports
Provides:
o Highest call charge/s
o longest duration call
o most frequently dialled number
o outgoing call summaries
Available in both textual and graphical format.
Reports detailing uniform call distribution and contractors
performance.
Billing Analyst – This is an optional set of tools to analyse and control telephony expenses.,
It can be accessed securely online, by authorised users with an Internet-enabled PC. The
service provides a breakdown of billing information, site by site, to enable and interpret
records by spend or patterns. The Contractors Billing Analyst tool is free for One Bill Plus
customers, with consolidated bills delivered via CD-Rom.
Featurenet Standard Functions.
The Contractor's Featurenet 5000 service provides more than 350 user features, the most
common key features are:

Call Diversion: Directs calls to another extension or external number. This can be all
calls, calls on busy only, or calls on no reply only
Call Offer: Lets another extension user within the customers network who is
engaged on a call know that they are needed urgently.
Call Pick-Up: Allows users to answer a call to another line in the same location
from an alternative phone.
Call Transfer: Transfers a call to another line extension or to an external number,
including mobiles.
Caller Return: A 1471 service, which identifies the CLI number of the last caller.
Call Waiting: Audio and or visual signal indicating to caller and recipient that the
caller is waiting. This enables recipient the option to place the call on hold and
answer the waiting call.
Code Calling: Allows users to store numbers within the contractors system to
retrieve and dial the number with a truncated cod
General Interrogation:
identifies with audio or visual information the current settings of key features.
Reminder Call: Allows users to set audible reminder based on 24 hour time and
date. The system will ring the extension at the programmed time and give voice
announcement.
Repeat Last Call: Allows users to dial a code or use pre-programmed button on
handset or console to re-dial the last number the user dialled.
Ring Back When Free: Identifies a dialled number that was busy or engaged
either a call to an engaged line, extension or external number and will ring the
requestors extension when ring tones are detected. This service does not work with
all external phone numbers or if network facility has been barred
Ring Back When Next Used: Sets up a call between requestor and destination
that was previously not answering by detecting when that destination is next used
Three-Way Calling: Allows three calls to share the same voice path. The calls can
be on line extensions and/or to external numbers.
Withhold Your Number: Prevents the CLI originating from users phone being
presented to dialled number either per call basis or permanent. Excludes
presentation to emergency services where CLI is still presented.
Featurenet Optional Functions
Bypass Number*: Provides users with a second phone number. Callers using it
will bypass any activated Call Diversion.
Call Barring: Controls destination of dialled number can be barred by type or
geography e.g. Premium rate calls, International calls, or National calls.
Call Minder: Takes messages when users are busy on the phone or away from
their desk.
Caller Display: Displays CLI of caller or extension number on the users telephone
handset, requires a telephone handset with a suitable display
Direct Call: Automatically connect to a pre-programmed number after a short
pause when the telephone handset is lifted.
Hunt Group: Allows one dial in number to automatically be distributed to a defined
number of Featurenet extensions.
Local Link: Extends the Featurenet service across a maximum of five locations in
the same local telephone exchange area.
Remote Diversion: Allows users to activate Call Diversion (see 'Standard
features') from remote location by use of an access code and programming features.
Featurenet Voice Mail Features
Voicemail Solution
A range of features supported, including:

generic, daily and absence
greetings,

mailbox blocking

message forwarding,

secretarial access,

Internal voice messaging
services.
Voice2email
Options for user notification of new received
messages by email, to the telephone the user is
currently registered to using out call, or via
message waiting indication (MWI), Short
Message Service (SMS) or Short Data Service.
(SDS).
Graphical User Interface
Access to all messaging services from an
intuitive on-screen browser interface.
Active Call Screening
Allows a user to listen to a voicemail that is
being left and decide whether to interrupt the
recording and speak to the caller directly or
simply to allow the voicemail to be recorded
normally.
Unified Messaging
Provides integration with customer's existing
email environment by delivery of the voicemail
as an attached audio file. Provides access to all
message types through users email inbox
Class of Service Profiles
Extensive range of features and access can be
enabled or disabled for each individual or group
of users. The service supports different time
zones.
Featurenet Smartnumbers
A number of "SmartNumber" services, defined as on-demand telephony services that provide
solutions for voice and business continuity requirements. SmartNumbers are provided as a
total managed service, and can connect and interoperate across legacy networks including
hosted voice platforms and other service providers.
The Contractor provides the following Featurenet Smartnumber services:
Featurenet Smartnumbers Standard– Provides a single number which identifies
users across multiple locations, including delegation to individuals and teams.
Supports mobile workers not in one fixed location
Featurenet Smartnumbers Virtual Team – Allocates a single number to a team. It
manages calls and messages to one team number The service allows access across
multiple offices, to mobiles or fixed home numbers
Featurenet Smartnumbers Virtual Queue – The Featurenet ACD service enables
incoming calls from any location to be resolved by call centre agents according to
business rules that customer defines. It supports industry standard call management,
virtual contact centres, dispersed offices and aligned agencies.
Featurenet Smartnumbers Messaging – Manages customer fax and voicemail
services. The hosted service, allows access to messages from any telephone
handset from any national or international telephone network. Fax and voice
messages can be delivered to individuals or group email accounts.
Featurenet Smartnumbers Announcement – Allows a recorded public announcement
or broadcast message to be delivered via a telephone number (geographic or nongeographic). Callers dial the contractor's announcement number to hear the
message. Administrators can record announcements using any telephone handset.