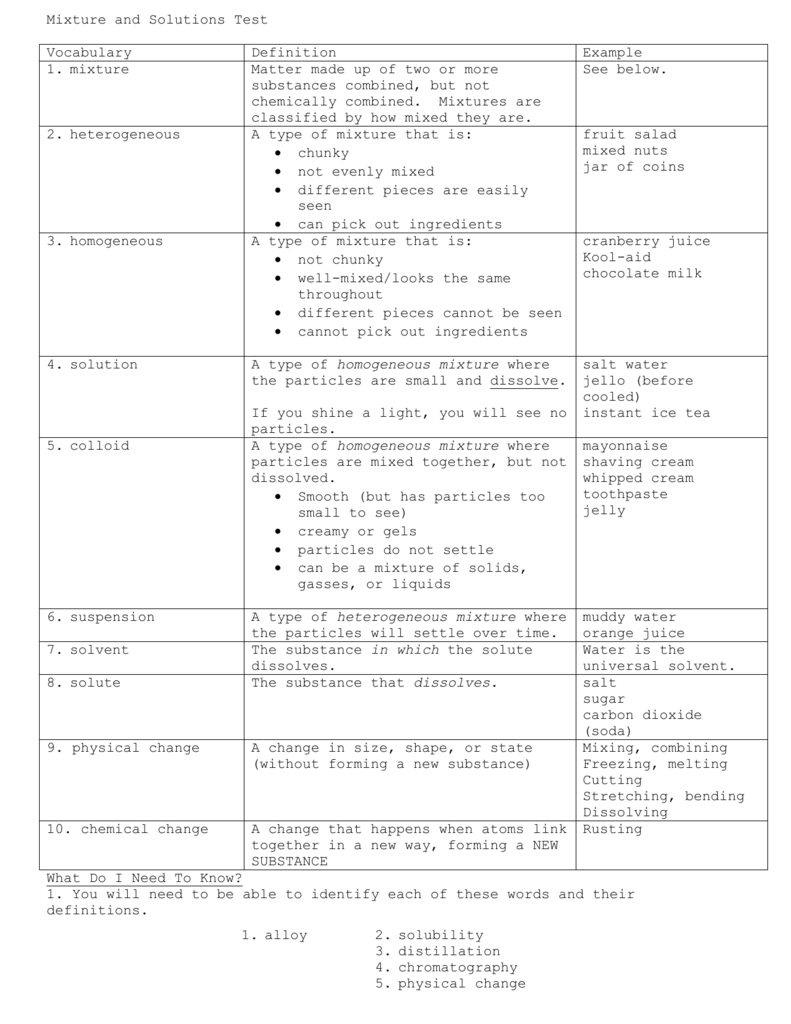 Mixture and Solutions Test
Vocabulary
1. mixture
2. heterogeneous
3. homogeneous
4. solution
5. colloid
6. suspension
7. solvent
8. solute
Definition
Matter made up of two or more
substances combined, but not
chemically combined. Mixtures are
classified by how mixed they are.
A type of mixture that is:
 chunky
 not evenly mixed
 different pieces are easily
seen
 can pick out ingredients
A type of mixture that is:
 not chunky
 well-mixed/looks the same
throughout
 different pieces cannot be seen
 cannot pick out ingredients
Example
See below.
A type of homogeneous mixture where
the particles are small and dissolve.
salt water
jello (before
cooled)
instant ice tea
If you shine a light, you will see no
particles.
A type of homogeneous mixture where
particles are mixed together, but not
dissolved.
 Smooth (but has particles too
small to see)
 creamy or gels
 particles do not settle
 can be a mixture of solids,
gasses, or liquids
A type of heterogeneous mixture where
the particles will settle over time.
The substance in which the solute
dissolves.
The substance that dissolves.
9. physical change
A change in size, shape, or state
(without forming a new substance)
10. chemical change
A change that happens when atoms link
together in a new way, forming a NEW
SUBSTANCE
fruit salad
mixed nuts
jar of coins
cranberry juice
Kool-aid
chocolate milk
mayonnaise
shaving cream
whipped cream
toothpaste
jelly
muddy water
orange juice
Water is the
universal solvent.
salt
sugar
carbon dioxide
(soda)
Mixing, combining
Freezing, melting
Cutting
Stretching, bending
Dissolving
Rusting
What Do I Need To Know?
1. You will need to be able to identify each of these words and their
definitions.
1. alloy
2.
3.
4.
5.
solubility
distillation
chromatography
physical change
2. When given a solution, you will need to be able to identify the solvent and
solute.
3. Be able to discuss what factors affect solubility.
4. You will need to be able to give different ways to separate a mixture
(including a mixture using two liquids).