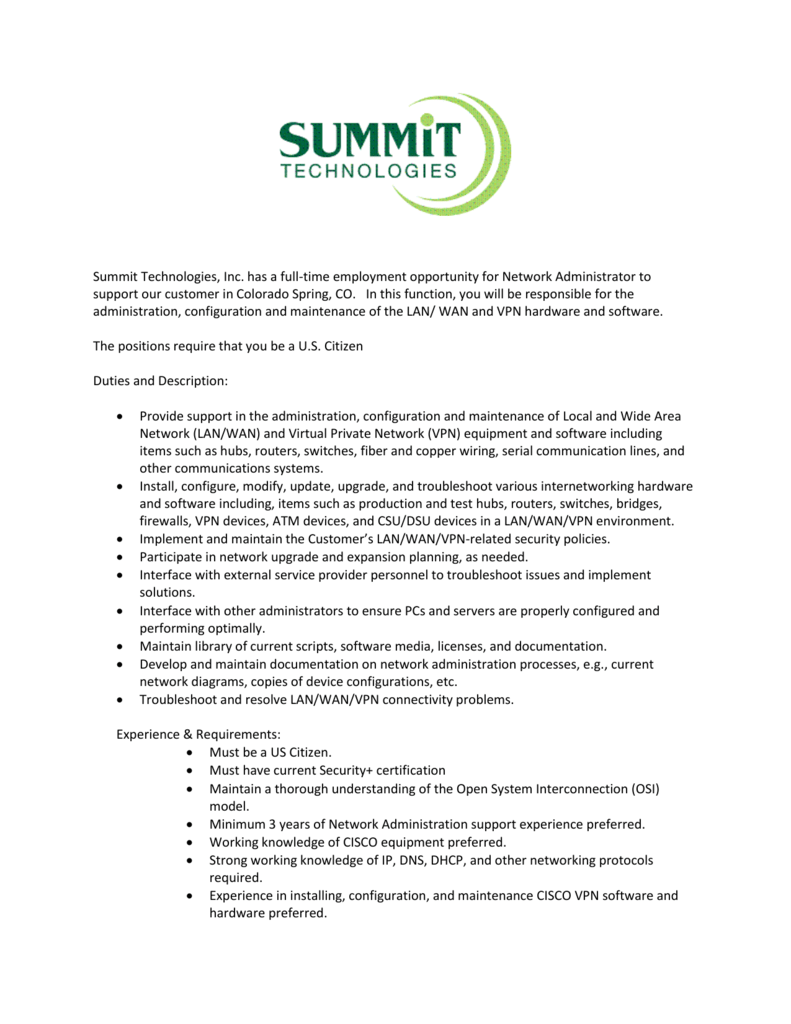 Summit Technologies, Inc. has a full-time employment opportunity for Network Administrator to
support our customer in Colorado Spring, CO. In this function, you will be responsible for the
administration, configuration and maintenance of the LAN/ WAN and VPN hardware and software.
The positions require that you be a U.S. Citizen
Duties and Description:









Provide support in the administration, configuration and maintenance of Local and Wide Area
Network (LAN/WAN) and Virtual Private Network (VPN) equipment and software including
items such as hubs, routers, switches, fiber and copper wiring, serial communication lines, and
other communications systems.
Install, configure, modify, update, upgrade, and troubleshoot various internetworking hardware
and software including, items such as production and test hubs, routers, switches, bridges,
firewalls, VPN devices, ATM devices, and CSU/DSU devices in a LAN/WAN/VPN environment.
Implement and maintain the Customer's LAN/WAN/VPN-related security policies.
Participate in network upgrade and expansion planning, as needed.
Interface with external service provider personnel to troubleshoot issues and implement
solutions.
Interface with other administrators to ensure PCs and servers are properly configured and
performing optimally.
Maintain library of current scripts, software media, licenses, and documentation.
Develop and maintain documentation on network administration processes, e.g., current
network diagrams, copies of device configurations, etc.
Troubleshoot and resolve LAN/WAN/VPN connectivity problems.
Experience & Requirements:
 Must be a US Citizen.
 Must have current Security+ certification
 Maintain a thorough understanding of the Open System Interconnection (OSI)
model.
 Minimum 3 years of Network Administration support experience preferred.
 Working knowledge of CISCO equipment preferred.
 Strong working knowledge of IP, DNS, DHCP, and other networking protocols
required.
 Experience in installing, configuration, and maintenance CISCO VPN software and
hardware preferred.



Strong experience trouble shooting network issues required.
Strong oral and written communication skills.
Ability to accurately and thoroughly document customer issues.
Will be required to pass a thorough background investigation, including possibly a credit check and drug
screening.
If you feel you are qualified and want to be considered for this position, please supply the following to
[email protected] and please put the job number 4896 the subject line.
 Updated resume including MM/YYYY for each employer
 Compensation requirements (salary with benefits, or long term hourly contract-no
benefits)
 Best times/dates to interview (plus phone # you can best be contacted at)
 Availability to start once given formal offer
Summit Technologies Inc. appreciates your interest. We will contact the best matching prospects, and
will consider you for future opportunities. We will not submit your resume without your prior
knowledge and consent. Summit Technologies is an Equal Opportunity/Affirmative Action Employer. All
qualified applicants will receive consideration for employment without regard to race, color, religion,
gender, national origin, age, protected veteran status, or disability status.
Sincerely,
Dave Mathangani
Summit Technologies, Inc.
1800 Alexander Bell Drive Suite # 505
Reston, VA 20191
Phone: (703) 953-2139 x290
E-mail: [email protected]
CONFIDENTIALITY NOTICE: This e-mail transmission may contain confidential or legally privileged information that
is intended only for the individual(s) or entity named in the e-mail address. Use of such information by any
intended recipient shall be limited to the purpose for which such information was sent. Unauthorized use, copying
or disclosure (i.e., forwarding) to unauthorized recipients is strictly prohibited and may be unlawful. If you received
this e-mail transmission in error, please reply to the sender and delete the message. Thank you.