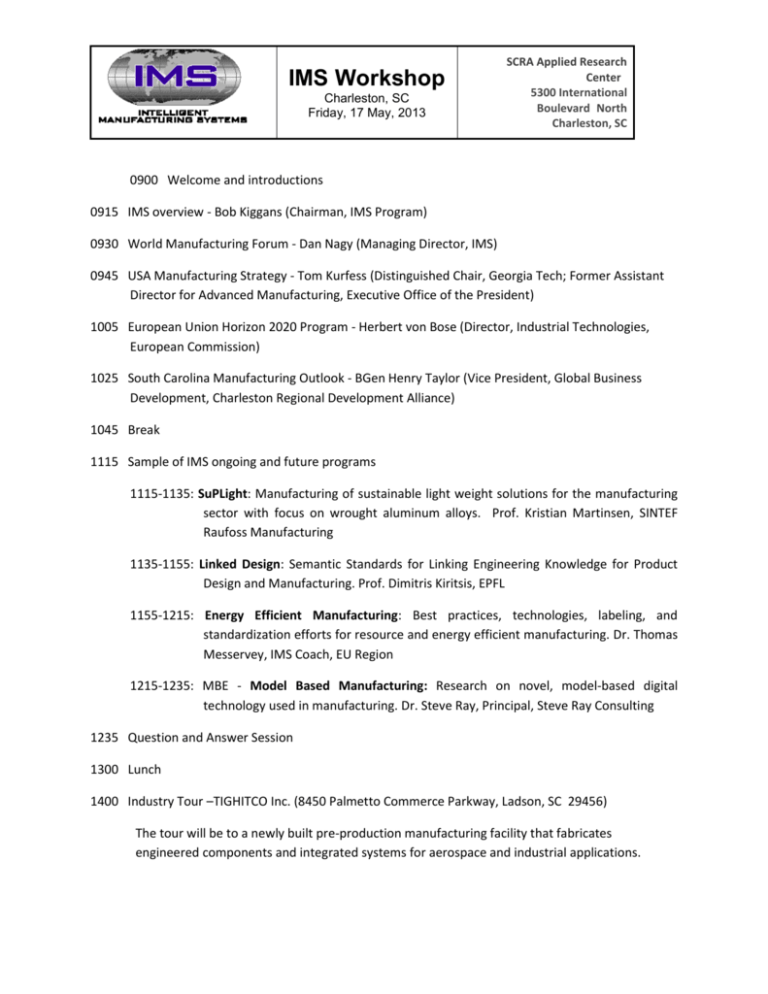 IMS Workshop
Charleston, SC
Friday, 17 May, 2013
SCRA Applied Research
Center
5300 International
Boulevard
North
Charleston, SC
0900 Welcome and introductions
0915 IMS overview - Bob Kiggans (Chairman, IMS Program)
0930 World Manufacturing Forum - Dan Nagy (Managing Director, IMS)
0945 USA Manufacturing Strategy - Tom Kurfess (Distinguished Chair, Georgia Tech; Former Assistant
Director for Advanced Manufacturing, Executive Office of the President)
1005 European Union Horizon 2020 Program - Herbert von Bose (Director, Industrial Technologies,
European Commission)
1025 South Carolina Manufacturing Outlook - BGen Henry Taylor (Vice President, Global Business
Development, Charleston Regional Development Alliance)
1045 Break
1115 Sample of IMS ongoing and future programs
1115-1135: SuPLight: Manufacturing of sustainable light weight solutions for the manufacturing
sector with focus on wrought aluminum alloys. Prof. Kristian Martinsen, SINTEF
Raufoss Manufacturing
1135-1155: Linked Design: Semantic Standards for Linking Engineering Knowledge for Product
Design and Manufacturing. Prof. Dimitris Kiritsis, EPFL
1155-1215: Energy Efficient Manufacturing: Best practices, technologies, labeling, and
standardization efforts for resource and energy efficient manufacturing. Dr. Thomas
Messervey, IMS Coach, EU Region
1215-1235: MBE - Model Based Manufacturing: Research on novel, model-based digital
technology used in manufacturing. Dr. Steve Ray, Principal, Steve Ray Consulting
1235 Question and Answer Session
1300 Lunch
1400 Industry Tour –TIGHITCO Inc. (8450 Palmetto Commerce Parkway, Ladson, SC 29456)
The tour will be to a newly built pre-production manufacturing facility that fabricates
engineered components and integrated systems for aerospace and industrial applications.