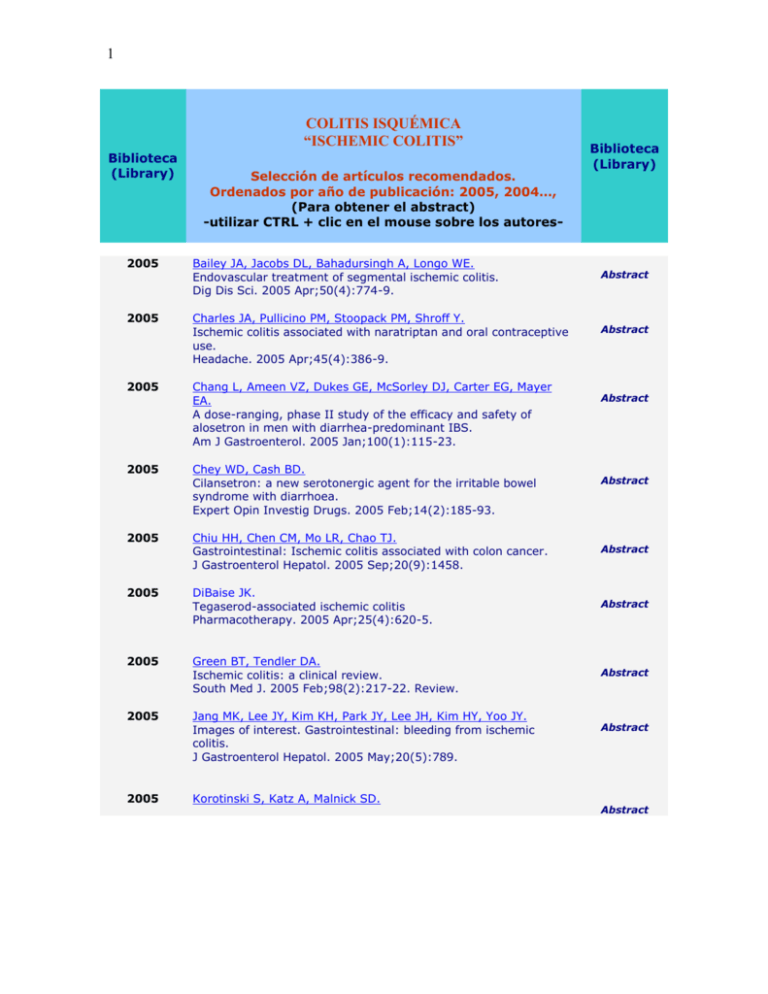 1
COLITIS ISQUÉMICA
"ISCHEMIC COLITIS"
Biblioteca
(Library)
Selección de artículos recomendados.
Ordenados por año de publicación: 2005, 2004…,
(Para obtener el abstract)
-utilizar CTRL + clic en el mouse sobre los autores-
Biblioteca
(Library)
2005
Bailey JA, Jacobs DL, Bahadursingh A, Longo WE.
Endovascular treatment of segmental ischemic colitis.
Dig Dis Sci. 2005 Apr;50(4):774-9.
2005
Charles JA, Pullicino PM, Stoopack PM, Shroff Y.
Ischemic colitis associated with naratriptan and oral contraceptive
use.
Headache. 2005 Apr;45(4):386-9.
2005
Chang L, Ameen VZ, Dukes GE, McSorley DJ, Carter EG, Mayer
EA.
A dose-ranging, phase II study of the efficacy and safety of
alosetron in men with diarrhea-predominant IBS.
Am J Gastroenterol. 2005 Jan;100(1):115-23.
2005
Chey WD, Cash BD.
Cilansetron: a new serotonergic agent for the irritable bowel
syndrome with diarrhoea.
Expert Opin Investig Drugs. 2005 Feb;14(2):185-93.
2005
Chiu HH, Chen CM, Mo LR, Chao TJ.
Gastrointestinal: Ischemic colitis associated with colon cancer.
J Gastroenterol Hepatol. 2005 Sep;20(9):1458.
Abstract
2005
DiBaise JK.
Tegaserod-associated ischemic colitis
Pharmacotherapy. 2005 Apr;25(4):620-5.
Abstract
2005
Green BT, Tendler DA.
Ischemic colitis: a clinical review.
South Med J. 2005 Feb;98(2):217-22. Review.
Abstract
2005
Jang MK, Lee JY, Kim KH, Park JY, Lee JH, Kim HY, Yoo JY.
Images of interest. Gastrointestinal: bleeding from ischemic
colitis.
J Gastroenterol Hepatol. 2005 May;20(5):789.
2005
Korotinski S, Katz A, Malnick SD.
Abstract
Abstract
Abstract
Abstract
Abstract
Abstract
2
Chronic ischaemic bowel diseases in the aged--go with the flow.
Age Ageing. 2005 Jan;34(1):10-6.
2005
Koutroubakis IE, Antoniou P, Tzardi M, Kouroumalis EA.
The spectrum of segmental colitis associated with diverticulosis.
Int J Colorectal Dis. 2005 Jan;20(1):28-32. Epub 2004 Aug 14.
2005
Mehta M, Roddy SP, Darling RC 3rd, Ozsvath KJ, Kreienberg PB,
Paty PS, Chang BB, Shah DM.
Infrarenal abdominal aortic aneurysm repair via endovascular
versus open retroperitoneal approach.
Ann Vasc Surg. 2005 May;19(3):374-8.
2005
Morales Garcia D, Bernal Marco JM, Naranjo Gomez A.
Colic ischemia mimicking carcinoma
Rev Esp Enferm Dig. 2005 Jan;97(1):66-7.
Abstract
2005
Moses FM.
Exercise-associated intestinal ischemia.
Curr Sports Med Rep. 2005 Apr;4(2):91-5
Abstract
2005
Radaelli F, Feltri M, Meucci G, Spinzi G, Terruzzi V, Minoli G.
Ischemic colitis associated with rofecoxib.
Dig Liver Dis. 2005 May;37(5):372-6.
Abstract
2005
Rahhal RM, Pashankar DS, Bishop WP.
Ulcerative colitis complicated by ischemic colitis and Budd Chiari
syndrome.
J Pediatr Gastroenterol Nutr. 2005 Jan;40(1):94-7.
Abstract
Randolph M, Longacre TA, Gerson LB.
Acute colitis secondary to self-administered alcohol enemas: a
mimic of ischemic colitis
J Clin Gastroenterol. 2005 Jan;39(1):78-9.
Abstract
Ripolles T, Simo L, Martinez-Perez MJ, Pastor MR, Igual A, Lopez
A.
Sonographic findings in ischemic colitis in 58 patients.
AJR, 2005; 183: 777-785.
Abstract
2005
2005
2005
Sánchez-Puértolas B, Delgado P, Santolaria S, Alcedo J, Ducons J,
Vera J, Montoro MA.
Características clínico-evolutivas de la colitis isquémica. ¿ Debe
mejorarse el índice de sospecha clínica?
Gastroenterol Hepatol. 2005: 28 (3); 181.
2005
Seoane A, Torra S, Márquez R, Panadés A, Nieto M, Bessa X,
Andreu M, Bory F.
Colitis isquémica. Características clínicas y factores predictivos de
gravedad.
Gastroenterol Hepatol. 2005: 28 (3); 181.
Abstract
Abstract
3
2005
2005
2005
2005
2005
2005
2005
2004
Seet RC, Ooi SB, Mak KS, Lim EC.
Close temporal association of bronchial asthma and ischemic
colitis--case report and review of the literature.
Respir Med. 2005 Feb;99(2):250-3. Review.
Abstract
Siegal DS, Hamid N, Cunha BA.
Cytomegalovirus colitis mimicking ischemic colitis in an
immunocompetent host.
Heart Lung. 2005 Jul-Aug;34(4):291-4.
Abstract
Thiefin G, Beaugerie L.
Toxic effects of nonsteroidal antiinflammatory drugs on the small
bowel, colon, and rectum.
Joint Bone Spine. 2005 Jul;72:286-94. Epub 2004 Nov 18.
Abstract
Versaci A, Macri A, Scuderi G, Bartolone S, Familiari L, Lupattelli
T, Famulari C.
Ischemic colitis following colonoscopy in a systemic lupus
erythematosus patient: report of a case.
Dis Colon Rectum. 2005 Apr;48(4):866-9.
Abstract
Willeke P, Domagk D, Floer M, Bruwer M, Kreuter M, Gaubitz M,
Domschke W, Kucharzik T.
Ischaemic colitis mimicking inflammatory bowel disease in a
young adult receiving oral anticoagulation.
Scand J Gastroenterol. 2005 Jul;40(7):878-80.
Abstract
Yasuhara H.
Acute mesenteric ischemia: the challenge of gastroenterology.
Surg Today. 2005;35(3):185-95. Review.
Yoshida K, Matsumoto M, Sugita T, Nishizawa J, Matsuyama K,
Tokuda Y, Matsuo T.
Gastrointestinal complications in patients undergoing coronary
artery bypass grafting.
Ann Thorac Cardiovasc Surg. 2005 Feb;11(1):25-8
.
Cappell MS.
Safety and efficacy of colonoscopy after myocardial infarction: an
analysis of 100 study patients and 100 control patients at two
tertiary cardiac referral hospitals.
Gastrointest Endosc 2004; 60:901-9
2004
Higgins PD, Davis KJ, Laine L.
Systematic review: the epidemiology of ischaemic colitis.
Aliment Pharmacol ther 2004;19: 729-738
2004
Medina C, Vilaseca J, Videla S, Fabra R, Armengol-Miro JR,
Malagelada JR.
Outcome of patients with ischemic colitis: review of fifty-three
cases.
Abstract
Abstract
Abstract
Abstract
Abstract
4
Dis colon rectum 2004;47: 180-184.
2003
Baixauli J, Kiran RP, Delaney CP.
Investigation and management of ischemic colitis.
Cleveland Clinic Journal of Medicine.2003: 70: 920-934.
Abstract
2003
Hourmand-Ollivier I, Bouin M, Saloux E, Morello R, Rousselot P,
Piquet MA, Dao T, Verwaerde JC.
Cardiac sources of embolism should be routinely screened in
ischemic colitis.
Am J Gastroenterol 2003; 98:1573-7
Abstract
2003
2002
Zuckerman GR, Prakash C, Merriman RB, Sawhney MS,
DeSchryver-Kecskemeti K, Clouse RE.
The colon single-stripe sign and its relationship to ischemic colitis.
Am J Gastroenterol 2003; 98:2018-22
Brandt LJ, Boley S.
Intestinal Ischemia.
En: Feldman M, Friedman L, Sleisenger (eds). SleisengerFordtran. Gastrointestinal and Liver Disease. Pathophysiology,
Diagnosis and Management. 7th edition. Saunders. Philadelphia.
2002: 2321-40.
2002
Brandt LJ.
Isquemia intestinal.
En: Montoro M, Bruguera M, Gomollón F, Santolaria S, Vilardell F.
(eds). Principios Básicos de Gastroenterología para médicos de
familia. 2ª edición. Jarpyo editores. S.A. Madrid 2002. 849-862.
2002
MacDonald PH.
Ischaemic colitis.
Best Practice & Research Clinical Gastroenterology 2002; 16: 5161.
2002
Piqué J.M. Piñol, V.
Colitis isquémica.
GH continuada 2002, (3): 124-129.
2001
Greenwald DA, Brandt LJ, Reinus JF.
Ischemic bowel disease in the elderly.
Gastroenterol Clin North Am 2001; 30:445-73
2001
Koutroubakis IE, Sfiridaki A, Theodoropoulou A, Kouroumalis EA.
Role of acquired and hereditary thrombotic risk factors in colon
ischemia of ambulatory patients.
Gastroenterology 2001; 121:561-5
2001
Reilly PM, Wilkins KB, Fuh KC, Haglund U, Bulkley GB.
The mesenteric hemodynamic response to circulatory shock.
Shock 2001; 15: 329-43.
2001
Savola KL, Baron EJ, Tompkins LS, Passaro DJ.
Abstract
Abstract
Abstract
Abstract
Abstract
5
Fecal leukocyte stain has diagnostic value for outpatients but not
inpatients.
J Clin Microbiol 2001; 39:266-9
2000
2000
American Gastroenterological Association
Medical Position Statement: Guidelines on Intestinal Ischemia.
Gastroenterology 2000: 118: 951-953.
Brandt LJ, Boley SJ.
AGA technical review on intestinal ischemia.
Gastroenterology 2000;118:954-968.
Free full text
Ver guías
Free full text
Ver guías
2000
Danse EM, Van Beers BE, Jamart J, Hoang P, Laterre PF, Thys FC,
Kartheuser A, Pringot J.
Prognosis of ischemic colitis: Comparison of color doppler
sonography with early clinical and laboratory findings.
AJR Am J Roentgenol 2000; 175:1151-3
2000
Fitzgerald T, Kim D, Karakozis S, Alam H, Provido H, Kirkpatrick J.
Visceral ischemia after cardiopulmonary bypass.
Am Surg 2000; 66:623–626.
2000
2000
Flobert C, Cellier C, Berger A, Ngo A, Cuillerier E, Landi B, Marteau
P, Cugnenc PH, Barbier JP.
Right colonic involvement is associated with severe forms of
ischemic colitis and occurs frequently in patients with chronic renal
failure requiring hemodialysis.
Am J Gastroenterol 2000; 95:195-8
Abstract
Abstract
Abstract
Houe T, Thorboll JE, Sigild U, Liisberg-Larsen O, Schroeder TV.
Can colonoscopy diagnose transmural ischaemic colitis after
abdominal aortic surgery? An evidence-based approach.
Eur J Vasc Endovasc Surg 2000; 19:304-7
Abstract
2000
John AS, Tuerff SD, Kerstein MD.
Nonocclusive mesenteric infarction in hemodialysis patients. J Am
Coll Surg 2000; 190:84-8
Abstract
2000
Van Damme H, Creemers E, Limet R.
Ischaemic colitis following aortoiliac surgery.
Acta Chir Belg 2000; 100:21–27.
1999
Arnott ID, Ghosh S, Ferguson A.
The spectrum of ischaemic colitis.
Eur J Gastroenterol Hepatol 1999; 11:295–303.
1999
Balthazar EJ, Yen BC, Gordon RB.
Ischemic colitis: CT evaluation of 54 cases.
Radiology 1999; 211:381–388.
1999
Delaney CP, Couse NF, Mehigan D, Keaveny TV.
Abstract
Abstract
Free full text
Abstract
6
Inferior mesenteric venous sampling, pulse oximetry, and
assessment of colonic perfusion during aortic aneurysm surgery.
Dig Dis Sci 1999; 44:1786–1791.
1999
Delaney CP, O'Neill S, Manning F, Fitzpatrick JM, Gorey TF.
Plasma concentrations of glutathione S-transferase isoenzyme are
raised in patients with intestinal ischaemia.
Br J Surg 1999; 86:1349–1353.
1999
Jaeger HJ, Mathias KD, Gissler HM, Neumann G, Walther LD.
Rectum and sigmoid colon necrosis due to cholesterol
embolization after implantation of an aortic stent-graft.
J Vasc Interv Radiol 1999; 10:751-5
1999
Simic O, Strathausen S, Hess W, Ostermeyer J.
Incidence and prognosis of abdominal complications after
cardiopulmonary bypass.
Cardiovasc Surg 1999; 7:419-24
Abstract
Cappell MS.
Intestinal (mesenteric) vasculopathy. II. Ischemic colitis and
chronic mesenteric ischemia.
Gastroenterol Clin North Am 1998; 27:827-60
Abstract
1998
Greenwald DA, Brandt LJ.
Colonic ischemia.
J Clin Gastroenterol 1998; 27:122-8
Abstract
1998
Zamir G, Reissman P.
Diagnostic laparoscopy in mesenteric ischemia.
Surg Endosc 1998; 12:390-3
1997
Bjorck M, Troeng T, Bergqvist D.
Risk factors for intestinal ischaemia after aortoiliac surgery: A
combined cohort and case-control study of 2824 operations.
Eur J Vasc Endovasc Surg 1997; 13:531-9
1997
Brandt CP, Piotrowski JJ, Alexander JJ.
Flexible sigmoidoscopy. A reliable determinant of colonic ischemia
following ruptured abdominal aortic aneurysm.
Surg Endosc 1997; 11:113-5
Abstract
Dignan CR, Greenson JK.
Can ischemic colitis be differentiated from C difficile colitis in
biopsy specimens?.
Am J Surg Pathol 1997; 21:706-10
Abstract
1998
1997
1997
1997
Eldrup-Jorgensen J, Hawkins RE, Bredenberg CE.
Abdominal vascular catastrophes.
Surg Clin North Am 1997; 77:1305-20
Guivarc'h M, Roullet-Audy JC, Mosnier H, Boche O.
Abstract
Abstract
Abstract
Abstract
Abstract
7
[Ischemic colitis. A surgical series of 88 cases]. J Chir (Paris)
1997; 134:103-8
1997
Longo WE, Ward D, Vernava AM 3rd, Kaminski DL.
Outcome of patients with total colonic ischemia.
Dis Colon Rectum 1997; 40:1448–1454.
1996
Gandhi SK, Hanson MM, Vernava AM, Kaminski DL, Longo WE.
Ischemic colitis.
Dis Colon Rectum 1996; 39:88–100.
1996
Habu Y, Tahashi Y, Kiyota K, et al.
Reevaluation of clinical features of ischemic colitis. Analysis of 68
consecutive cases diagnosed by early colonoscopy.
Scand J Gastroenterol 1996; 31:881–886.
1996
Longo WE, Lee TC, Barnett MG, Vernava AM, Wade TP, Peterson
GJ, Jacobs DL, Virgo KS, Johnson FE.
Ischemic colitis complicating abdominal aortic aneurysm surgery
in the U.S. veteran.
J Surg Res 1996; 60:351-4
1996
Profili S, Bifulco V, Meloni GB, Demelas L, Niolu P, Manzoni MA.
A case of ischemic stenosis of the colon-sigmoid treated with selfexpandable uncoated metallic prosthesis.
Radiol Med (Torino) 1996; 91:665-7
1996
Slutzki S, Halpern Z, Negri M, Kais H, Halevy A.
The laparoscopic second look for ischemic bowel disease. Surg
Endosc 1996; 10:729-31
Abstract
Abstract
Abstract
Abstract
Abstract
1996
Taourel PG, Deneuville M, Pradel JA, Regent D, Bruel JM.
Acute mesenteric ischemia: Diagnosis with contrac-enhanced CT.
Radiology 1996; 199:632-6
1996
Teefey SA, Roarke MC, Brink JA, Middleton WD, Balfe DM, Thyssen
EP, Hildebolt CF.
Bowel wall thickening: differentiation of inflammation from
ischemia with color Doppler and duplex US.
Radiology 1996; 198:547–551.
Abstract
1995
Bender JS, Ratner LE, Magnuson TH, Zenilman ME.
Acute abdomen in the hemodialysis patient population.
Surgery 1995; 117:494-7
Abstract
1995
Church JM:
Ischemic colitis complicating flexible endoscopy in a patient with
connective tissue disease.
Gastrointest Endosc 41:181, 1995.
1995
Church JM. Inflammatory bowel disease. In: Church JM, editor.
Endoscopy of the Colon, Rectum and Anus. New York: Igaku-
8
Shoin. Medical Publishers, Inc.; 1995:298–343.
1995
Kaleya RN, Boley SJ.
Acute mesenteric ischemia.
Crit Care Clin 1995; 11:479–512.
1995
Klein HM, Lensing R, Klosterhalfen B, Tons C, Gunther RW.
Diagnostic imaging of mesenteric infarction.
Radiology 1995; 197:79-82
1995
Simi M, Pietroletti R, Navarra L, Leardi S.
Bowel stricture due to ischemic colitis: Report of three cases
requiring surgery.
Hepatogastroenterology 1995; 42:279-81
1994
Murray MJ, Gonze MD, Nowak LR, Cobb CF.
Serum D(-)-lactate levels as an aid to diagnosing intestinal
ischemia.
Am J Surg 1994;167:575–578.
1994
Tsiotos GG, Mullany CJ, Zietlow S, van Heerden JA.
Abdominal complications following cardiac surgery.
Am J Surg 1994; 167:553-7
1993
Robert JH, Mentha G, Rohner A.
Ischaemic colitis: two distinct patterns of severity.
Gut 1993; 34: 4-6.
1992
1992
Abstract
Abstract
Abstract
Abstract
Abstract
Allen KB, Salam AA, Lumsden AB.
Acute mesenteric ischemia after cardiopulmonary bypass. J Vasc
Surg 1992; 16:391-5
Abstract
Brandt LJ, Boley SJ.
Colonic ischemia.
Surg Clin North Am 1992;72:203-229.
Abstract
1992
Bergman RT, Gloviczki P, Welch TJ, Naessens JM, Bower TC,
Hallett JW Jr, Pairolero PC, Cherry KJ Jr.
The role of intravenous fluorescein in the detection of colon
ischemia during aortic reconstruction.
Ann Vasc Surg 1992; 6:74–79.
1992
Dorudi S, Lamont PM.
Intestinal ischaemia in the unconscious intensive care unit patient.
Ann R Coll Surg Engl 1992; 74:356-9
1992
Downing SW, Edmunds LH Jr.
Release of vasoactive substances during cardiopulmonary bypass.
Ann Thorac Surg 1992; 54:1236-43
Abstract
Abstract
Abstract
9
1992
Horgan PG, Gorey TF.
Operative assessment of intestinal viability.
Surg. Clin North Am 1992; 72:143–155.
Abstract
1992
Kurland B, Brandt LJ, Delany HM.
Diagnostic tests for intestinal ischemia.
Surg Clin North Am 1992; 72:85–105.
Abstract
1992
Longo WE, Ballantyne GH, Gusberg RJ.
Ischemic colitis: patterns and prognosis.
Dis Col Rectum 1992; 35:726-730
Abstract
1992
Mitsudo S, Brandt LJ.
Pathology of intestinal ischemia.
Surg Clin North Am. 1992 Feb;72(1):43-63.
Abstract
1991
Brewster DC, Franklin DP, Cambria RP, Darling RC, Moncure AC,
Lamuraglia GM, Stone WM, Abbott WM.
Intestinal ischemia complicating abdominal aortic surgery. Surgery
1991; 109:447-54
Abstract
Fried MW, Murthy UK, Hassig SR, Woo J, Oates RP.
Creatine kinase isoenzymes in the diagnosis
infarction.
Dig Dis Sci 1991; 36:1589–1593.
Abstract
1991
of
intestinal
1991
Parish KL, Chapman WC, Williams LF Jr.
Ischemic colitis. An everchanging spectrum?
Am Surg 1991; 57:118–121.
1990
Boley SJ
Colonic ischemia – 25 years later.
Am J Gastroenterol 1990; 85: 931-34.
1990
Landreneau RJ, Fry WJ.
The right colon as a target organ of nonocclusive mesenteric
ischemia.
Arch Surg 1990; 125:591–594.
1990
Oz MC, Forde KA.
Endoscopic alternatives in the management of colonic strictures.
Surgery 1990; 108:513-9
Abstract
1989
Guttormson NL, Bubrick MP.
Mortality from ischemic colitis.
Dis Col Rect 1989; 26: 469-472.
Abstract
1989
Maupin GE, Rimar SD, Villalba M.
Ischemic colitis following abdominal aortic reconstruction for
ruptured aneurysm. A 10-year experience.
Ann Surg 1989; 55: 378-380.
Abstract
Abstract
Abstract
10
1989
1989
Poeze M, Froon AH, Greve JW, Ramsay G.
D-Lactate as an early marker of intestinal ischemia after ruptured
abdominal aortic aneurysm repair.
British Journal of Surgery. 1998: 85: 1121-24.
Zelenock GB, Strodel WE, Knol JA, Messina LM, Wakefield TW,
Lindenauer SM, Eckhauser FE, Greenfield LJ, Stanley JC.
A prospective study of clinically and endoscopically docu-mented
colonic ischemia in 100 patients undergoing aortic reconstructive
surgery with aggressive colonic and direct pelvic revascularization,
compared with historic controls.
Surgery 1989, 106:771-80
1988
Ouriel K, Fiore WM, Geary JE.
Detection of occult ischemia during aortic procedures: use of an
intraoperative photoplethysmographic technique.
J Vasc Surg 1988; 7:5–9.
1987
Kim EH, Gewertz BL.
Chronic digitalis administration
reactivity.
J Vasc Surg 1987; 5:382–389.
Abstract
Abstract
Abstract
vascular
Abstract
Schiedler MG, Cutler BS, Fiddian-Green RG.
Sigmoid intramural pH for prediction of ischemic colitis during
aortic surgery.
Arch Surg 1987; 122:881–886.
Abstract
Iida M, Matsui T, Fuchigami T, Iwashita A, Yao T, Fujishima M.
Ischemic colitis: serial changes in double contrast barium enema
examinations.
Radiology 1986; 159:337–341.
Abstract
1986
Welch GH, Shearer MG, Imrie CW, Anderson JR, Gilmour DG.
Total colonic ischemia.
Dis Colon Rectum 1986; 29:410-2
Abstract
1985
Feretis CB, Koborozos BA, Vyssoulis GP, Manouras AJ, Apostolidis
NS, Golematis BC.
Serum phosphate levels in acute bowel ischemia. An aid to early
diagnosis.
Am Surg 1985; 51:242–244.
Abstract
1987
1986
alters
mesenteric
1984
Reeders TWAJ, Tytgat GNJ, Rosenbuch G, et al.
Ischemic Colitis.
Dordrecht, The Netherlands: Martinus Nijhoff, 1984:38,157.
1982
Jones B, Fishman EK, Siegelman SS.
Ischemic colitis demonstrated by computed tomography.
J Comput Assist Tomogr 1982; 6:1120–1123.
Abstract
11
1981
Brandt LJ, Boley SJ, Goldberg L, et al:
Colitis in the elderly.
Am J Gastroenterol 1981; 76:239
1981
Scowcroft CW, Sanowski RA, Kozarek RA.
Colonoscopy in ischemic colitis.
Gastrointestinal Endoscopy 1981; 27: 145-161.
1980
Sakai L, Keltner R, Kaminski D.
Spontaneous and shock-associated ischemic colitis.
Am J Surg 1980; 140:755
1979
Hagihara PF, Ernst CB, Griffen WO Jr.
Incidence of ischemic colitis following abdominal aortic
reconstruction.
Surg Gynecol Obstet 1979; 149:571-3
1979
Versteeg KR, Broders CW.
Gangrene of the bowel.
Surg Clin North Am 1979; 59:869–876.
1978
Binns JC, Isaacson P.
Age-related changes in the colonic blood supply: their relevance to
ischemic colitis.
Gut 1978; 19:384–390.
1975
Sierocinski W.
Arteries supplying the left colic flexure in man.
Folia Morphol (Warsz) 1975; 34:117–124.
1963
Boley SJ, Schwartz S, Lash J, Sternhill V.
Reversible vascular occlusion of the colon.
Surg Gynecol Obstet 1963; 116:53–60.
1958
Brewster DC, Franklin DP, Cambria RP, Darling RC, Moncure AC,
Lamuraglia GM, Stone WM, Abbott WM.
Serum lactic dehydrogenase in the diagnosis of the acute surgical
abdomen.
Surgery 1958; 44:43–51-4
1958
Sonneland J, Anson LJ.
Surgical anatomy of the arterial supply to the colon.
Surg Gynecol Obstet 1958; 106:385–397.
1956
Griffiths JD.
Surgical anatomy of the blood supply of the distal colon.
Ann R Coll Surg Engl 1956; 19:241–256.
Abstract
Abstract
Abstract
Abstract
Abstract
12
1953
Shaw RS, Green TH.
Massive mesenteric infarction following inferior mesenteric artery
ligation in resection of the colon for carcinoma.
N Engl J Med 1953; 248:890.