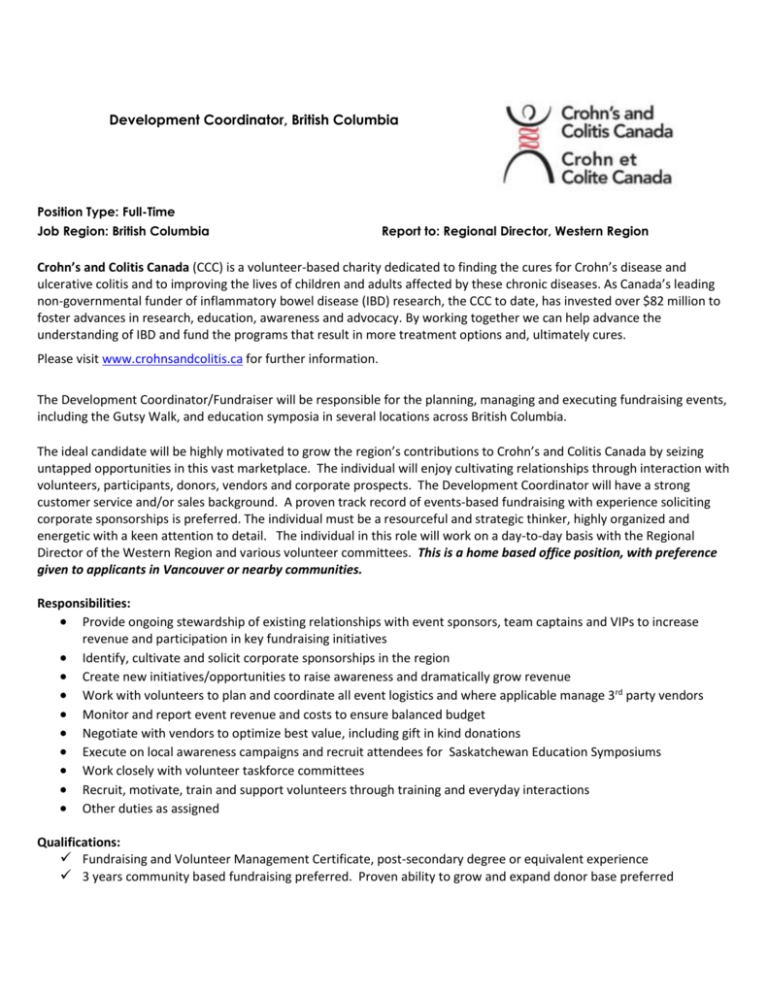 Development Coordinator, British Columbia
Position Type: Full-Time
Job Region: British Columbia
Report to: Regional Director, Western Region
Crohn's and Colitis Canada (CCC) is a volunteer-based charity dedicated to finding the cures for Crohn's disease and
ulcerative colitis and to improving the lives of children and adults affected by these chronic diseases. As Canada's leading
non-governmental funder of inflammatory bowel disease (IBD) research, the CCC to date, has invested over $82 million to
foster advances in research, education, awareness and advocacy. By working together we can help advance the
understanding of IBD and fund the programs that result in more treatment options and, ultimately cures.
Please visit www.crohnsandcolitis.ca for further information.
The Development Coordinator/Fundraiser will be responsible for the planning, managing and executing fundraising events,
including the Gutsy Walk, and education symposia in several locations across British Columbia.
The ideal candidate will be highly motivated to grow the region's contributions to Crohn's and Colitis Canada by seizing
untapped opportunities in this vast marketplace. The individual will enjoy cultivating relationships through interaction with
volunteers, participants, donors, vendors and corporate prospects. The Development Coordinator will have a strong
customer service and/or sales background. A proven track record of events-based fundraising with experience soliciting
corporate sponsorships is preferred. The individual must be a resourceful and strategic thinker, highly organized and
energetic with a keen attention to detail. The individual in this role will work on a day-to-day basis with the Regional
Director of the Western Region and various volunteer committees. This is a home based office position, with preference
given to applicants in Vancouver or nearby communities.
Responsibilities:
 Provide ongoing stewardship of existing relationships with event sponsors, team captains and VIPs to increase
revenue and participation in key fundraising initiatives
 Identify, cultivate and solicit corporate sponsorships in the region
 Create new initiatives/opportunities to raise awareness and dramatically grow revenue
 Work with volunteers to plan and coordinate all event logistics and where applicable manage 3rd party vendors
 Monitor and report event revenue and costs to ensure balanced budget
 Negotiate with vendors to optimize best value, including gift in kind donations
 Execute on local awareness campaigns and recruit attendees for Saskatchewan Education Symposiums
 Work closely with volunteer taskforce committees
 Recruit, motivate, train and support volunteers through training and everyday interactions
 Other duties as assigned
Qualifications:
 Fundraising and Volunteer Management Certificate, post-secondary degree or equivalent experience
 3 years community based fundraising preferred. Proven ability to grow and expand donor base preferred









Strong customer service and sales experience requried
Excellent time management skills
Ability to work with volunteer committees and key stakeholders
Highly detailed, organized, and ability to multi-task and prioritize items
Ability to meet requirements for evening and weekend work for events and meetings
Driver's license and vehicle required for local travel
Successful completion of criminal and credit background checks
Must have separate and secure work area for office
Occasional regional and national travel required
Crohn's and Colitis Canada provides a competitive salary and benefits program and a rewarding work
environment. Interested applicants are asked to submit their resume and cover letter indicating salary expectations to
careers@crohnsandcolitis.ca by August 21, 2015. Please quote "DC-British Columbia" in the subject heading in your email
reply. We thank all applicants for their interest in a career at Crohn's and Colitis Canada; however, only those selected for
interview will be contacted.