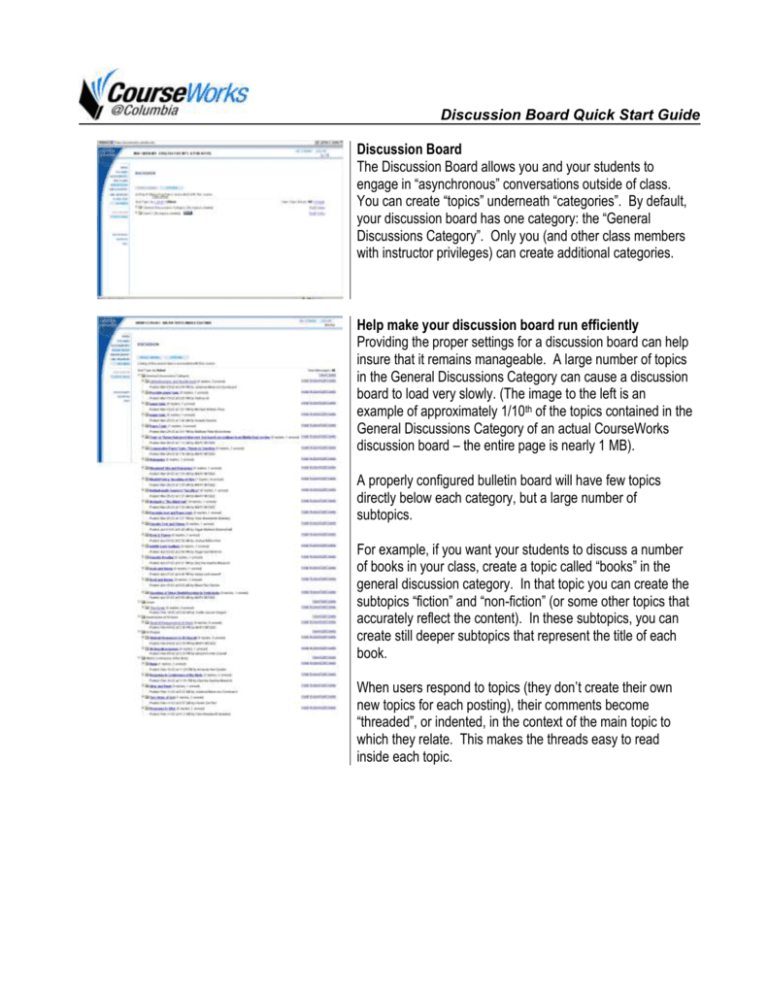 Discussion Board Quick Start Guide
Discussion Board
The Discussion Board allows you and your students to
engage in "asynchronous" conversations outside of class.
You can create "topics" underneath "categories". By default,
your discussion board has one category: the "General
Discussions Category". Only you (and other class members
with instructor privileges) can create additional categories.
Help make your discussion board run efficiently
Providing the proper settings for a discussion board can help
insure that it remains manageable. A large number of topics
in the General Discussions Category can cause a discussion
board to load very slowly. (The image to the left is an
example of approximately 1/10th of the topics contained in the
General Discussions Category of an actual CourseWorks
discussion board – the entire page is nearly 1 MB).
A properly configured bulletin board will have few topics
directly below each category, but a large number of
subtopics.
For example, if you want your students to discuss a number
of books in your class, create a topic called "books" in the
general discussion category. In that topic you can create the
subtopics "fiction" and "non-fiction" (or some other topics that
accurately reflect the content). In these subtopics, you can
create still deeper subtopics that represent the title of each
book.
When users respond to topics (they don't create their own
new topics for each posting), their comments become
"threaded", or indented, in the context of the main topic to
which they relate. This makes the threads easy to read
inside each topic.
To set up your discussion board, click the
at
the top of the discussion board page. It is recommended that
you disable student topic creation unless your students are
very familiar with the proper use of discussion boards and
how threads work
If you know you'll need more than one discussion category,
click "Create new category" and define the name of the
category.
Once you've set up your discussion board, click "Submit" and
then click
to see your discussion categories.
Create Topics
Your discussion page has a folder for each category – one
for General Discussions and one for each category you
create. To create a topic, click "New" across from the
category in which you'd like to start the discussion.
Enter a descriptive subject (which will appear as the title of
the topic under the category) and type a question or
comment to which students should respond. You can elect to
be notified via e-mail as students respond to your initial topic.
You may also attach files to a topic.
After clicking "Submit Message", you will see your message
as it appears on the discussion board.
Your students will enter the discussion board, click the topic
in which they wish to work (at this time they'll see a view like
the one left), and reply to your topic. They might also elect to
read their colleagues' postings and reply to them too. When
this happens, the sub-topics will become nested, or threaded,
below the topic or sub-topic to which they are responding.
Use the "Show All" option to read all the replies in a topic.
In the topic listing, you may use the "sort" and "view" options
to display the messages by date or to filter our messages
you've already read.