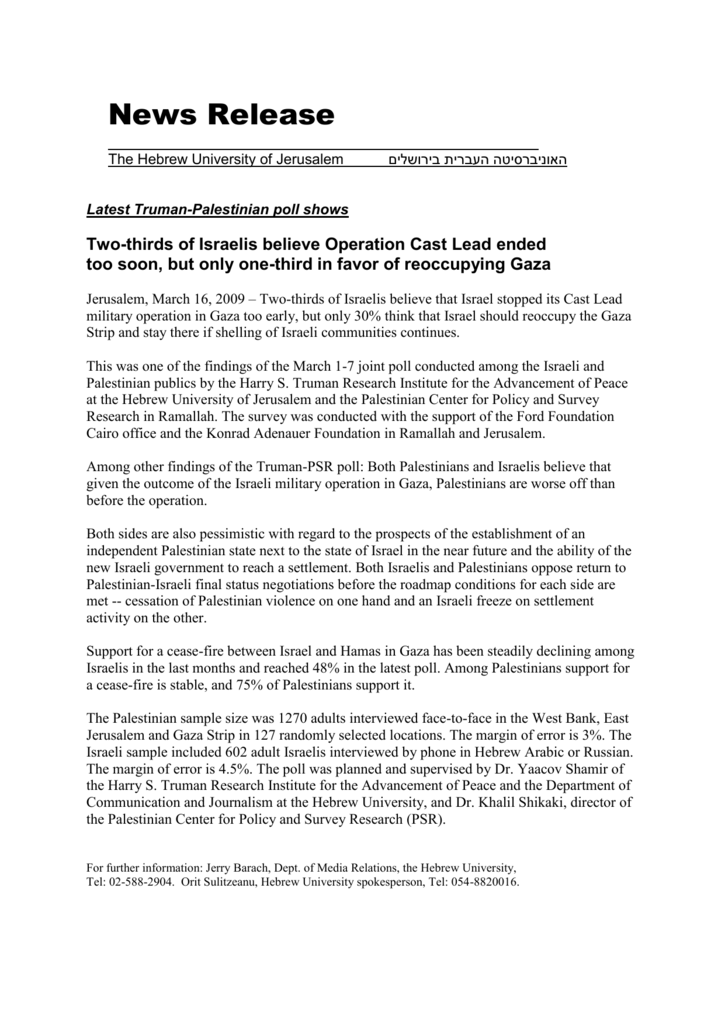 News Release
_____________________________________________________
The Hebrew University of Jerusalem
‫האוניברסיטה העברית בירושלים‬
Latest Truman-Palestinian poll shows
Two-thirds of Israelis believe Operation Cast Lead ended
too soon, but only one-third in favor of reoccupying Gaza
Jerusalem, March 16, 2009 – Two-thirds of Israelis believe that Israel stopped its Cast Lead
military operation in Gaza too early, but only 30% think that Israel should reoccupy the Gaza
Strip and stay there if shelling of Israeli communities continues.
This was one of the findings of the March 1-7 joint poll conducted among the Israeli and
Palestinian publics by the Harry S. Truman Research Institute for the Advancement of Peace
at the Hebrew University of Jerusalem and the Palestinian Center for Policy and Survey
Research in Ramallah. The survey was conducted with the support of the Ford Foundation
Cairo office and the Konrad Adenauer Foundation in Ramallah and Jerusalem.
Among other findings of the Truman-PSR poll: Both Palestinians and Israelis believe that
given the outcome of the Israeli military operation in Gaza, Palestinians are worse off than
before the operation.
Both sides are also pessimistic with regard to the prospects of the establishment of an
independent Palestinian state next to the state of Israel in the near future and the ability of the
new Israeli government to reach a settlement. Both Israelis and Palestinians oppose return to
Palestinian-Israeli final status negotiations before the roadmap conditions for each side are
met -- cessation of Palestinian violence on one hand and an Israeli freeze on settlement
activity on the other.
Support for a cease-fire between Israel and Hamas in Gaza has been steadily declining among
Israelis in the last months and reached 48% in the latest poll. Among Palestinians support for
a cease-fire is stable, and 75% of Palestinians support it.
The Palestinian sample size was 1270 adults interviewed face-to-face in the West Bank, East
Jerusalem and Gaza Strip in 127 randomly selected locations. The margin of error is 3%. The
Israeli sample included 602 adult Israelis interviewed by phone in Hebrew Arabic or Russian.
The margin of error is 4.5%. The poll was planned and supervised by Dr. Yaacov Shamir of
the Harry S. Truman Research Institute for the Advancement of Peace and the Department of
Communication and Journalism at the Hebrew University, and Dr. Khalil Shikaki, director of
the Palestinian Center for Policy and Survey Research (PSR).
For further information: Jerry Barach, Dept. of Media Relations, the Hebrew University,
Tel: 02-588-2904. Orit Sulitzeanu, Hebrew University spokesperson, Tel: 054-8820016.