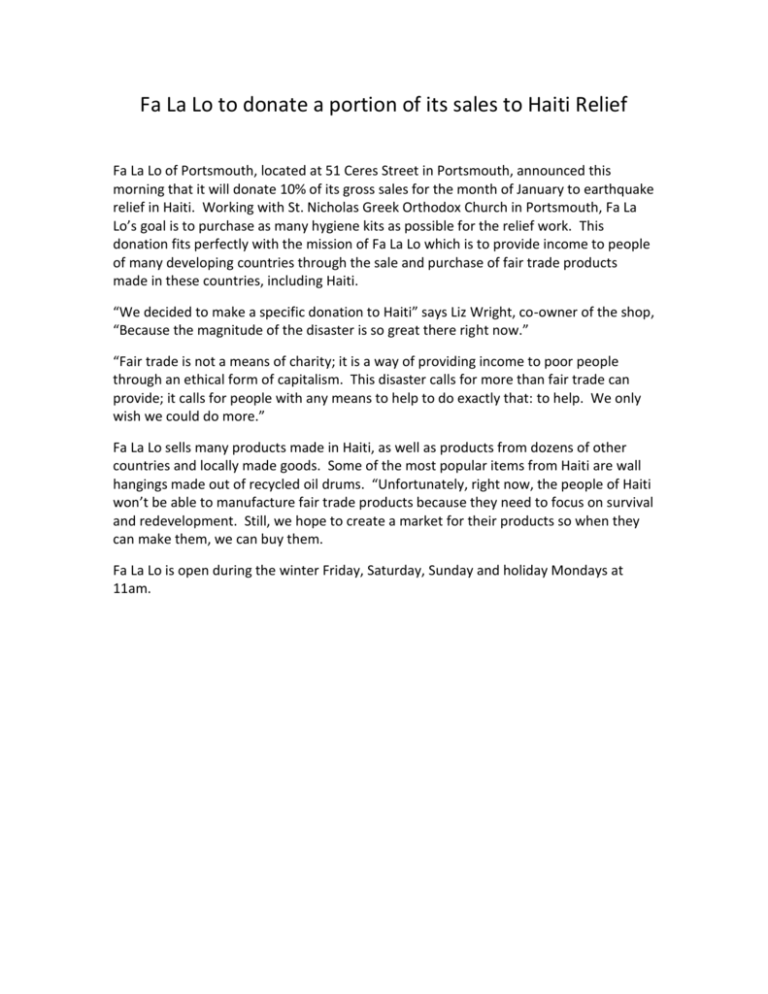 Fa La Lo to donate a portion of its sales to Haiti Relief
Fa La Lo of Portsmouth, located at 51 Ceres Street in Portsmouth, announced this
morning that it will donate 10% of its gross sales for the month of January to earthquake
relief in Haiti. Working with St. Nicholas Greek Orthodox Church in Portsmouth, Fa La
Lo's goal is to purchase as many hygiene kits as possible for the relief work. This
donation fits perfectly with the mission of Fa La Lo which is to provide income to people
of many developing countries through the sale and purchase of fair trade products
made in these countries, including Haiti.
"We decided to make a specific donation to Haiti" says Liz Wright, co-owner of the shop,
"Because the magnitude of the disaster is so great there right now."
"Fair trade is not a means of charity; it is a way of providing income to poor people
through an ethical form of capitalism. This disaster calls for more than fair trade can
provide; it calls for people with any means to help to do exactly that: to help. We only
wish we could do more."
Fa La Lo sells many products made in Haiti, as well as products from dozens of other
countries and locally made goods. Some of the most popular items from Haiti are wall
hangings made out of recycled oil drums. "Unfortunately, right now, the people of Haiti
won't be able to manufacture fair trade products because they need to focus on survival
and redevelopment. Still, we hope to create a market for their products so when they
can make them, we can buy them.
Fa La Lo is open during the winter Friday, Saturday, Sunday and holiday Mondays at
11am.