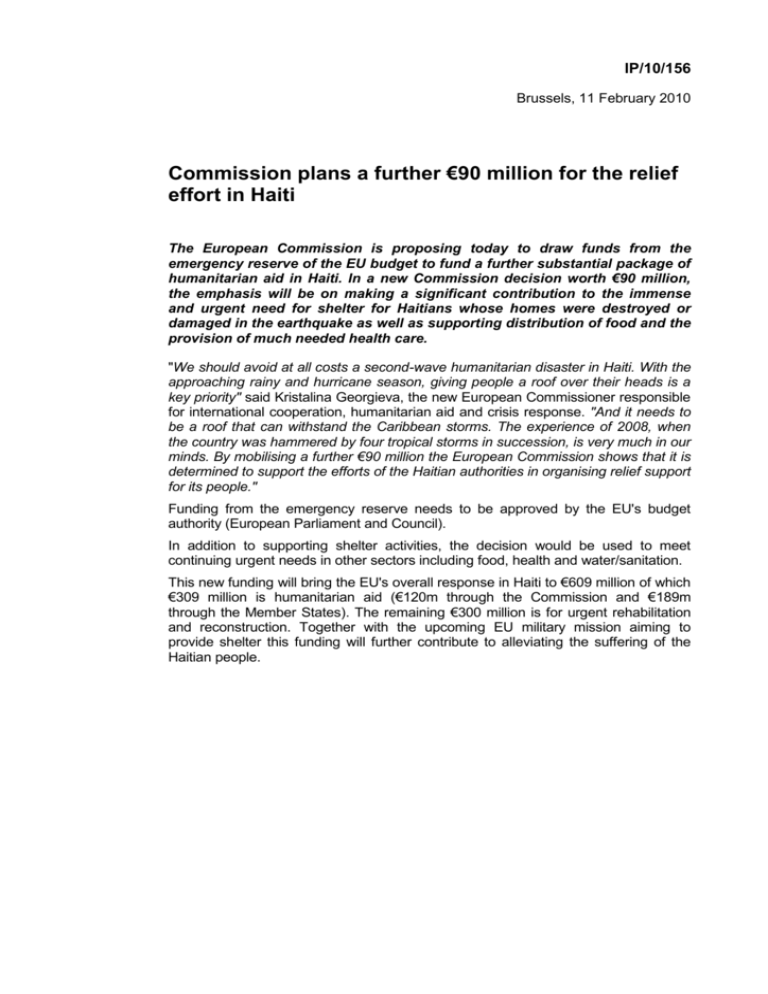 IP/10/156
Brussels, 11 February 2010
Commission plans a further €90 million for the relief
effort in Haiti
The European Commission is proposing today to draw funds from the
emergency reserve of the EU budget to fund a further substantial package of
humanitarian aid in Haiti. In a new Commission decision worth €90 million,
the emphasis will be on making a significant contribution to the immense
and urgent need for shelter for Haitians whose homes were destroyed or
damaged in the earthquake as well as supporting distribution of food and the
provision of much needed health care.
"We should avoid at all costs a second-wave humanitarian disaster in Haiti. With the
approaching rainy and hurricane season, giving people a roof over their heads is a
key priority" said Kristalina Georgieva, the new European Commissioner responsible
for international cooperation, humanitarian aid and crisis response. "And it needs to
be a roof that can withstand the Caribbean storms. The experience of 2008, when
the country was hammered by four tropical storms in succession, is very much in our
minds. By mobilising a further €90 million the European Commission shows that it is
determined to support the efforts of the Haitian authorities in organising relief support
for its people."
Funding from the emergency reserve needs to be approved by the EU's budget
authority (European Parliament and Council).
In addition to supporting shelter activities, the decision would be used to meet
continuing urgent needs in other sectors including food, health and water/sanitation.
This new funding will bring the EU's overall response in Haiti to €609 million of which
€309 million is humanitarian aid (€120m through the Commission and €189m
through the Member States). The remaining €300 million is for urgent rehabilitation
and reconstruction. Together with the upcoming EU military mission aiming to
provide shelter this funding will further contribute to alleviating the suffering of the
Haitian people.