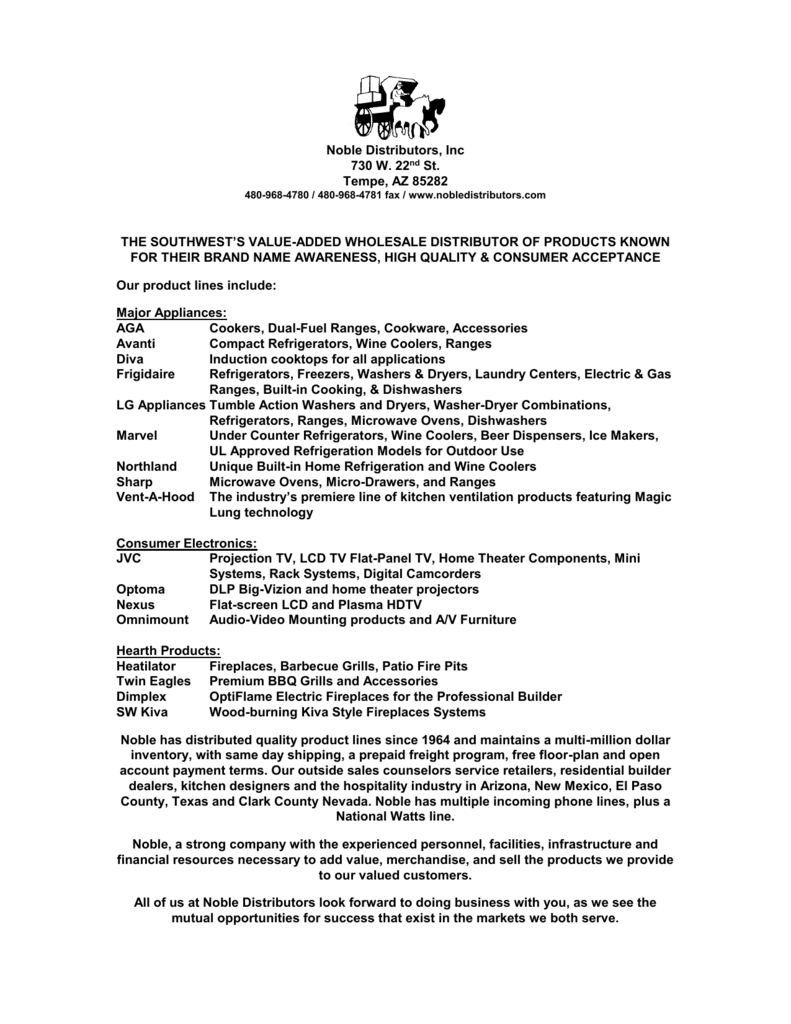 Noble Distributors, Inc
730 W. 22nd St.
Tempe, AZ 85282
480-968-4780 / 480-968-4781 fax / www.nobledistributors.com
THE SOUTHWEST'S VALUE-ADDED WHOLESALE DISTRIBUTOR OF PRODUCTS KNOWN
FOR THEIR BRAND NAME AWARENESS, HIGH QUALITY & CONSUMER ACCEPTANCE
Our product lines include:
Major Appliances:
AGA
Cookers, Dual-Fuel Ranges, Cookware, Accessories
Avanti
Compact Refrigerators, Wine Coolers, Ranges
Diva
Induction cooktops for all applications
Frigidaire
Refrigerators, Freezers, Washers & Dryers, Laundry Centers, Electric & Gas
Ranges, Built-in Cooking, & Dishwashers
LG Appliances Tumble Action Washers and Dryers, Washer-Dryer Combinations,
Refrigerators, Ranges, Microwave Ovens, Dishwashers
Marvel
Under Counter Refrigerators, Wine Coolers, Beer Dispensers, Ice Makers,
UL Approved Refrigeration Models for Outdoor Use
Northland
Unique Built-in Home Refrigeration and Wine Coolers
Sharp
Microwave Ovens, Micro-Drawers, and Ranges
Vent-A-Hood The industry's premiere line of kitchen ventilation products featuring Magic
Lung technology
Consumer Electronics:
JVC
Projection TV, LCD TV Flat-Panel TV, Home Theater Components, Mini
Systems, Rack Systems, Digital Camcorders
Optoma
DLP Big-Vizion and home theater projectors
Nexus
Flat-screen LCD and Plasma HDTV
Omnimount
Audio-Video Mounting products and A/V Furniture
Hearth Products:
Heatilator
Fireplaces, Barbecue Grills, Patio Fire Pits
Twin Eagles Premium BBQ Grills and Accessories
Dimplex
OptiFlame Electric Fireplaces for the Professional Builder
SW Kiva
Wood-burning Kiva Style Fireplaces Systems
Noble has distributed quality product lines since 1964 and maintains a multi-million dollar
inventory, with same day shipping, a prepaid freight program, free floor-plan and open
account payment terms. Our outside sales counselors service retailers, residential builder
dealers, kitchen designers and the hospitality industry in Arizona, New Mexico, El Paso
County, Texas and Clark County Nevada. Noble has multiple incoming phone lines, plus a
National Watts line.
Noble, a strong company with the experienced personnel, facilities, infrastructure and
financial resources necessary to add value, merchandise, and sell the products we provide
to our valued customers.
All of us at Noble Distributors look forward to doing business with you, as we see the
mutual opportunities for success that exist in the markets we both serve.