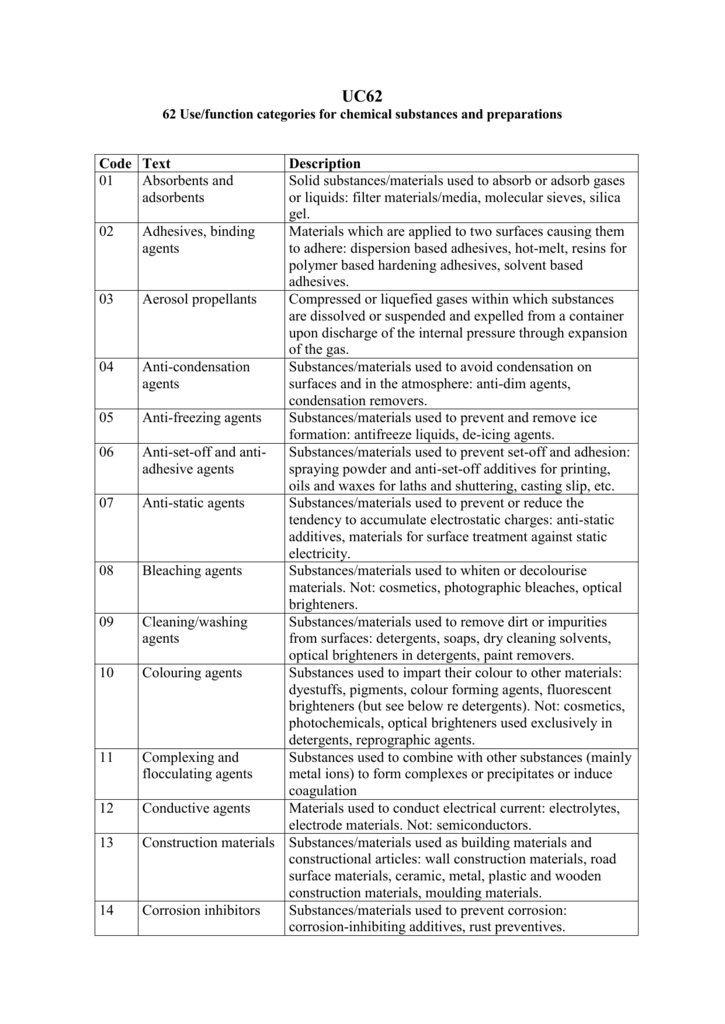 UC62
62 Use/function categories for chemical substances and preparations
Code Text
01
Absorbents and
adsorbents
02
03
04
05
06
07
08
09
10
11
12
13
14
Description
Solid substances/materials used to absorb or adsorb gases
or liquids: filter materials/media, molecular sieves, silica
gel.
Adhesives, binding
Materials which are applied to two surfaces causing them
agents
to adhere: dispersion based adhesives, hot-melt, resins for
polymer based hardening adhesives, solvent based
adhesives.
Aerosol propellants
Compressed or liquefied gases within which substances
are dissolved or suspended and expelled from a container
upon discharge of the internal pressure through expansion
of the gas.
Anti-condensation
Substances/materials used to avoid condensation on
agents
surfaces and in the atmosphere: anti-dim agents,
condensation removers.
Anti-freezing agents
Substances/materials used to prevent and remove ice
formation: antifreeze liquids, de-icing agents.
Anti-set-off and antiSubstances/materials used to prevent set-off and adhesion:
adhesive agents
spraying powder and anti-set-off additives for printing,
oils and waxes for laths and shuttering, casting slip, etc.
Anti-static agents
Substances/materials used to prevent or reduce the
tendency to accumulate electrostatic charges: anti-static
additives, materials for surface treatment against static
electricity.
Bleaching agents
Substances/materials used to whiten or decolourise
materials. Not: cosmetics, photographic bleaches, optical
brighteners.
Cleaning/washing
Substances/materials used to remove dirt or impurities
agents
from surfaces: detergents, soaps, dry cleaning solvents,
optical brighteners in detergents, paint removers.
Colouring agents
Substances used to impart their colour to other materials:
dyestuffs, pigments, colour forming agents, fluorescent
brighteners (but see below re detergents). Not: cosmetics,
photochemicals, optical brighteners used exclusively in
detergents, reprographic agents.
Complexing and
Substances used to combine with other substances (mainly
flocculating agents
metal ions) to form complexes or precipitates or induce
coagulation
Conductive agents
Materials used to conduct electrical current: electrolytes,
electrode materials. Not: semiconductors.
Construction materials Substances/materials used as building materials and
constructional articles: wall construction materials, road
surface materials, ceramic, metal, plastic and wooden
construction materials, moulding materials.
Corrosion inhibitors
Substances/materials used to prevent corrosion:
corrosion-inhibiting additives, rust preventives.
15
16
Cosmetics
Dust binding agents
17
Electroplating agents
18
Explosives
19
Fertilisers
20
Fillers
21
Fixing agents
22
Flame retardants and
extinguishing agents
23
Flotation agents
24
Flux agents for casting
or joining materials
Foaming agents
25
26
27
28
29
30
31
Food/feedstuff
flavourings and
nutrients
Fuels
Cosmetic and toiletry formulations.
Substances/materials used to control finely divided solid
particles of powdered or ground materials to reduce their
discharge into the air.
Substances/materials used as a source for a layer of metal
deposited on another surface, or that aid in such a
deposition.
Substances/materials characterized by chemical stability,
but with the ability to undergo chemical change, rapidly
producing a large quantity of energy and gas accompanied
by bursting or expansion: blasting agents, detonators,
incendiaries.
Substances added to soil to supply chemical elements
needed for plant nutrition.
Materials used to fill cavities or tighten joints, or relatively
inert and normally non-fibrous, finely divided substances
added to elastomers, plastics, paints, ceramics, etc. usually
to extend volume and sometimes to improve desired
properties, such as whiteness, lubricity, density or tensile
strength.
Substances/materials used to interact with a dye on fibres
to improve fastness on fibres. Not: photo chemicals.
Substances/materials incorporated into or applied to, a
surface of materials, or distributed in the air, to slow down
or to prevent combustion: flame retardants, fire preventing
and/or extinguishing agents.
Substances/materials used to concentrate and obtain
minerals from ores: flotation oil, flotation depressants.
Substances/materials used to promote the fusing of
minerals or prevent oxide formation.
Substances/materials used to form physically, by
expansion of compressed gases or vaporization of liquid,
or chemically by decomposition evolving a gas, a foam or
cellular structure in a plastic or rubber material: chemical
or physical blowing agents, expanding agents, frothers.
Substances used in food or animal feedstuffs to produce or
enhance taste or odour or nutritional value.
Substances/materials used to evolve energy in a controlled
combustion reaction: gasoline, kerosene, gas oil, fuel oil,
petroleum gas, non-mineral oil.
Fuel additives
Subcategories: anti-fouling agents, antiknock agents,
deposit modifiers, fuel oxidisers.
Heat transferring agents Substances/materials used to transmit or to remove heat
from another material: cooling agents, heating agents.
Hydraulic fluids and
Fluids used for transmitting pressure and EP-additives.
additives
Impregnation materials Substances/materials used to admix with solid materials,
which retain their original form: impregnating agents for
leather, paper, textile and wood. Not: flame retardants,
32
Insulating materials
33
Intermediates
34
Laboratory chemicals
35
Lubricants and
additives
36
Odour agents
37
Oxidising agents
38
Pesticides, agricultural
39
Non-agricultural
pesticides and
preservatives
40
pH-regulation agents
41
Pharmaceuticals
42
Photo chemicals
43
Process regulators
44
Reducing agents
45
Reprographic agents
46
Semiconductors
conserving agents, pesticides.
Substances/materials used to prevent or inhibit the flow of
electrical current, heat and light and the transmission of
sound.
Substances used for synthesis of other chemicals:
monomers, prepolymers.
Substances/materials used in laboratories for analytical
purposes.
Substances/materials entrained between two surfaces and
thereby used to reduce friction: oils, fats, waxes and
friction reducing additives.
Substances/materials used to produce, enhance, or mask
odour. Not: food additives, cosmetics.
Substances that give up oxygen easily, remove hydrogen
from other compounds, or accept electrons in chemical
reactions, and are used for such purposes.
Active ingredients and preparations containing one or
more active ingredient(s), intended to protect plants or
plant products against harmful organisms, or prevent the
action of such organisms, influence the life processes of
plants, preserve plant products, destroy undesirable plants
or destroy parts of plants. Not: nutrients, fertilisers.
Active ingredients and preparations containing one or
more active ingredients intended to render harmless,
destroy or prevent the action of harmful or nuisance
animal or plant organisms or microorganisms: disinfectants, preservatives.
Substances used to alter or stabilize the hydrogen ion
concentration (pH): acids, alkalis, buffers.
Medicinal preparations and active ingredients: medicines,
veterinary medicines, hormones, diagnostic remedies,
dietetics, and other therapeutic preparations.
Substances/materials used to create a permanent
photographic image: desensitizers, developers, fixing
agents, photosensitive agents, sensitizers, anti-fogging
agents, light stabilizers, intensifiers.
Substances used to regulate the speed of a (chemical)
process: accelerators, activators, catalysts, hardeners,
inhibitors, siccatives, cross linking agents etc. Not:
stabilizers.
Substances used to remove oxygen, hydrogenate, or, in
general, act as electron donors in a chemical reaction.
Substances/materials used to reproduce a permanent
image: toners and developers for photocopying, toner
additives, printing ink, and developers for printing forms.
Not: photo chemicals, fixing agents.
Substances having resistivity's that are between those of
insulators and metals, and are usually changeable by light,
47
Softeners
48
Solvents
49
Stabilizers
50
Surface-active agents
51
Tanning agents
52
Viscosity adjustors
53
54
55
56
57
58
59
60
61
heat or electrical or magnetic field, or generate
electromotive force upon the incidence of radiant energy:
semiconductors, photo-voltaic agents.
Substances/materials used for softening materials to
improve feel, to facilitate finishing process, or to impart
flexibility or workability: coalescing agents, bates (leather
technology), devulcanizing agents, emollients, swelling
agents, water softeners, plasticizers.
Substances/materials used to dissolve, thin, dilute, and
extract: extraction agents, solvents and thinners for paints,
lacquers, adhesives and other materials.
Substances/materials used to prevent or slow down
spontaneous changes in and ageing of materials:
antioxidants, anti-siccatives, heat stabilizers, light
stabilizers, scavengers, charge stabilizers.
Substances/materials used to lower the surface and/or
interfacial tension of liquids and promote cleaning,
wetting, dispersion etc.
Substances/materials used for treating hides and skins.
Substances/materials used to modify the flow
characteristics of other substances, or mixtures, to which
they are added: pour point depressants, thickeners,
thixotropic agents, turbulence suppressor, viscosity index
improvers.
Vulcanizing agents
Substances/materials added to rubber to aid and hasten
vulcanization: vulcanizing accelerators and vulcanization
assistants.
Welding and soldering Materials used for welding and soldering: electrodes, flux,
agents
powdered metal, wire etc.
Others
Substances/materials whose technical functions are not
described elsewhere.
Cutting fluids
Preparations used to facilitate cutting and other
deformation of metal: cutting lubricants, drilling oil and
other fluids used for cutting, drilling, grinding, honing,
milling, punching, rolling or stamping metal. (Might be
covered by Lubricants and/or Heat transferring agents?).
Friction agents
Materials used to enhance friction.
Grinding materials
Subcategories: glass pellets, steel pellets, sand(paper),
emery(cloth).
Paints, lacquers and
Materials which form a surface coating: Covering and
varnishes
protecting lacquers, solid colour or pigment either dry or
with a vehicle, primers, anti-fouling, anticorrosive, damp
proofing, or fire retarding paints, wood staining agents,
etc.
Radioactive agents
Radioactive substances/materials.
Surface treatment
Materials used to treat surfaces for purposes not elsewhere
described: metal-hardening agents, chromatizing agents,
62
Electromechanical
components
rust removers, gum, glass etching agents, glazing agents
(for paper, textiles, leather, ceramics), gloss reducing
agents, dressing agents (for textiles), polishing agents (car
wax, stove polish, wax and other polish for floors,
furniture, metal, etc.), protective colloids. Not: anti-set-off,
anti-static, bleaching, cleaning and colouring agents,
corrosion inhibitors, dust binding and electroplating
agents, flame retardants, flux agents, impregnation
materials, paints and lacquers.
Materials used as electromechanical components not
elsewhere described: commutators, transformers. Not:
semiconductors, conductive agents.