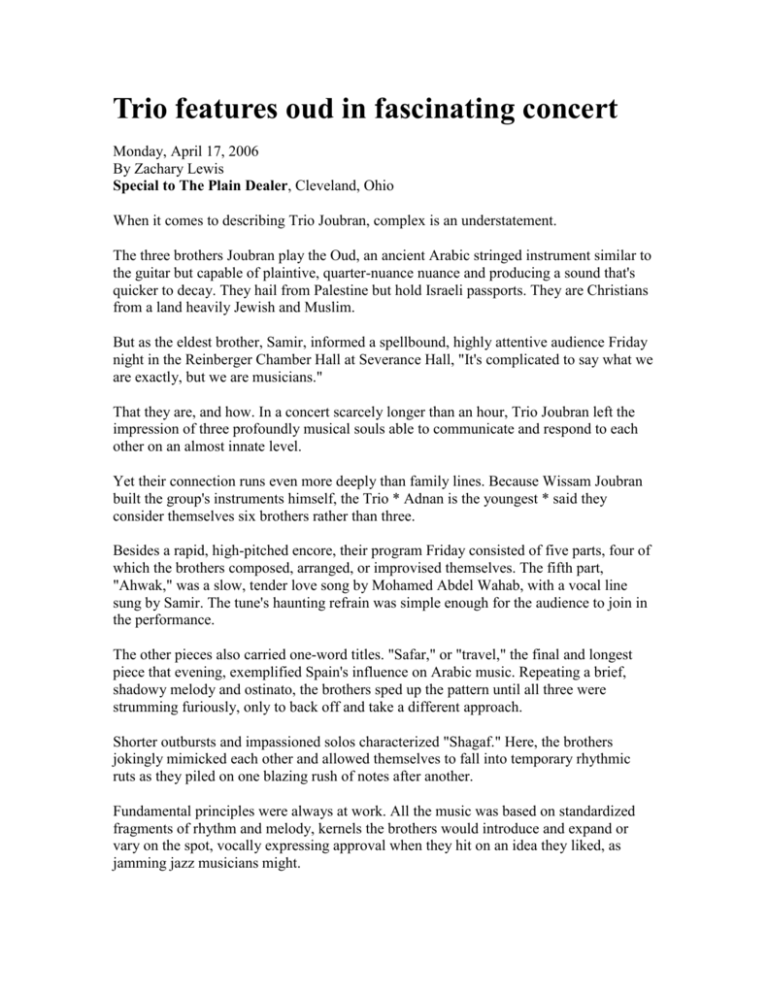 Trio features oud in fascinating concert
Monday, April 17, 2006
By Zachary Lewis
Special to The Plain Dealer, Cleveland, Ohio
When it comes to describing Trio Joubran, complex is an understatement.
The three brothers Joubran play the Oud, an ancient Arabic stringed instrument similar to
the guitar but capable of plaintive, quarter-nuance nuance and producing a sound that's
quicker to decay. They hail from Palestine but hold Israeli passports. They are Christians
from a land heavily Jewish and Muslim.
But as the eldest brother, Samir, informed a spellbound, highly attentive audience Friday
night in the Reinberger Chamber Hall at Severance Hall, "It's complicated to say what we
are exactly, but we are musicians."
That they are, and how. In a concert scarcely longer than an hour, Trio Joubran left the
impression of three profoundly musical souls able to communicate and respond to each
other on an almost innate level.
Yet their connection runs even more deeply than family lines. Because Wissam Joubran
built the group's instruments himself, the Trio * Adnan is the youngest * said they
consider themselves six brothers rather than three.
Besides a rapid, high-pitched encore, their program Friday consisted of five parts, four of
which the brothers composed, arranged, or improvised themselves. The fifth part,
"Ahwak," was a slow, tender love song by Mohamed Abdel Wahab, with a vocal line
sung by Samir. The tune's haunting refrain was simple enough for the audience to join in
the performance.
The other pieces also carried one-word titles. "Safar," or "travel," the final and longest
piece that evening, exemplified Spain's influence on Arabic music. Repeating a brief,
shadowy melody and ostinato, the brothers sped up the pattern until all three were
strumming furiously, only to back off and take a different approach.
Shorter outbursts and impassioned solos characterized "Shagaf." Here, the brothers
jokingly mimicked each other and allowed themselves to fall into temporary rhythmic
ruts as they piled on one blazing rush of notes after another.
Fundamental principles were always at work. All the music was based on standardized
fragments of rhythm and melody, kernels the brothers would introduce and expand or
vary on the spot, vocally expressing approval when they hit on an idea they liked, as
jamming jazz musicians might.
Ensemble leadership changed hands like the wind as the players splintered in separate
musical directions and then fell back in into gripping unison. Two things never changed,
though: close eye contact between the brothers and facial expressions best described as
rapturous.
Zachary Lewis is a freelance writer in Cleveland.