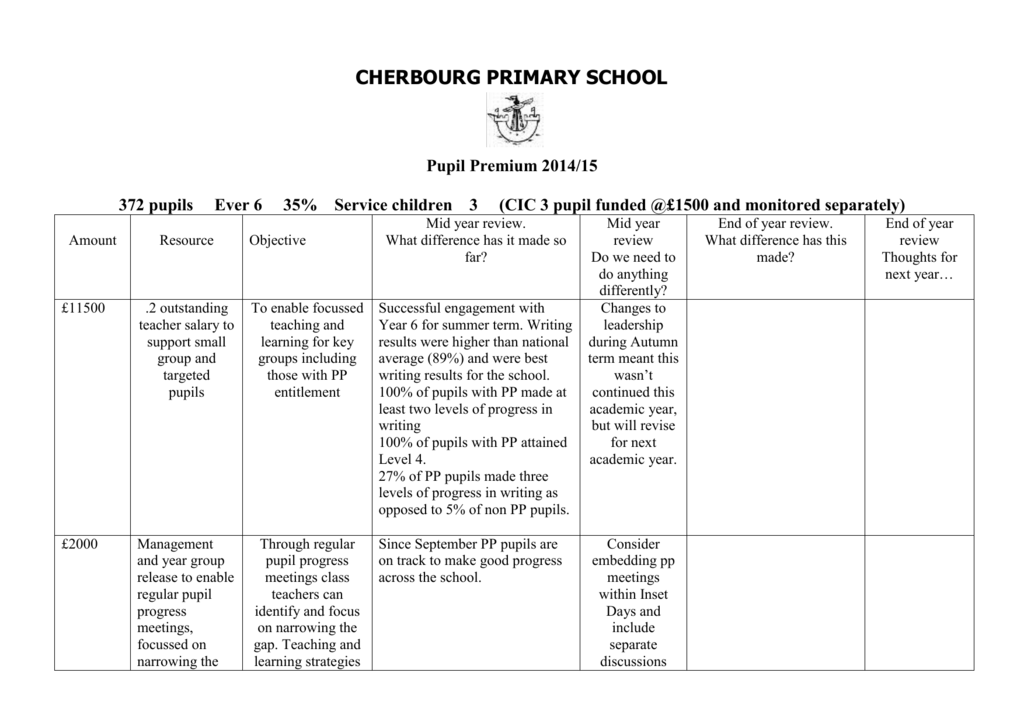 CHERBOURG PRIMARY SCHOOL
Pupil Premium 2014/15
372 pupils
Amount
Ever 6
Resource
35% Service children 3
Objective
(CIC 3 pupil funded @£1500 and monitored separately)
Mid year review.
What difference has it made so
far?
£11500
.2 outstanding
teacher salary to
support small
group and
targeted
pupils
To enable focussed
teaching and
learning for key
groups including
those with PP
entitlement
Successful engagement with
Year 6 for summer term. Writing
results were higher than national
average (89%) and were best
writing results for the school.
100% of pupils with PP made at
least two levels of progress in
writing
100% of pupils with PP attained
Level 4.
27% of PP pupils made three
levels of progress in writing as
opposed to 5% of non PP pupils.
£2000
Management
and year group
release to enable
regular pupil
progress
meetings,
focussed on
narrowing the
Through regular
pupil progress
meetings class
teachers can
identify and focus
on narrowing the
gap. Teaching and
learning strategies
Since September PP pupils are
on track to make good progress
across the school.
Mid year
review
Do we need to
do anything
differently?
Changes to
leadership
during Autumn
term meant this
wasn't
continued this
academic year,
but will revise
for next
academic year.
Consider
embedding pp
meetings
within Inset
Days and
include
separate
discussions
End of year review.
What difference has this
made?
End of year
review
Thoughts for
next year…
gap.
(Supply staff for
class teachers
and
management
release x 4)
£13000
£13000
£10000
can be discussed by
whole year group
teams, resulting in
effective
interventions and
quality first
teaching.
.3 teacher
To enable subject
support in ICT,
specific skills to be
taught to a high
standard in KS2 in
particular with a
focus on narrowing
the gaps in Maths
and English
through improved
ICT skills and
application.
.3 proportion of
Pupils in receipt of
teacher
pupil premium will
supporting
benefit from a
subject specific
greater emphasis
areas such as
on skills and
Science and D
knowledge
and T
teaching in Science
throughout the
and D and T,
week.
impacting on core
subjects.
Continuation of Provision targeted
.25 of teacher
at
salary to manage -children in need
a lunchtime play of social and
curriculum,
emotional support
following
-children who
successful pilot
need support to
last year.
take risks in their
learning (profile of
with Inclusion
Manager and
SENCO.
Pupils across the school
engaging in coding and other IT
skills within the new curriculum.
PP pupils in Y6 on track to make
good progress in core subjects.
Staff changes
have meant that
this has been
postponed
since Spring 2,
but will
reinstigate for
Summer 2.
Children report a high level of
enjoyment of Science in KS2,
and PP children in Y6 have
benefitted from more experiment
focus to Science curriculum.
Continue
See Report on Lunchtime Play
curriculum.
Continue
Children showing readiness to
learn after lunchtimes
Children applying their learning
in class to their play outdoors
(reading, performing, singing,
sport)
Look to further
promote our
work and look
to ways to track
involvement of
PP children
£10000
Resources
£1200
Writing,
development
and
implementation
of new
Lunchtime
supervisor
accredited
course
performance
oriented pupils)
Provision builds on
good early years
practice,
encouraging
children to learn
through play and to
improve transition
into learning in the
afternoons
This will include
the development
and piloting of
individual play
plans for focus
pupils.
To improve the
facilities and play
equipment that will
encourage risk
taking play at
lunchtimes,
(majority of capital
spend from main
budget)
Lunchtime
supervisors will be
better trained to
support play for
learning and good
risk taking, as well
as improve
behaviour
strategies, all
enabling pupils to
return to lessons
Excellent feedback from Saints
Foundation and Hampshire
Sports and PE Inspectors.
As above
Course successfully written,
accredited and implemented.
Five lunchtime supervisors
attained their qualification.
Real focus from lunchtime staff
on being child centred and
responsive to children's needs
and ideas.
PP children are safe and enjoy
Promote the
course for other
schools.
£40000
(incl on
costs)
Teacher salary
£4000
Staffing costs
for after school
for LSAs and
holiday
contribution
from teaching
staff and
incentives for
pupils
TLR for
contribution
from home
manager
£2560
£1840
Support for
parents
£21000
Learning
Support
Assistants x 48
hours
prepared to learn.
To enable two
single year classes
in each year group
to ensure better
focus and targeted
support to close the
gap
Support for booster
sessions targeted at
Ever 6 pupils in
Year 6 in the
Spring term
lunchtimes.
91% of PP pupils made 2 levels
of progress in all three combined
subjects in last year's SATS, as
opposed to 84% of those not in
receipt of PP
To reinstate this
role to ensure
parents have better
access to ways to
support their
child's learning
Drop in session
once a week for
targeted parents
and follow up
phone/text contact
to support
behaviour and
learning at home.
Pilot in Autumn
term.
To provide
additional targeted
support across the
year groups to
Due to temporary changes in
leadership for the Autumn term,
this post is on hold until next
year
This year PP pupils in Y6 (and
across the school) on track to
make good progress, particularly
in writing.
This was very well received by
parents and comments at the end
of the sessions showed that
parents were able to take on
many of the ideas for improved
behaviour and increase their
confidence
Gap between PP pupils and non
PP pupils is narrowing in Y2 and
Y6 in particular this academic
year.
Look to use on
line support for
pupils during
holiday
revision next
year.
New course
starting in
Summer term
and will look to
track impact on
pupils over a
longer period.
£3000
Additional
Level 3 ELSA
£5000
Dedicated space
for ELSA
£8000
Two days of
play therapist
£1000
Cost of training
and
implementation
of staff member
to be part of MPact pilot
£500
Incentives for
children entitled
to pupil
premium to take
close the gap
To enable pupils
identified for
ELSA support to
improve the ways
in which they
communicate their
feelings to others.
This will impact on
self esteem and
motivation.
Purchase of a
cabin/caravan for
ELSA to take place
(currently children
have to have ELSA
in corridor)
Two thirds of Play
therapy time
focussed on
meeting the
identified needs of
Ever 6 pupils.
Pupils emotional scales show
improvement over the period of
ELSA. Targetted support related
to difficulties with learning
behaviours.
Improve
tracked of PP
pupil outcomes
in relation to
non PP
outcomes.
Dedicated space made within the
library for this year and
timetables arranged to protect
this time for pupils.
Reconsider
therapeutic
spaces
Outcomes from this therapeutic
input are slower and the needs
more complex, but 90% children
are making good progress in
their emotional well being and
this is impacting on their
learning. (see case studies)
Very powerful and effective
work, in conjunction with other
agencies.
Wider outcomes for pupils
mixed, but in relation to the
programme the outcomes were
excellent.
Therapist
reduced to two
days. Consider
a compatible
therapy for
pupils.
M-Pact programme
to be piloted at
school to offer
therapeutic support
and training for
families where one
or more adults
misuse substances
incl. alcohol.
To ensure a better
PP pupils increased by 10%
take up of holiday
from last year.
booster sessions for
pp pupils in
part in Easter
holiday booster
sessions
£2000
Access to
summer
activities for
children in need
£3000
Access to
afterschool fee
paying activities
and clubs e.g.
football and
dance
£3000
Targetted after
school provision
for pupils
eligible for pupil
premium to
enhance
curricular
learning
Access to Bugs
Club and
Breakfast Club
£3000
particular to
prepare them for
SATs and further
help narrow the
gap.
To enable safe and
engaging activities
for the child which
will provide him
with greater
incentive to learn
in school.
To ensure children
in need of support
have equal access
to clubs that would
otherwise be
prohibitive
Child was in a safe environment
and made a successful transition
to secondary school after a
positive summer respite.
No children
currently
needing this
level of support
for next
summer
24% of PP pupils access these
paid clubs.
Children in need supported for
half term activities e.g. Saints
Foundation
Improve
tracking to
ensure access
for PP pupils is
fair across
these
opportunities.
Specialist clubs
targeted at pupil
premium pupils
include Drama and
Mad Science, (both
piloted successfully
last year).
Really successful take up for
these clubs from PP pupils.
Enjoyment, engagement and
improved outcomes for the
majority of these children.
To ensure children
in need of support
have access to
wrap around care
to support families
and ensure good
play role models
and reduced
anxieties
Good take up of support offered
for families, usually for a set
period of time.
Marked increase in positive
social behaviours for pupils who
engage.
£3000
£1500
£2000
£3500
£168600
Access to fee
paying music
tuition in school
for Ever 6 pupils
To ensure children
in need of support
have equal access
to tuition that
would otherwise be
prohibitive
Access to music Partial payment of
for all in Years tuition for whole
1, 2 and 4.
class instrumental
learning building
on success of
Listen to Me
Purchase or hire To ensure children
of instruments to in need of support
reduce barriers have access to an
to learning an
instrument to
instrument
practice and take
ownership and
pride in for the
duration of their
tuition.
Support for
To enable access to
residential
experiences beyond
activities
the classroom
which will in turn
enhance learning.
60% of pupils who take on
tuition are PP. Good levels of
retention (80%)
Continue
Excellent provision for pupils.
100% of pupils in Y1, 2 and 4
learn an instrument. High levels
of enjoyment and successful
performance.
60% of pupils who take on
tuition are PP. Good levels of
retention (80%)
Osmington Bay and Beaulieu
very successful for PP pupils.
Consider
equality of
access for PP
pupils. Ensure
all PP pupils
who don't sign
up are
contacted to see
if support
would make a
difference to
the decision.