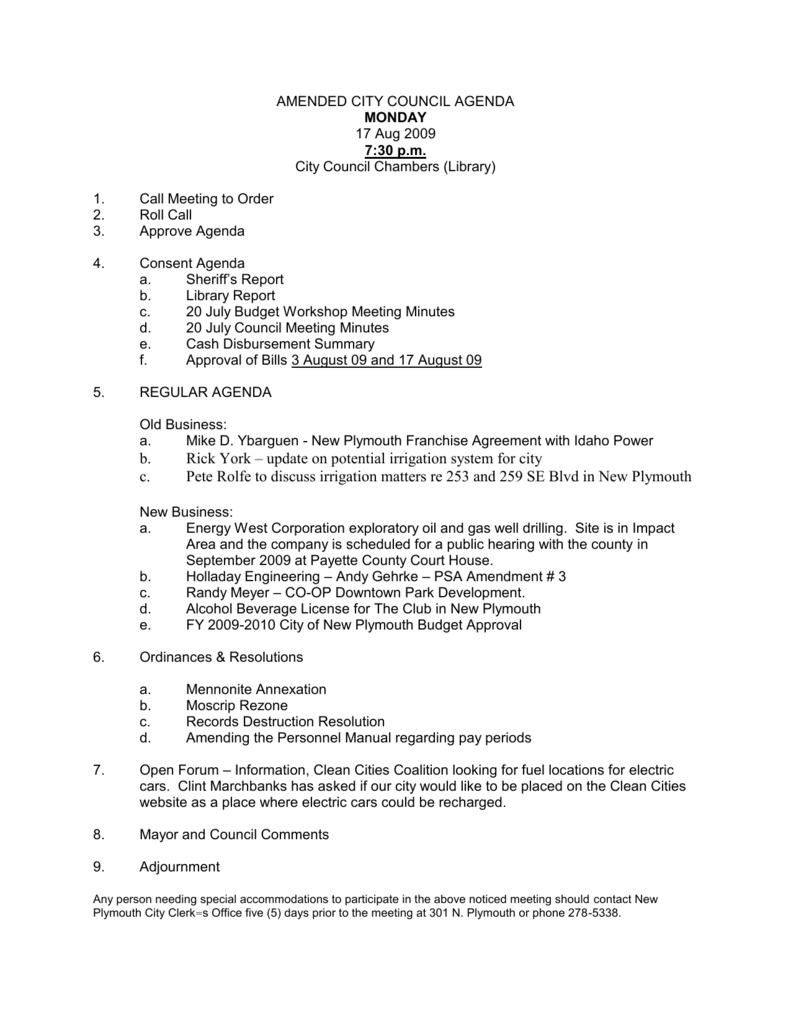 AMENDED CITY COUNCIL AGENDA
MONDAY
17 Aug 2009
7:30 p.m.
City Council Chambers (Library)
1.
2.
3.
Call Meeting to Order
Roll Call
Approve Agenda
4.
Consent Agenda
a.
Sheriff's Report
b.
Library Report
c.
20 July Budget Workshop Meeting Minutes
d.
20 July Council Meeting Minutes
e.
Cash Disbursement Summary
f.
Approval of Bills 3 August 09 and 17 August 09
5.
REGULAR AGENDA
Old Business:
a.
Mike D. Ybarguen - New Plymouth Franchise Agreement with Idaho Power
b.
c.
Rick York – update on potential irrigation system for city
Pete Rolfe to discuss irrigation matters re 253 and 259 SE Blvd in New Plymouth
New Business:
a.
Energy West Corporation exploratory oil and gas well drilling. Site is in Impact
Area and the company is scheduled for a public hearing with the county in
September 2009 at Payette County Court House.
b.
Holladay Engineering – Andy Gehrke – PSA Amendment # 3
c.
Randy Meyer – CO-OP Downtown Park Development.
d.
Alcohol Beverage License for The Club in New Plymouth
e.
FY 2009-2010 City of New Plymouth Budget Approval
6.
Ordinances & Resolutions
a.
b.
c.
d.
Mennonite Annexation
Moscrip Rezone
Records Destruction Resolution
Amending the Personnel Manual regarding pay periods
7.
Open Forum – Information, Clean Cities Coalition looking for fuel locations for electric
cars. Clint Marchbanks has asked if our city would like to be placed on the Clean Cities
website as a place where electric cars could be recharged.
8.
Mayor and Council Comments
9.
Adjournment
Any person needing special accommodations to participate in the above noticed meeting should contact New
Plymouth City Clerk=s Office five (5) days prior to the meeting at 301 N. Plymouth or phone 278-5338.