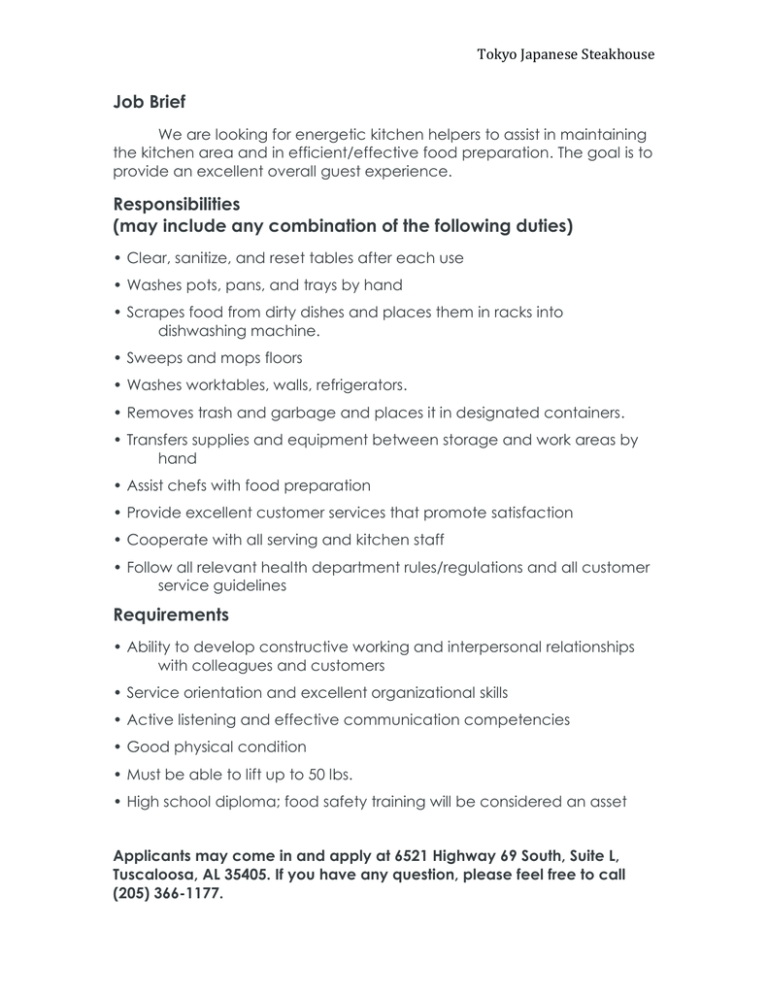 Tokyo Japanese Steakhouse
Job Brief
We are looking for energetic kitchen helpers to assist in maintaining
the kitchen area and in efficient/effective food preparation. The goal is to
provide an excellent overall guest experience.
Responsibilities
(may include any combination of the following duties)
• Clear, sanitize, and reset tables after each use
• Washes pots, pans, and trays by hand
• Scrapes food from dirty dishes and places them in racks into
dishwashing machine.
• Sweeps and mops floors
• Washes worktables, walls, refrigerators.
• Removes trash and garbage and places it in designated containers.
• Transfers supplies and equipment between storage and work areas by
hand
• Assist chefs with food preparation
• Provide excellent customer services that promote satisfaction
• Cooperate with all serving and kitchen staff
• Follow all relevant health department rules/regulations and all customer
service guidelines
Requirements
• Ability to develop constructive working and interpersonal relationships
with colleagues and customers
• Service orientation and excellent organizational skills
• Active listening and effective communication competencies
• Good physical condition
• Must be able to lift up to 50 lbs.
• High school diploma; food safety training will be considered an asset
Applicants may come in and apply at 6521 Highway 69 South, Suite L,
Tuscaloosa, AL 35405. If you have any question, please feel free to call
(205) 366-1177.